FarmingSimulator 19 mods presentation: The John Deere 7010 Series Tractors (7610,7710, 7810) modified by STv-Modding.
Here's the wildly popular John Deere 7010 Series. One tractor – three models. This mod lets you drive the 7610, 7710, and the 7810. It's a great addition to Farming Simulator 19, especially for all JD nostalgic (the 7010-series were produced between 1997 and 2003.)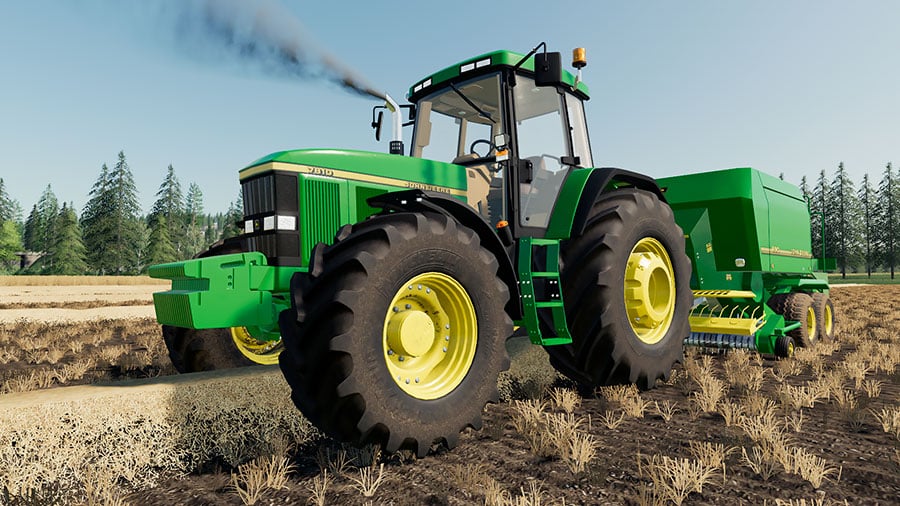 Updated FS Hit
This is an updated version of the John Deere 7010 mod, that has been with us through several installments of the Farming Simulator games. A lot has been done to make the tractor shine in FS19:
It has gotten some wheel configs (although no duals… or row crop wheels.)
You can choose weights instead of the front hitch.
Indoor audio has been added.
Interior lights have been added as well.
Still,there are things to do. Because several of the cabin animations you find onother tractors are missing from this JD 7010 version. No seat suspension animation.Or throttle animations.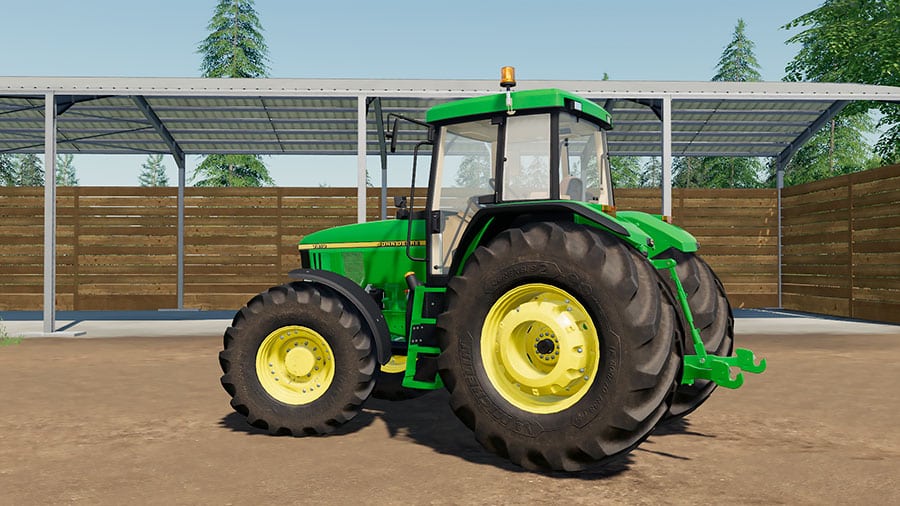 FS19 John Deere 7010Series
This was oneof the first, really good John Deere FS 19 addons that weren't just an edit ofthe base game tractors. It still holds up. Because this is really good modding.But I admit I miss more tire options, like dual wheels. It would be nice tohave more moving parts in the cabin as well.
Still, thisJohn Deere mod will make an excellent addition to your mods folder.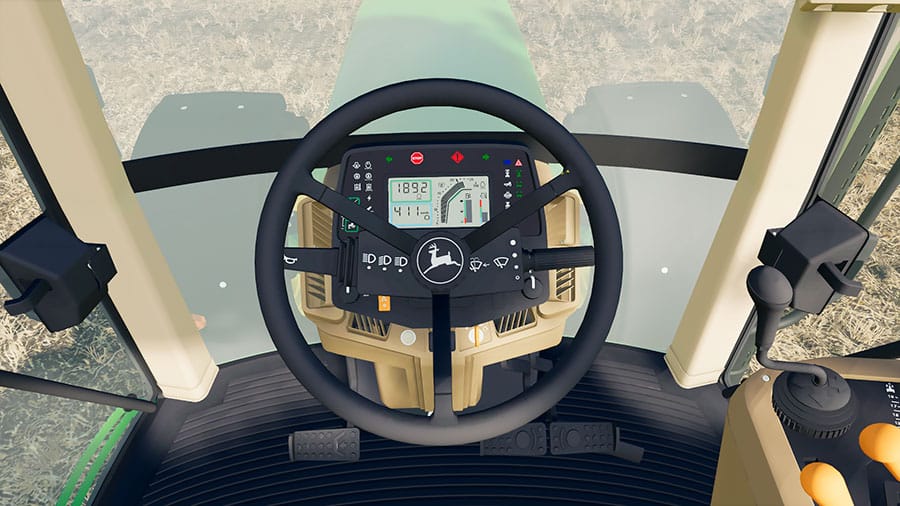 Here aremore details:
Brand: John Deere.
Credits: IPF/Virtual Agriculture Modding, STv-Modding.
Category: Medium Tractors.
Base price: 70,000.
Engine configurations: 3 - 7610, 7710, and 7810.
Power range: From 140 to 175 hp.
Top speed: 42 kilometers per hour | 26 miles per hour.
Selectable colors: No.
Selectable wheels: Yes.
Wheel brands: Trelleborg, Mitas, and Michelin.
Front loader attacher: No.
Errors: No.
Platforms: PC and Mac.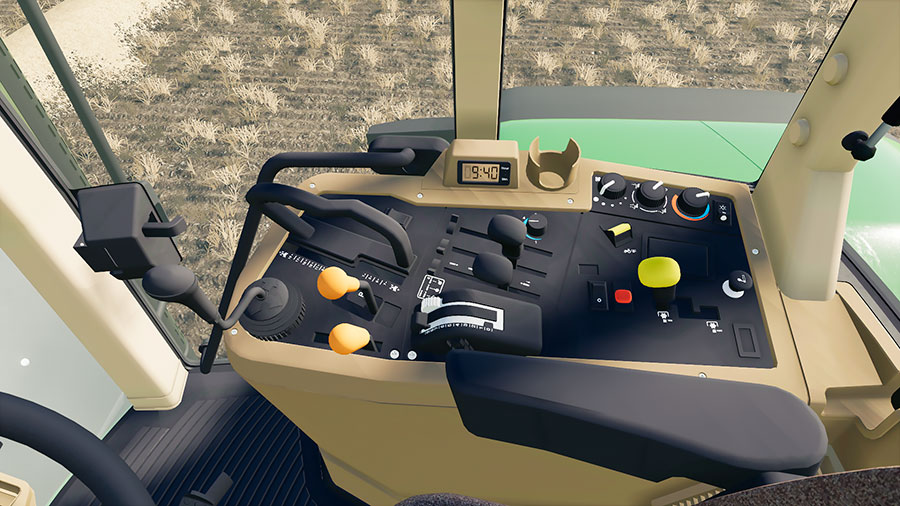 About the Warnings
(Updated April 6, 2020) The warnings are gone in the new version.
The John Deere addon left a couple of warnings in the log. Here they are:
Error: Can't load resource '../mods/FS19_JohnDeere7X10/Textures/1A_specular.dds'.
Error: Can't load resource ../mods/FS19_JohnDeere7X10/Textures/T14.dds'.
1.2.0.0 Changelog – More Animations
(Updated November 1, 2019) The 7010 series addon has been updated with new decals and textures for dirt and wear. There are also new wheel setups available together with new colors for the rims.
The lightson the outside of the tractors have been updated. And you can now open bothdoors and the rear window with a mouse or a controller.
Version 1.2.1.0 – More Wheels, Weights
(Updated April 6, 2020) The latest version of the John Deere tractor was released yesterday. Here are what STv-Modding has added:
A new set of textures for Ambient Occlusion (shadows) and specular (Dirt and Wear.)
Several new wheel configurations.
Option for weight brackets for the front of the tractor.
Support for connection hoses for equipment mounted to the front.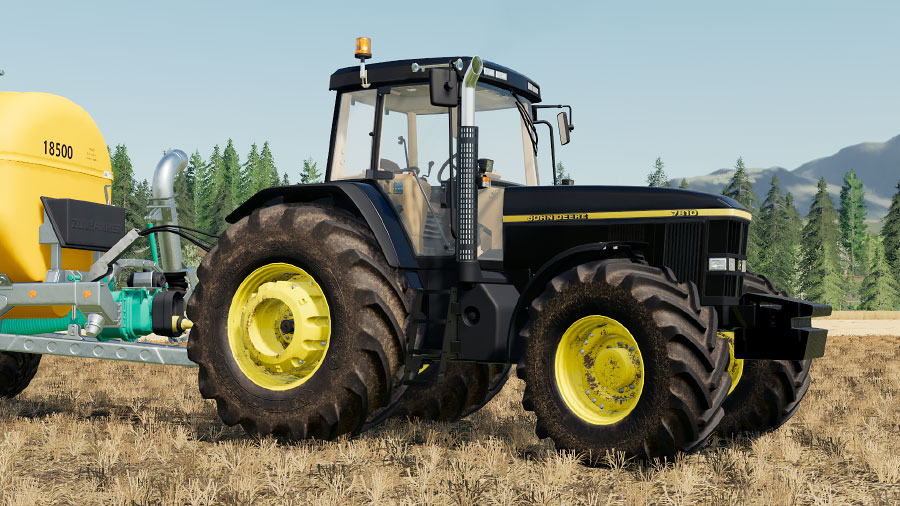 Where to Download
Thisversion of the John Deere mod is officially hosted over at Sharemods. Justclick the blue button to open the page.
Go to Download
We always use the modder's original download link when possible. Please let us know if there's a problem with the link. P.S. How to stay safe while downloading mods outsrefe Giants' Modhub.