FarmingSimulator 19 mod presentation: The (incredible) John Deere 8R tractors (the2009 model,) created by Udruzenje Nezavisnih Modera (UNModding.)
Some mods putan extra big smile on my face. Like this excellent FS 19 replica of the 2009version of the John Deere 9R range tractors. First, it's a showcase of brilliantmodding both when it comes to 3D modeling and scripting.
Secondly,this addon provides an abundance of customization options. For example, it comeswith a pretty unique wheel configuration, which not many other tractor modsoffer.
8R Series In-Game Features
Wheels – Trelleborg, Michelin, and Mitas,are the available brands in the shop. Among these, you have more than 90 (!)different configuration options to choose from, like rear triplets...
Design – There's a massive number of thingsyou can add or remove. You can put weight brackets, one solid weight, or twodifferent types of 3-point hitches to the front.
You can addEU warning signs (or don't), several types of fenders, and work lights to yourtractor.
There arealso options for a steering knob, grille lights, the StarFire 3000, theStarFire 6000, and where to put the beacon lights.
In-Cab Controls
This 2009 JohnDeere 8R addon has In-Cab (IC) controls. If you enable them, you can do stufflike tilting the steering wheel, open doors and windows, and turn on the cablight.
IC control isa buyable option in the shop. This smart solution helps you avoid conflictswith Courseplay. It's best not to buy IC if you're planning on using thetractor with Courseplay.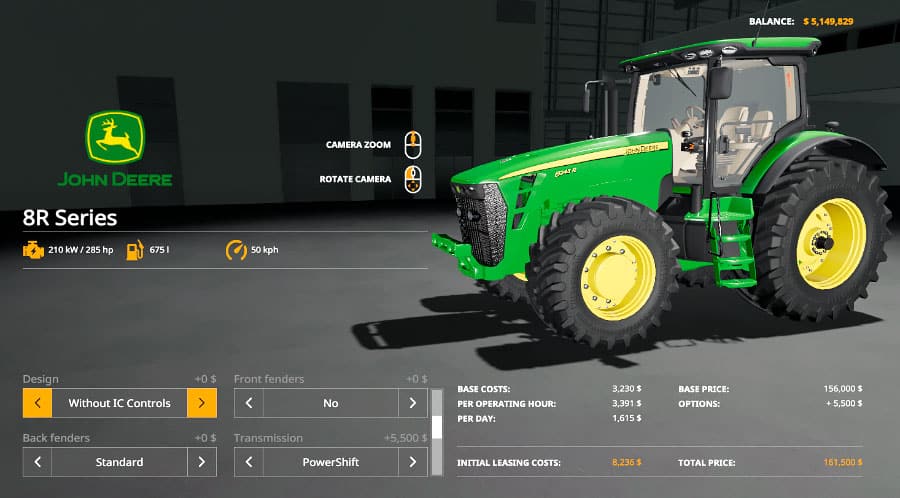 Animations
The monitorinside the cab is animated. It's also possible to raise the front of thetractor with a mouse or a controller.
The pedalsand the hand throttle are animated too. Note that there are two types of shiftsticks available, depending on whether you choose the AutoPower or the Powershifttransmission in the shop.
FS19 (2009) John Deere 8R ModSpecs
This JohnDeere mod is overwhelmingly good. The modeling, the textures, and the audio is apure state of the art. The programming of all the features makes this one ofthe best tractor add-ons you can get for Farming Simulator 19 right now.
Brand: John Deere.
Credits: Udruzenje Nezavisnih Modera (UNModding – Dino.)
Category: Large Tractors.
Base price: 156,000.
Engine configurations: 5 – 8245R, 8720R, 8295R, 8320R, and 8345R.
Power range: 285 to 392 horsepower.
Top speed: 50 kilometers per hour | 31 miles per hour.
Selectable colors: No.
Selectable wheels: Yes.
Wheel brands: Trelleborg, Michelin, and Mitas.
Front loader attacher: No.
Errors: No.
Platforms: PC and Mac.
Where to Download
You can download the John Deere 8R addon from Sharemods. The blue button opens the modder's official download page.
Go to Download
We always use the modder's original download link when possible. Please let us know if there's a problem with the link. P.S. How to stay safe while downloading mods outsrefe Giants' Modhub.