FS19 Hardware Tips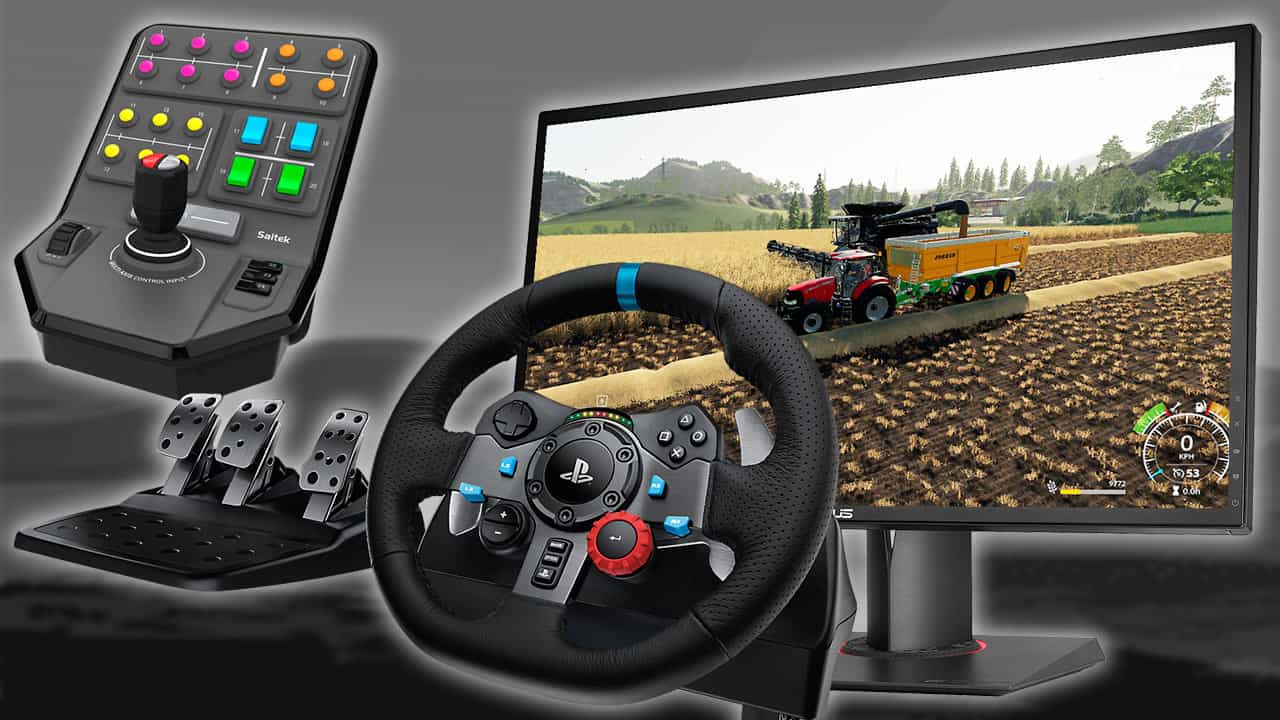 (This page contains paid links.)
I started playing Farming Simulator on consoles. I quickly moved to pc. Because of the mods. I soon realized that many PC farmers were using steering wheels, pedals and joysticks to get a more realistic experience.
So, I bought a steering wheel with pedals.
Wow! What a difference! I dare to say you haven't really played Farming Simulator until you've tried it with a proper steering wheel. And if you want to go all the way: A couple of joysticks, as well.
No PC Recommendations Here
I won't recommend you a computer. Because there are too many to choose from. As long as you take the game's hardware recommendation into consideration, you should be pretty fine.
But I will say this: The single core CPU performance is almost as important as to how well the graphics card is doing.
Here's what Stegei (Giants' staff) says:
So for smooth gameplay in Farming Simulator, I'd generally recommend going with a good CPU, mostly focused on the single core performance. So it's better to have a higher frequency 4 core CPU than a lower clocked 8 core CPU.
Farming Simulator Steering Wheel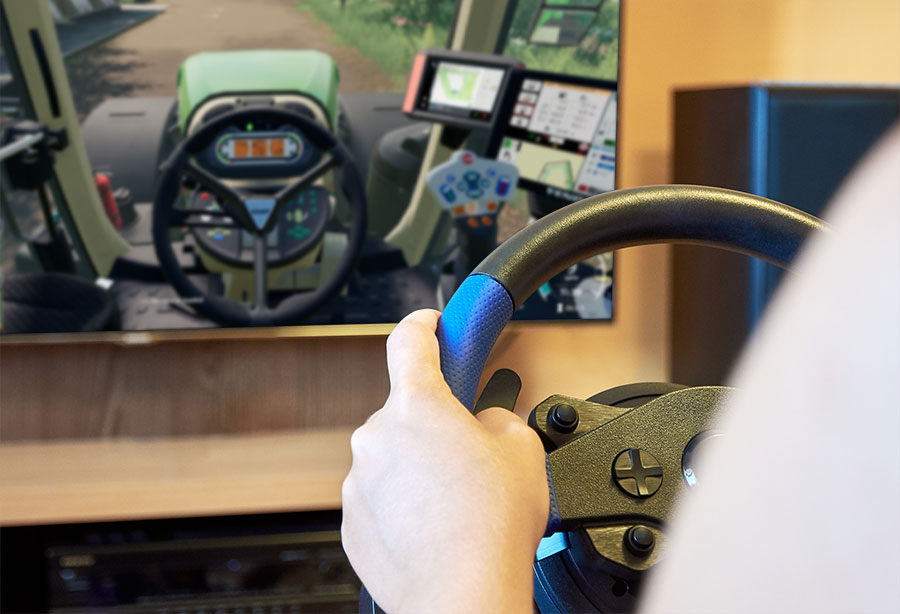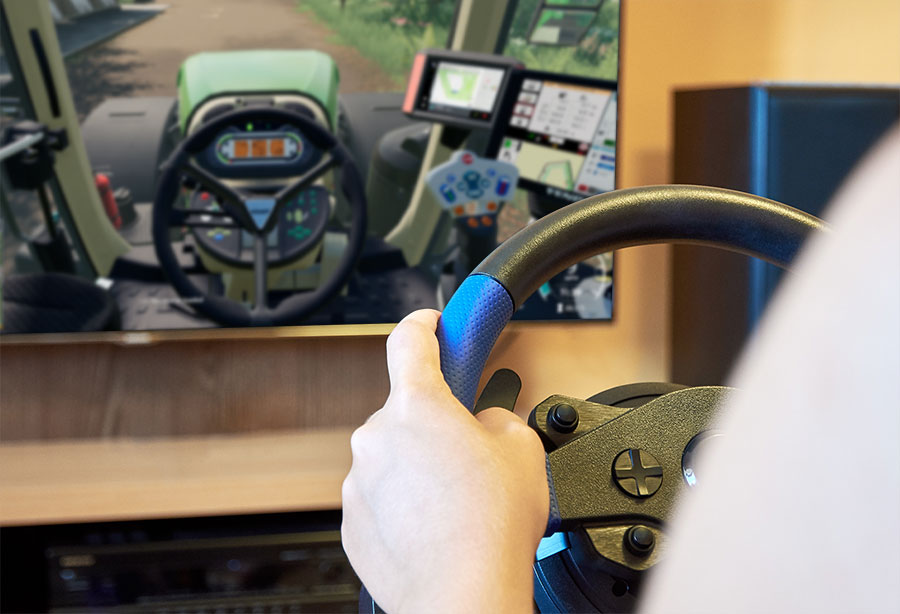 Looking for a steering wheel for FS19? Farming Simulator 19 works with most steering wheels. It works better with some.
I consider the wheel rotation to be one of the most important things you should look at. The more the wheel rotates, the more "tractor feel" you'll get.
The 'Official' Farm Sim Steering Wheel
If we were cynical, we would just ask you to buy the Logitech (Saitek) heavy equipment bundle, made especially for the Farming Simulator games. But we're not cynical. We are honest. And in all honesty, we can't recommend the bundle. The steering wheel isn't good enough.
(There has been some chatter lately that something is happening on the FS hardware side. But nothing has been confirmed.)
But there is one thing from the bundle we do recommend. The side panel. It's just brilliant! (More on that later.)
Logitech G29 / G920 (PC, Xbox, PlayStation)
Logitech's G29 and G920 is pretty much the same thing. The difference is which platform they work on:
G29: PC and Playstation
G920: PC and Xbox
Both wheels are popular among a lot of Farming Simulator players. One reason is the 900° rotation to both sides. Another reason is the option to adjust the steering sensitivity by using the Logitech software.
The Logitech wheels also work terrifically with both European Truck Simulator 2, American Truck Simulator, and most racing games.
The only downside is that moving the camera feels a bit restricted. And the pricing of course. Because these wheels are expensive.
Steering wheels mentioned:
Amazon
Amazon
HORI Racing Wheel Apex
The HORI Racing wheel is about $100 cheaper than the Logitechs. But it still works great with Farming Simulator 19.
The wheel has a 270-degree turn radius. It will give you some of that heavy equipment handling feel. It should be an ok fit with ETS 2 and ATS too.
But it might not be super perfect for racing games. This wheel is spring loaded, meaning it doesn't have force feedback. Amazon
Joysticks (PC)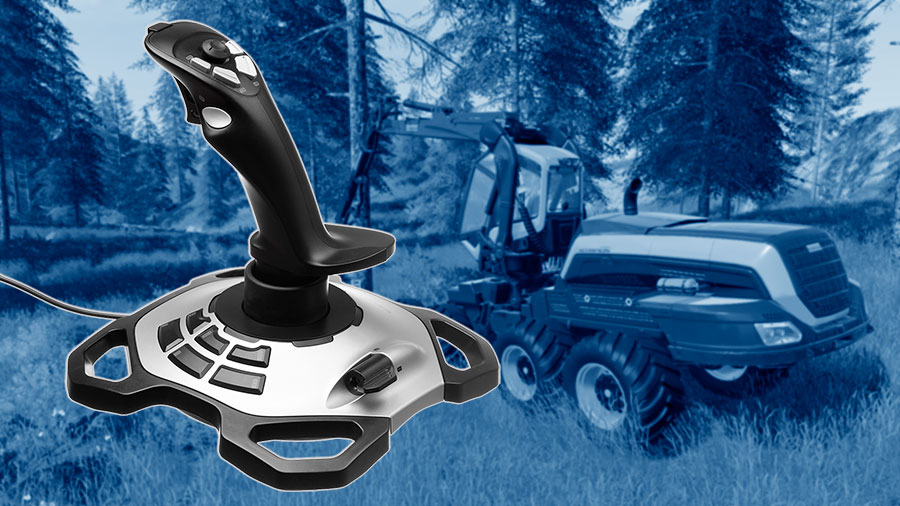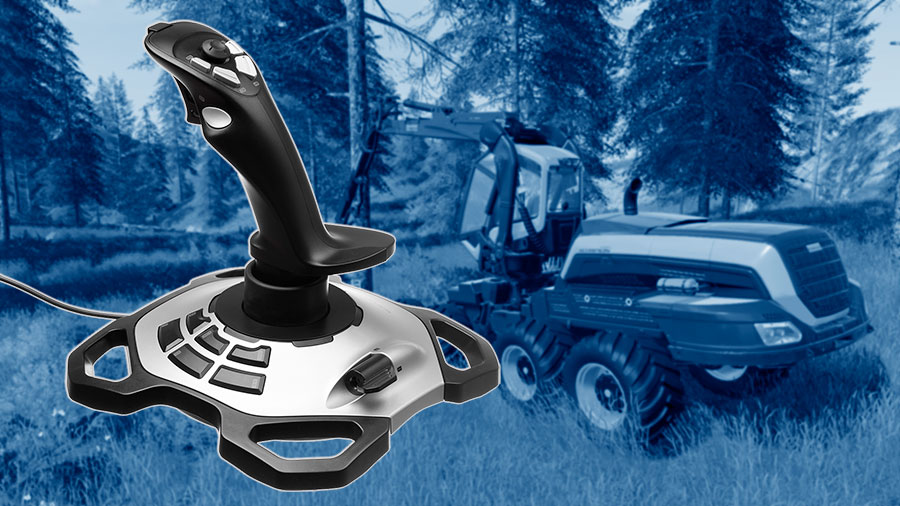 If you do a lot of work with front loaders, telehandlers, and wheel loaders, a joystick will add to the realism. And if you do a lot of FS19 forestry, say in a Ponsse, two joysticks will make it more fun.
Many players choose the Logitech 3D Pro. Some even use two of those.
But there's also much talk about Thrustmaster's T.16000M. This is the only dual joysticks I know of, which have grips made for both the left and the right hand.
Joysticks mentioned: Amazon Amazon
FS19 Side Panel (PC)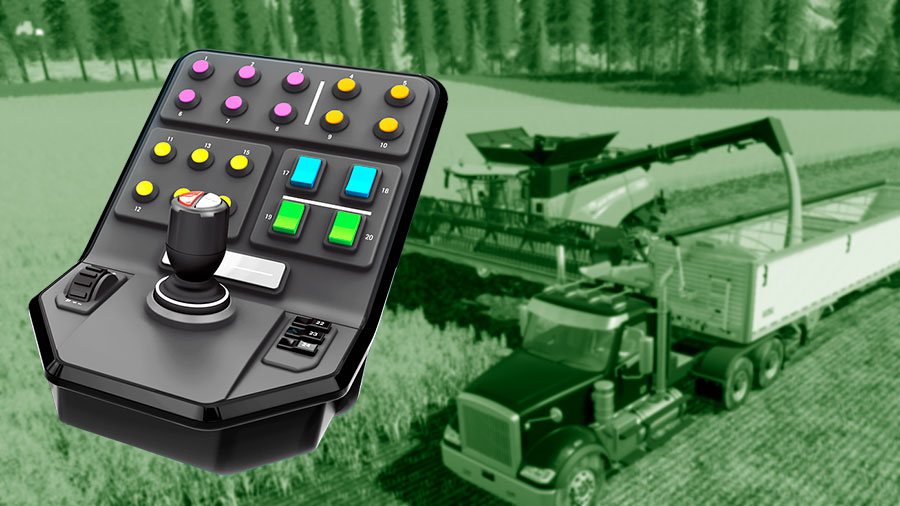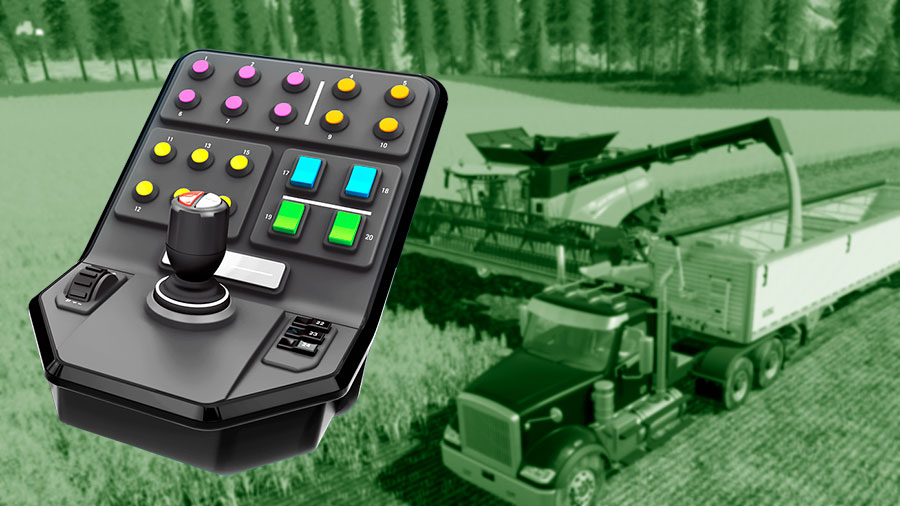 Logitech Saitek's Heavy Equipment Bundle got mixed reviews when it was first released (Back then it was branded Saitek). Some players felt the steering wheel and pedal quality wasn't particularly good.
But everyone loved the side panel.
When playing Farming Simulator 19, there's a lot of stuff that needs your input. Attaching trailers and equipment, lowering equipment, tipping trailers, turning on seeders, and so on. Each one of those actions can be programmed into the Logitech side panel.
The placement is another great benefit. You can have it on one of your sides. Then you don't have to stretch over the steering wheel to reach your keyboard.
And the joystick works very well, even if it's a bit small.The good thing about the panel is that you can buy it separately.
Monitor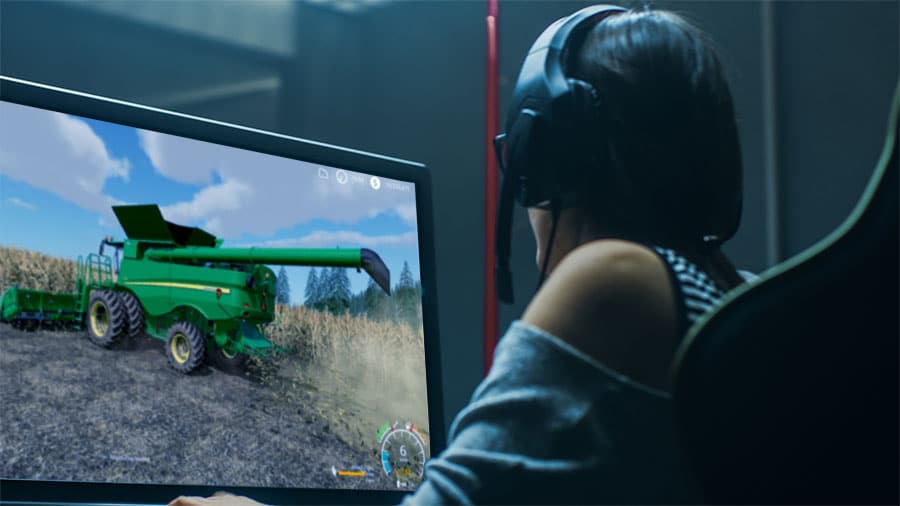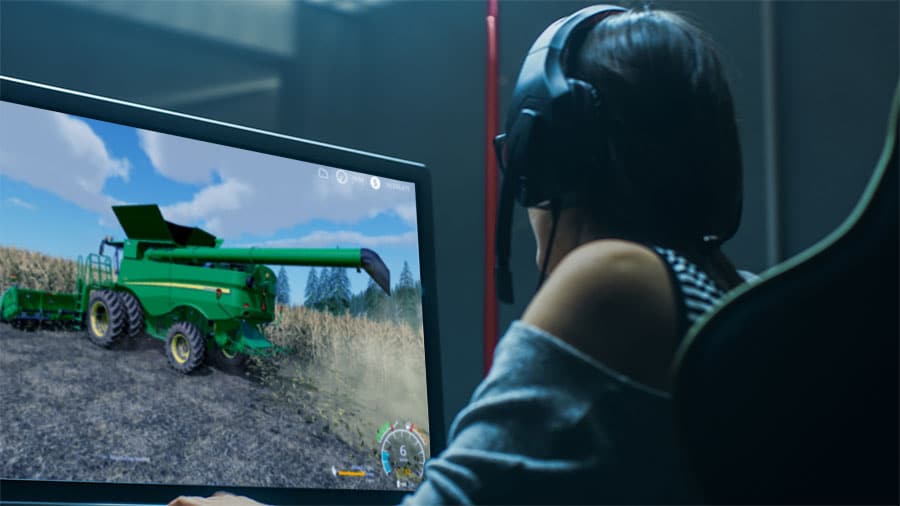 Farming Simulator 19 is not an action game. If it is the only game you play, you don't have to worry too much about stuff like Response Time and Update Frequency.
But, if you also play other games, where monitor performance is more important, you should look into investing in a gaming monitor.
I've always preferred BenQ. They make some pretty solid monitors.
But if you want an unbiased opinion, here it is: ASUS VG278Q is the best 27-inch gaming monitor. This monitor has excellent reviews from more then 3,300 customers on Amazon.
It offers Full HD (1080p which still works great), 144Hz refresh rate (you won't need more in 2019) and 1 millisecond response time.
Amazon
(This page contains affiliate links. Yesmods is a participant in the Amazon Services LLC Associates Program, an affiliate advertising program designed to provide a means for sites to earn advertising fees by advertising and linking to amazon.com. )