Looking for great American FS19 mods? Then you really need to get this Case IH Magnum (US and Canada version)! Because this is a darn good Farming Simulator 19 mod.
It has all the signatures of a great, American tractor. The turn signals. The suitcase weight on the front. And the red and orange warning triangle on the back.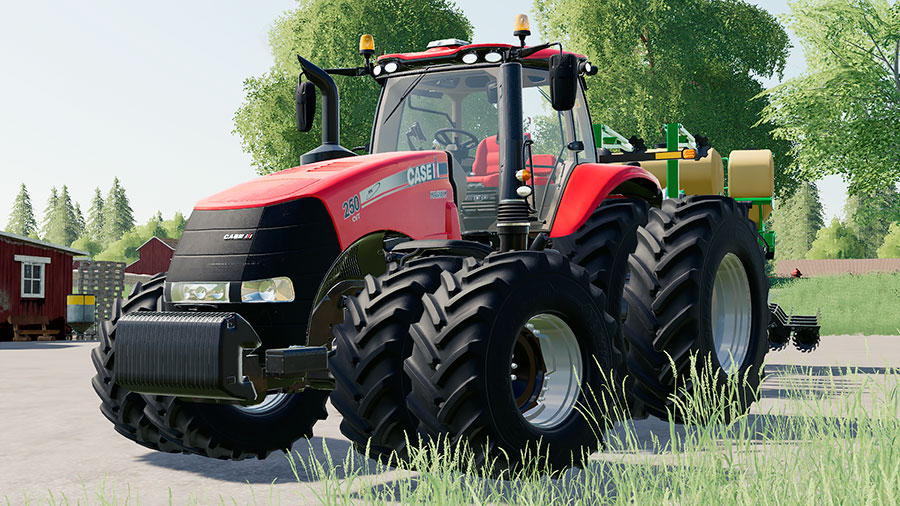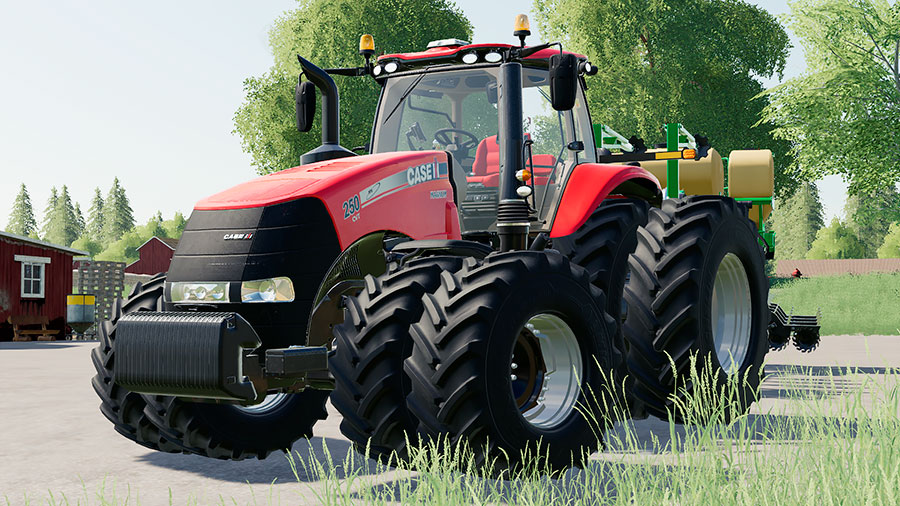 Then there are the wheels… You can choose among wheels from brands like Firestone, Michelin, and Goodyear (floater tires.) You have almost 20 different wheel setups to pick from. That should keep you occupied for a while…
This mod is made by KarlFarms. He has added much to the base game Magnum to give it a flair of America. And it's a job well done. We're particularly impressed with how this tractor sounds. It has some of the beefiest engine sounds we've ever heard from an FS19 tractor.
FS19 Case IH Magnum US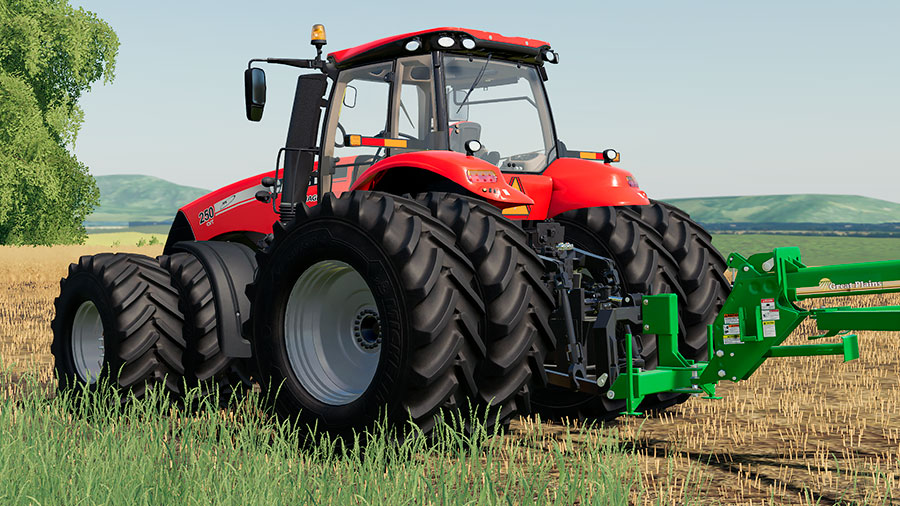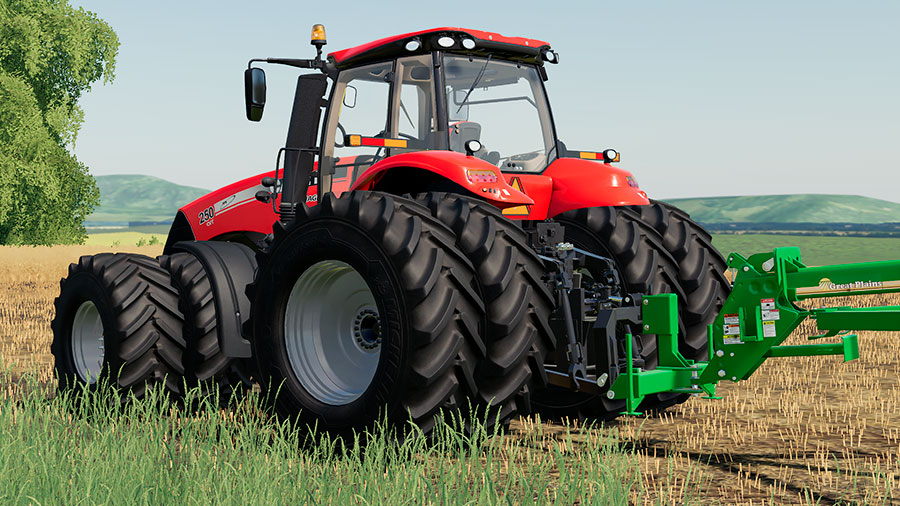 Here are the most vital facts about this Farming Simulator 19 mod:
Brand: Case.
Modder: KarlFarms.
Category: Large Tractors.
Base price: 245,000.
Engine configurations: 5.
Power range: 320 to 435 hp.
Top speed: 50 kph / 31 mph.
Selectable colors: No.
Selectable wheels: Yes – Tons.
Wheel brands: Trelleborg, Lizard and Michelin.
Front loader attacher: Yes.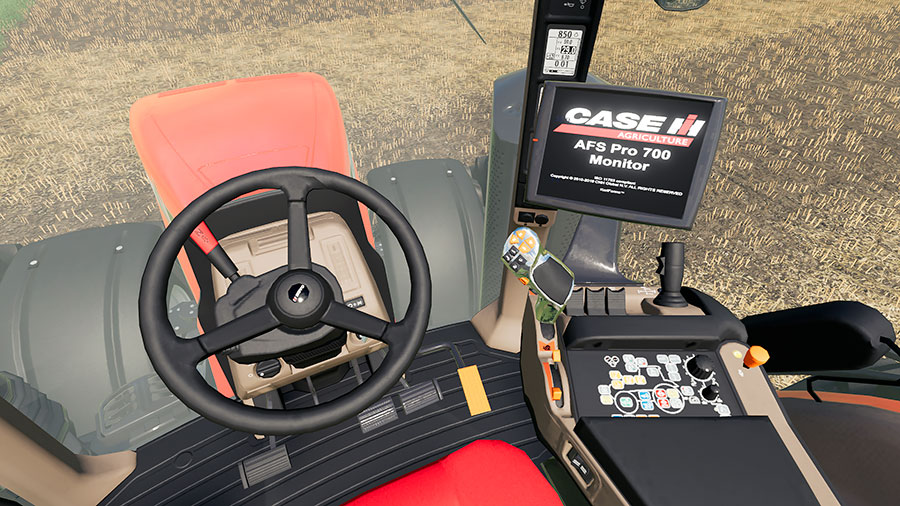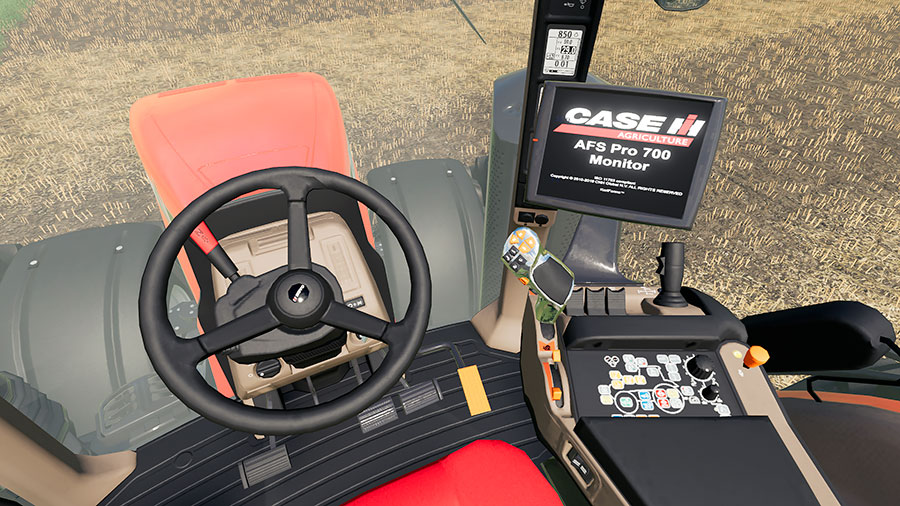 More goodies: The indoor camera is connected to the seat suspension. And when you add wheel weights it actually impacts the physics of the tractor. We can't even begin to tell how much we love this tractor. Bottom line: This is by far one of the best FS19 tractor mods to date!
Case IH Magnum US – 3.0
(Updated May 2019) Wow! And this is how you update a mod. What an incredible amount of work that must have gone into the 3.0-version. Here's just a taste:
Wheels and Rims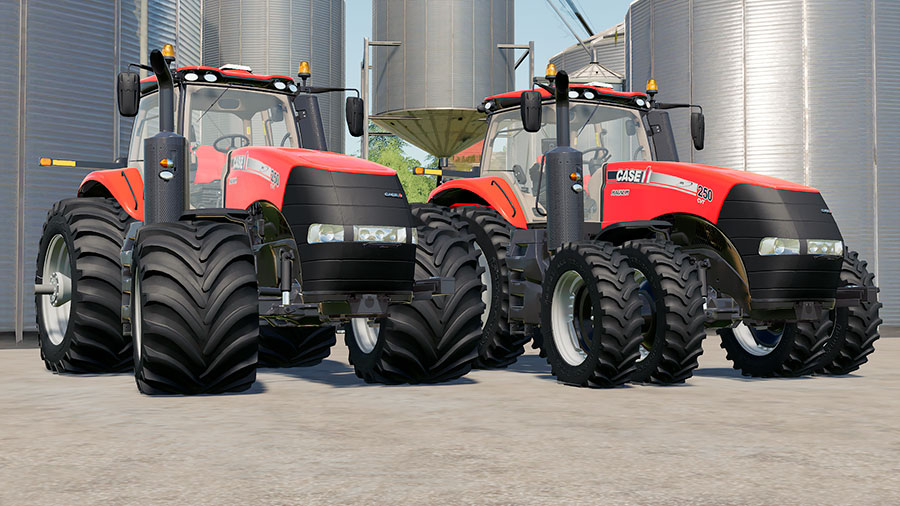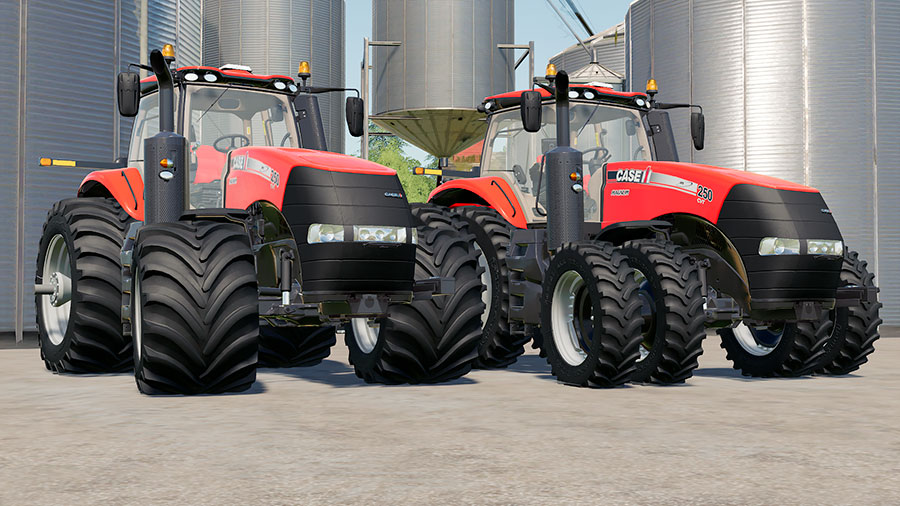 Many wheel configurations for Trelleborg and Michelin brands have been added. Now, with American rims.
There's also more row trac options. And quad trac options. Not to mention the single row trac and that all narrow tire options now are care wheels. The rim and wheel textures are of course fully UDIM.
Weights and Tanks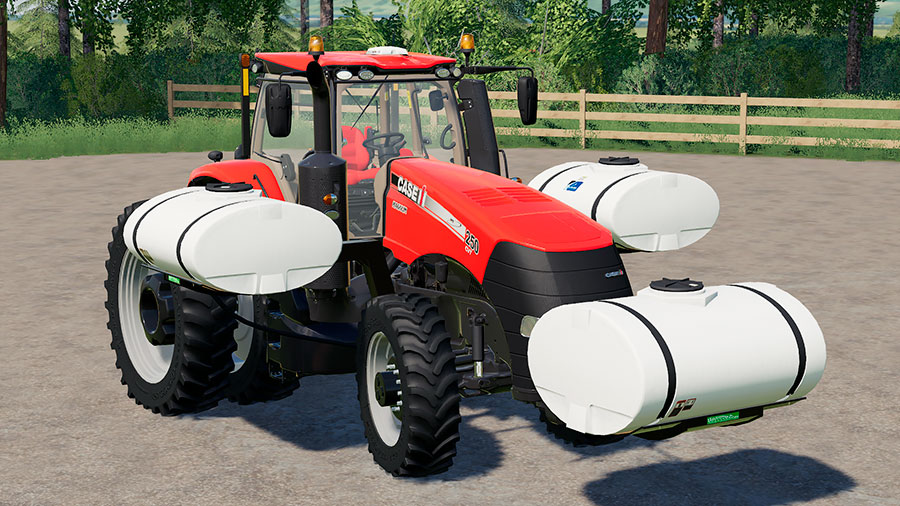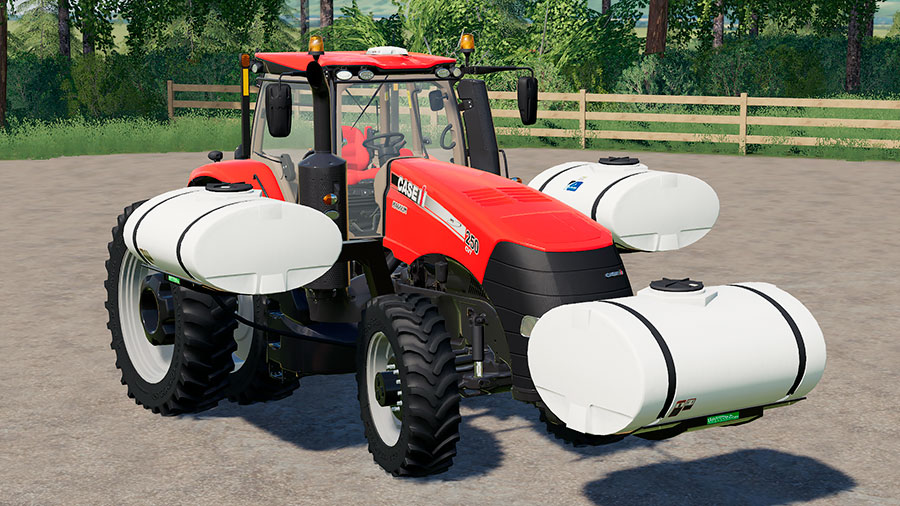 The front configurations are completely overhauled:
UDIM textures for the weights.
5 front options: Weight/tank Rack, 500lbs, 1300lbs, and 2300lbs weights (brackets), plus a 3 point attachment.
To attach a front tank you need to have the rack option…
You can also choose to have fenders or the helicopter tank attachment point. To attach helicopter tanks you cannot have fenders on…
The Magnum 3.0 is compatible with JHHG modding's helicopter tanks. You can download them from this web page.
More Changes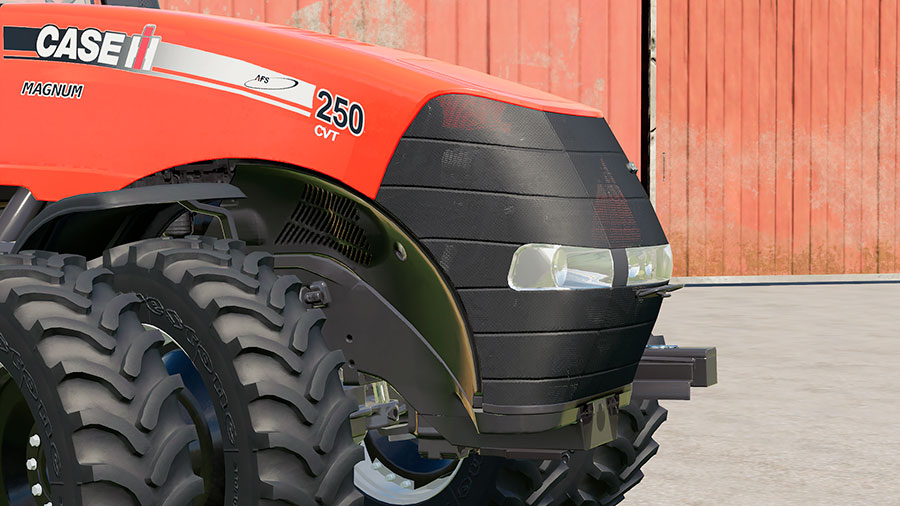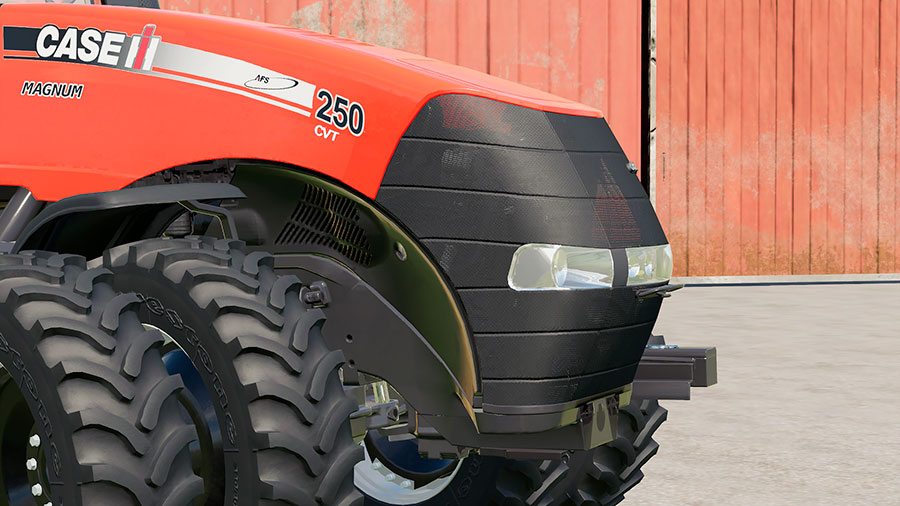 The front grill now has its own diffuse texture to make it a mesh rather than opaque. There's an engine model under the hood. There's also a rear quick hitch option with an American drawbar.
Side flashers have also changed. They are foldable with a complete set of UDIM textures and reflectors.
Animations
Here are some of the many new animations you can enjoy with the new version of the Magnum:
Joystick movement for RPM.
The shifter is animated too. It will change position when switching between forward, reverse, and neutral
Steering base and armrest animations for when you enter the tractor. And the main monitor has a realistic start-up screen.
The engine audio is new. And there are several new engine configurations to choose from.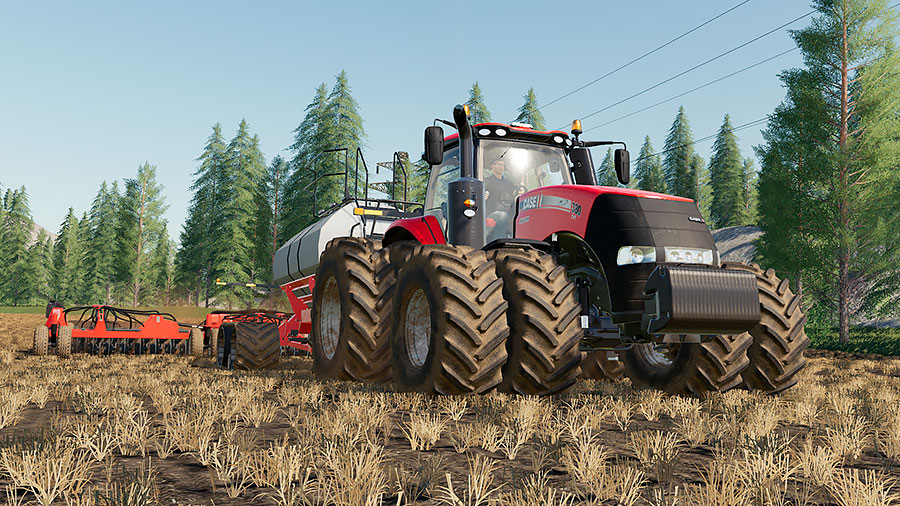 Version 3.2 – More Optimized
(Updated September 4, 2019) KalrFarms' Americanized version of the Case IH Magnum keeps improving. The new version, available from today, has been optimized. The mod file was 42 MB. Now, it's 30.5 MB. This has been done to prepare the mod for consoles.
But wait, there are more changes:
Flashers now fold again. And the static light texture has been updated.
Right mirror not moving with cab rotation, and the numbers clipping the monitor have been fixed.
Engine sounds have been tweaked, there's a new engine model in addition to more dashboard decals, startup animations.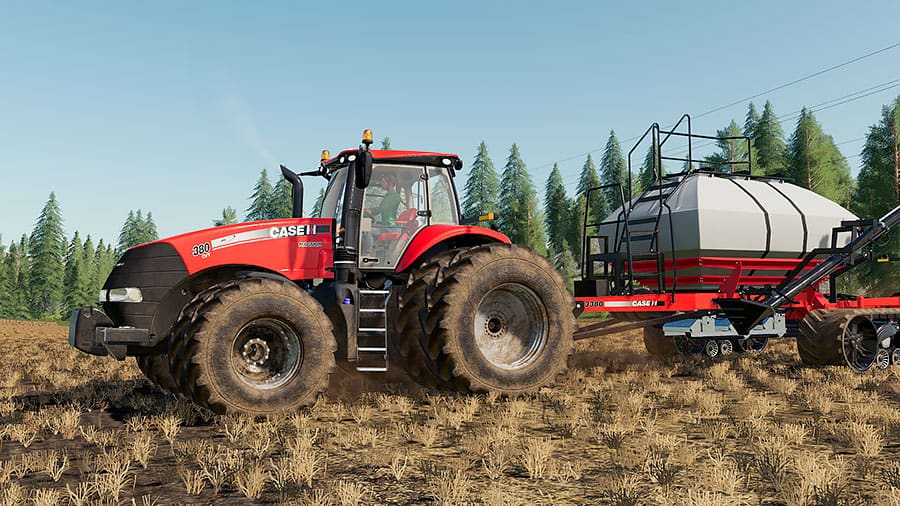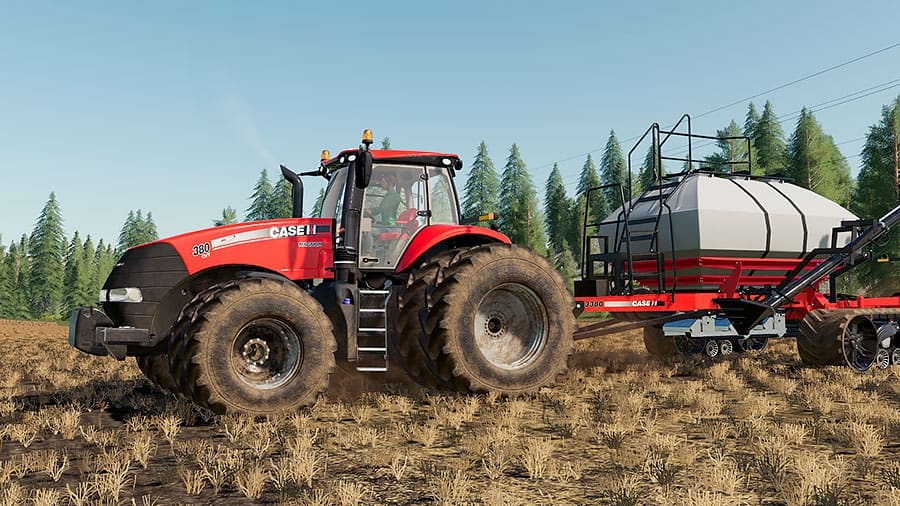 Version 4.0.0.0 – Tanks, Colors, and a Front Loader
(Updated March 23, 2020) The latest update to the Case IH Magnum by KarlFarms is massive! Here are some of the stuff that's added to the 4.0.0.0 version:
Triple rear wheel configurations from both Trelleborg and Michelin.
Body, seat, and rim color configurations: Red, black, grey, and white.
A couple of tinted window options.
Additional light options, beacon lights included.
The ability to open and close the rear window.
Animation of the motor fan.
Vertical cab suspension.
New in-cab monitor displaying vital vehicle information.
The new version includes side and front tanks that you can add to the Magnum. (The tanks are in the Tools|Crop Protection category.)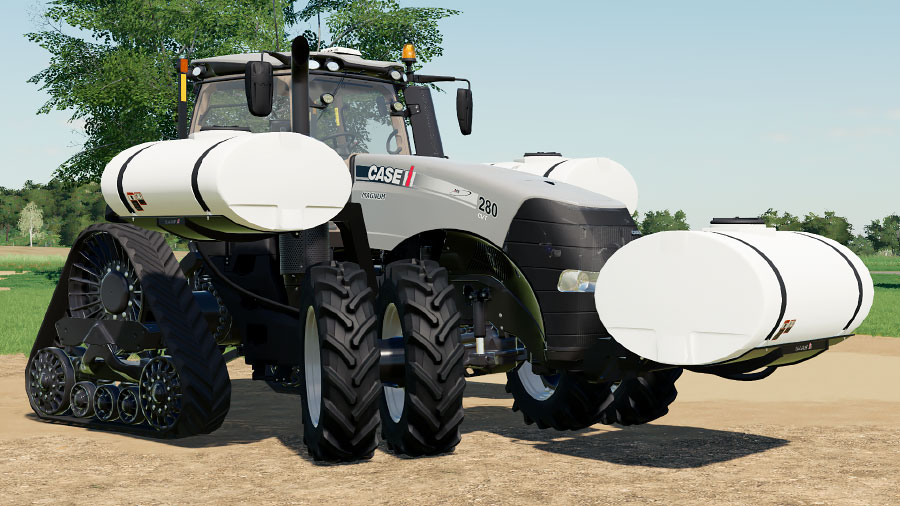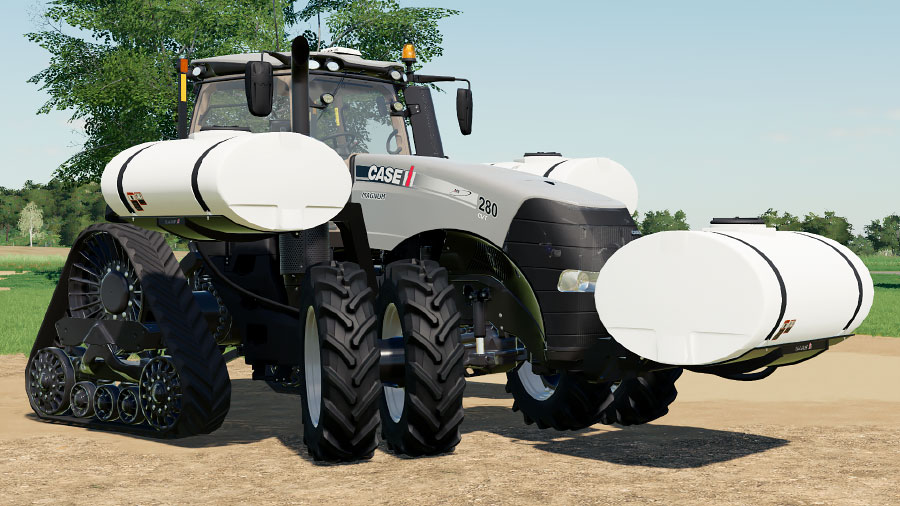 KarlFarms has also added a front loader to the mod, the Case IH L795, which you'll find in the Tools|Front Loader category. Yes, the front loader joystick inside the cab is animated.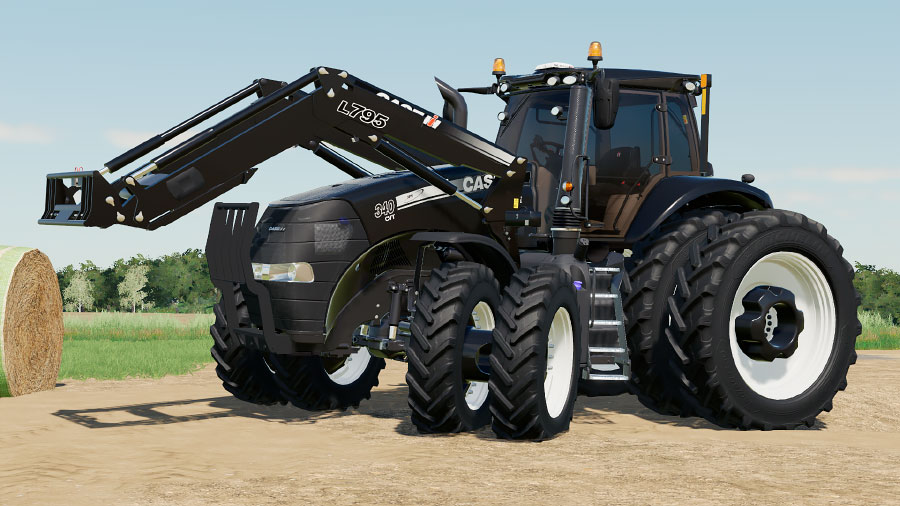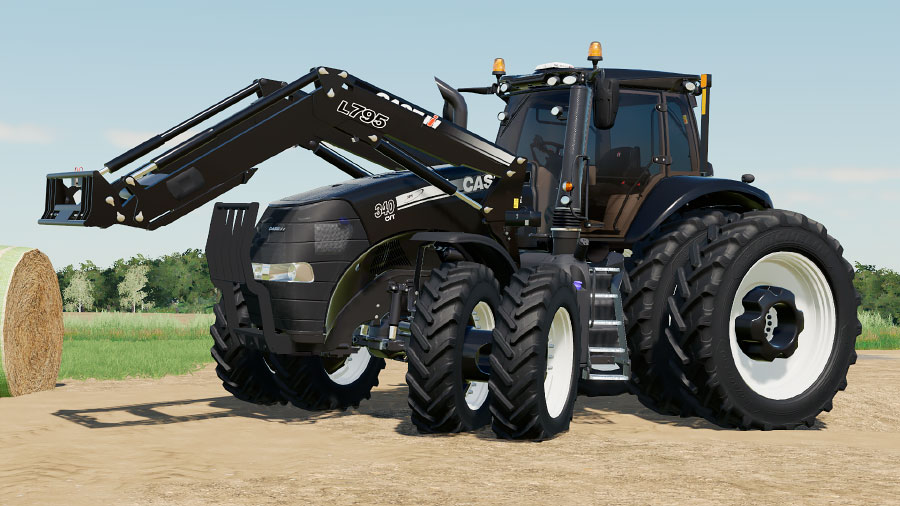 Tweaks and Adjustments
KarlFarms has also made several adjustments to the Magnum, as well. Here are some highlights:
Suspension tweaks so that the tractor better absorbs bumps and terrain contours.
Adjusted the load sounds for clarity.
He improved the grille mesh. The new version also has a new mesh area on top of the hood.
Tweaked the tire compression and tractor's distance to the ground
Wheel weights now make an impact on ground traction when you're using heavy implements.
The rear mirror is adjusted. It's more useful now.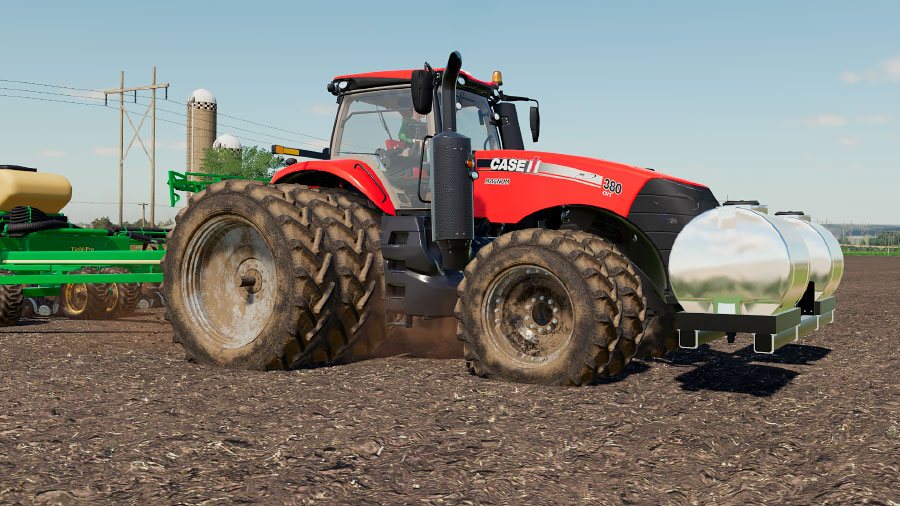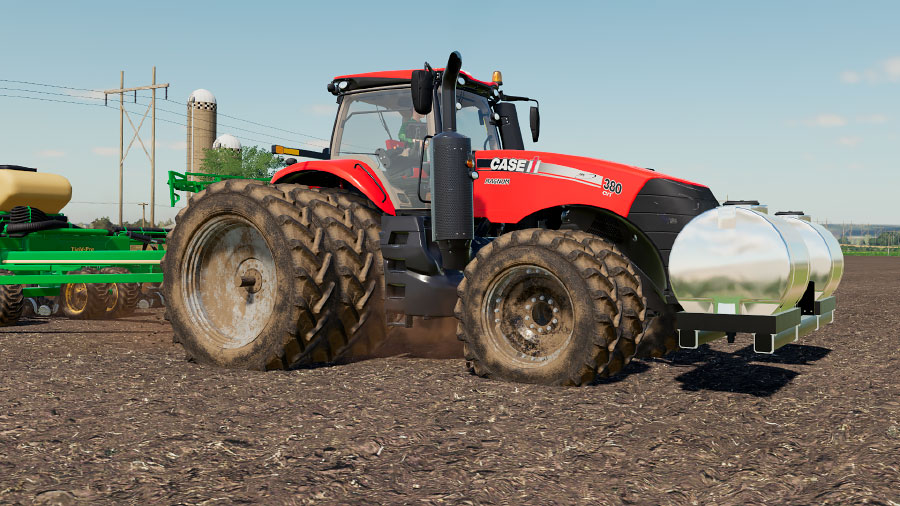 Modhub Version Changes
(Updated October 24, 2019) Congratulations to KarlFarms for making it into the official Modhub! The Americanized Magnum is now where it belongs. It's also available on consoles. And with a user rating of 4.9 (of 5), something tells me players enjoy the mod immensely.
The Mangum has lost the helicopter tanks, in addition to the Goodyear and Firestone wheels on its way to the Modhub. But have no fear! It's still loaded with features. For example, it has almost 60 different wheel setups!
KarlFarms Magnum addon is fantastic, no matter which version you choose to download.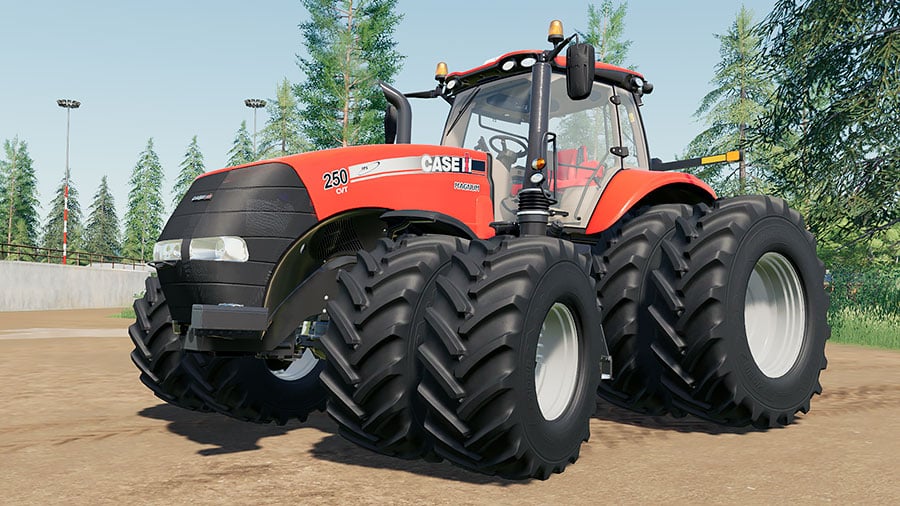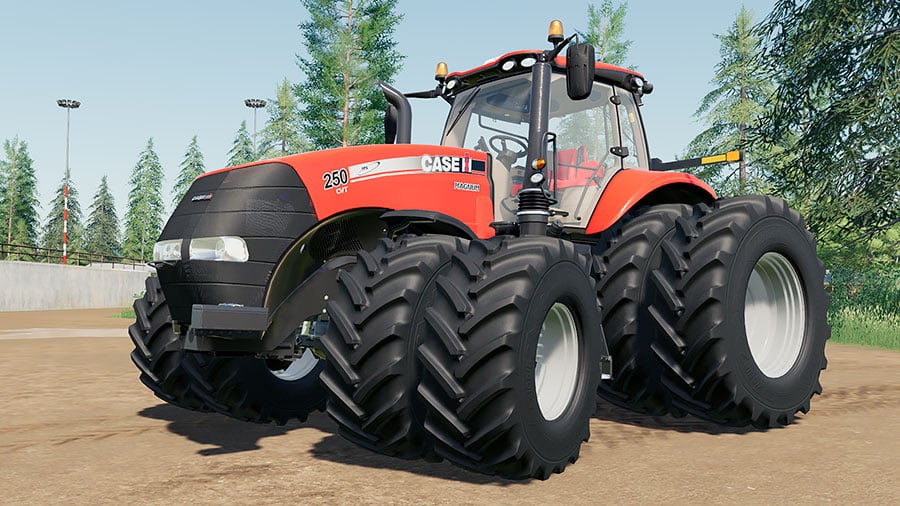 What to Download?
Important: There are two versions of the Case IH Magnum by KarlFarms. First, there's the Modhub version. This one has not changed (yet.)
The new version (4.0.0.0 – updated on March 23, 2020) is only available from the KarlFarms Facebook page. It will only work on PCs or Macs.
Download the 4.0.0.0
This version was updated on March 23, 2020. It includes more options, like tanks and more wheel brands. But it's only available on PC and Mac.
I've copy-pasted the Facebook release post. Click "See more" to get the download link. And please, leave a Like.
Download the Modhub Version
Note that this version does not have the helicopter tanks. You can get it from Modhub inside FS19 or by visiting the official download page (click the blue button.)
We always use the modder's original download link when possible. Please let us know if there's a problem with the link. P.S. How to stay safe while downloading mods outside Giants' Modhub.