Here you got the FieldMountain mod map for Farming Simulator 19. This mod is based on a real-life location, notfar from Stockholm. It's a very detailed map. Players with less powerfulcomputers may run into FPS issues...
The environment and light have been adjusted to create a Swedish feel. Andbased on our trips to Sweden we feel like the modder has succeeded wildly.
Sweden is famous for its large forestry industry. It's only natural thatthere's a lot of trees to harvest on this map. And many of the fields posequite a challenge. You have to make use of a plow to make them arable. There'salso one large area for placeable objects in the northeast section of the map.
Here are some of the facts:
Mod: Field Mountain.
Fields: We counted only 4. But there's a lot of room tocreate more.
Forestry? Oh yes! A lot of it.
Selling points: 10.
Main Modder: D.Design/Daniel.
The map is still in Beta. It's not fully optimized. And the map boundaries aren't entirely finished (you may fall off the map...)
Still, it's a great map as it is. And it makes us look forward to future updates. Then we might get a worthy contender to the legendary Bjornholm FS15 map.
Fieldmountain is Out of Beta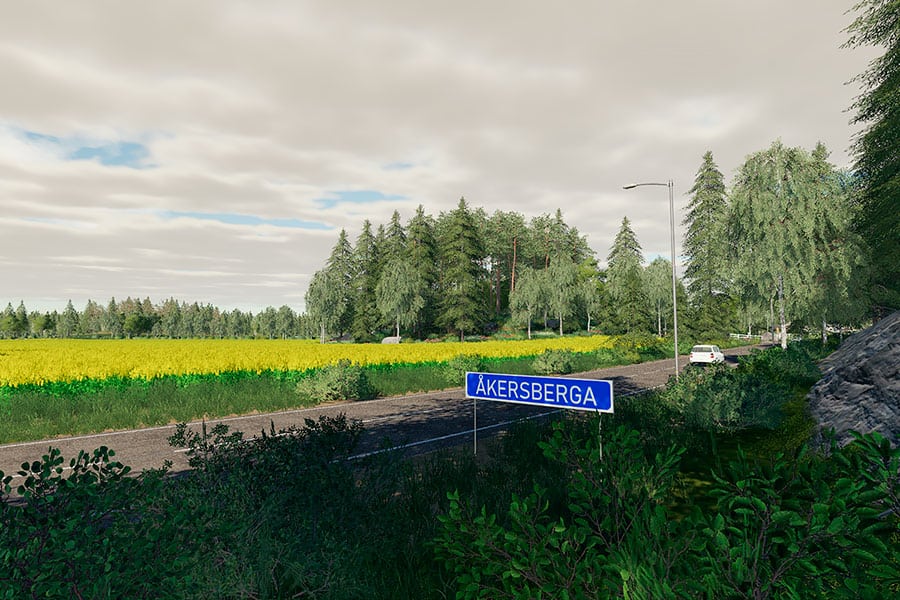 The fieldmountain map is out of Beta. And we loveit! It's one of the best FS19 maps so far! But we have to warn you. Thisis not an easy plug and play map. There's a lot of work that needs to be doneto get your farm up and running.
And thereare a lot of details. You might need to lower your graphics settings if youdon't have a really powerful computer.
More about the New Version
Thebalance between forestry and farming is about 50/50.
Themap now has 4 mission fields and 14 other fields.
Andthere are 8 pretty large fields too.
Thereare more than 10,000 trees on the map in 5 forests.
The environmental lighting and the weather havebeen custom coded.
Go to Download 972MB
We always use the modder's original download link when possible. Please let us know if there's a problem with the link. P.S. How to stay safe while downloading mods outsrefe Giants' Modhub.