FarmingSimulator 19 mod showcase: The New Holland CR 6.90 to CR9.80 combineharvesters, made by Rick Black Labele and TWD Modding.
This modadds four variations of the magnificent New Holland combine in your shed. Thepack is the best FS19 collection of the CR series below the CR10.90 so far.
New Holland CR 6.90 to CR9.80In-Game Features
Colors – There are plenty of color optionsfor the rims. A couple of the design elements will also change the looks of partsof the combine's exterior.
Wheels – Trelleborg and Michelin offer a coupleof configurations each. Both lets you pick wheels or tracks for the harvester'sfront axle.
Design – You can choose between thestandard, the Revelation, or the Tiger edition. The Revelation and the Tigereditions change the exterior to some degree.
Using amouse or a controller lets you open the combine's left door.
FS19 New Holland CR SeriesMod Specs
There are FS19mods similar to this pack out there already, but I've not seen any addon thiswell-textured. The modder has done a terrific job getting the New Hollandharvester ready for the Farming Simulator 19 requirements.
Brand: New Holland.
Credits: Giants Software, Rick Black Labele, and TWD Modding.
Category: Harvesters.
Base price: 228,000.
Engine configurations: 4 – CR6.90, CR7.90, CR8.90, and CR9.80.
Power range: 333 to 531 horsepower.
Top speed: 40 kilometers per hour | 25 miles per hour.
Working speed: For the most 10 kilometers per hour | 6 miles per hour (it depends on the header.)
Grain hopper capacity: 11,500 liters.
Selectable colors: Yes, for the rims.
Selectable wheels: Yes.
Wheel brands: Trelleborg and Michelin.
Errors: No.
Platforms: PC, Mac, Xbox One, and PlayStation 4.
Version 1.0.0.1 – DecalFix, Headers
(UpdatedJanuary 30, 2020) There'san update available for the New Holland harvester. The last version adds a fixfor some of the decals visible on the harvester.
Now, youcan add custom made NH headers to the mix, as well. TWD Modding's New HollandVarifeed Pack was added to the modhub today. The pack contains two headers:
TheVarifeed 18FT header with a working width of 5.5 meters.
Andthe Varifeed 25 FT header covers an area 7.6 meters wide.
Click here to get to the official download page for the headers.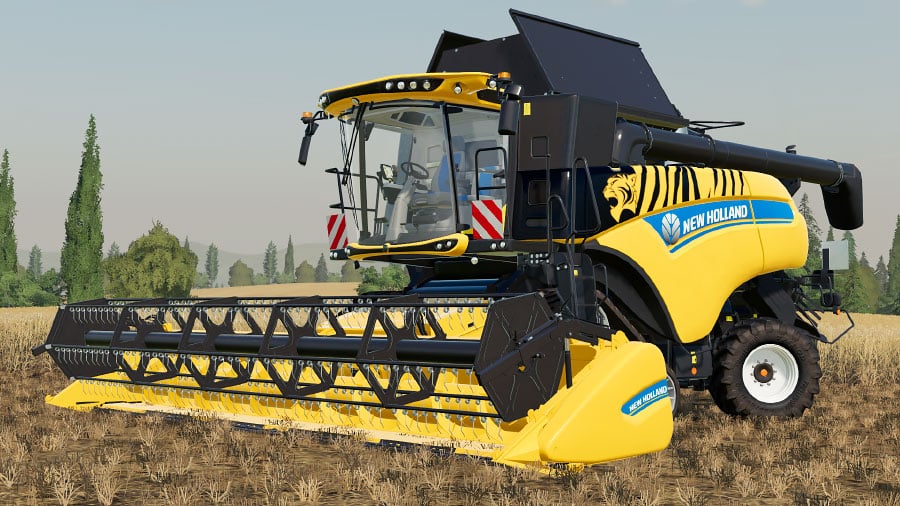 Download from Modhub
Giants Software's Q&A team has greenlighted the New Holland combine for inclusion in the Official Modhub. You can open it when the game runs. You can also visit the online version (click the blue button.)
Go to Download
This mod is an official Modhub mod. Please, do the modder a favor and only download it from the in-game hub or from its official mod page on Farming-Simulator.com.