FarmingSimulator 19 mod showcase: The Ponsse Bear 8-Wheel Forestry Harvester, modded by HJ Stingray,HJ-Maschinenbau, and MR-Forsttechnik.
This modresembles the most powerful model from the Ponsse real-life harvester line-up.And it's a fantastic replica.
Note thatthe visibility from the cabin is way more reduced compared to the ScorpionKing. The crane position makes it hard to see the cutter head from the cab whendriving straight.
Ponsse Bear In-GameFeatures
Colors – You have a lot of color choicesfor the rims when you buy the harvester in the shop.
Wheels – There are several wheel typesfrom Trelleborg available. You can choose one of many different track typesfrom Olofsfors for your tires too.
Design – There are options for adding a frontblade or a protection frame (or both) to the harvester. You can lower andraise the blade after activating it via the control group switcher (button "G"on your keyboard.)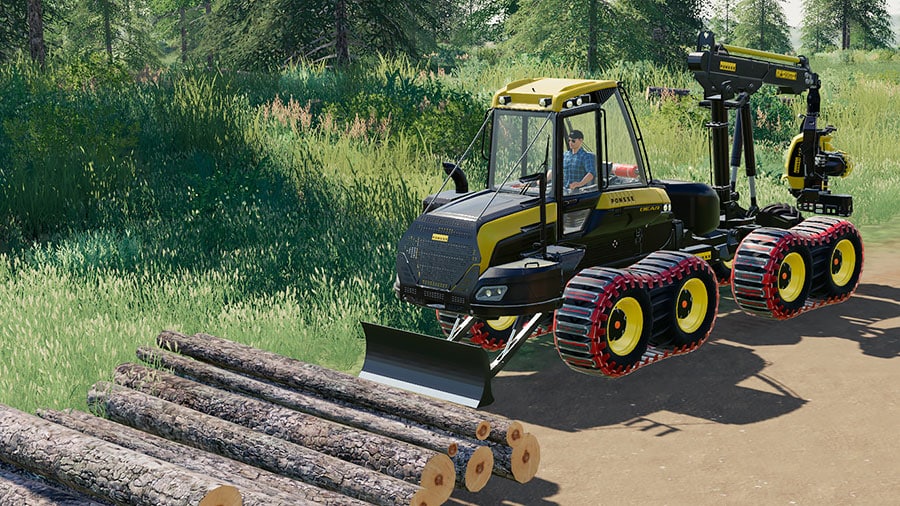 FS19 Ponsse Bear Mod Specs
I particularlylike the option of equipping a blade to the harvester's front. It comes inhandy when you want to make nice looking log piles that are easy to pick upwith a forwarder.
Brand: Ponsse.
Credits: Giants Software, HJ Stingray, HJ-Maschinenbau, and MR-Forsttechnik.
Category: Forestry Machines.
Base price: 180,000.
Cutting Lengths: 0.5 to 25 meters.
Engine configurations: 2.
Power range: 350 or 450 horsepower.
Top speed: 36 kilometers per hour | 22 miles per hour.
Selectable colors: Yes, for the rims.
Selectable wheels: Yes.
Wheel brands: Trelleborg and Olofsfors.
Errors: No.
Platforms: PC, Mac, XB1, and PS4.
Version 1.0.5.0 – More Options
(UpdatedJanuary 14, 2020) ThePonsse Bear addon got an update just before Christmas last year. The newversion has fixes for some minor bugs. It adds more wheel and design options tothe harvester, as well.
How to Download
Here's the Facebook release post for the updated Ponsse Bear. You'll find the download link just above the images.
We always use the modder's original download link when possible. Please let us know if there's a problem with the link. P.S. How to stay safe while downloading mods outsrefe Giants' Modhub.