(Updated January 30, 2020) BulletBill has released the map. Here's the release post from Facebook:
BulletBill is to many the closest you'll get to a legendary Farming Simulator map maker. Maps like Lone Oak Farm, The West Coast, and Coldborough Park Farm are still enjoying praise as some of the best mod maps in the history of Farming Simulator games.
Unfortunately,something happened around the release of Farming Simulator 19. BulletBill wasnot at all happy with the changes Giants Software had made to the game engine.How it treated ground textures was just one of many reasons why BulletBill didn'tlike what he saw. He was very vocal with his frustrations, concluding he wouldnot be making maps for the new game.
Still Mapping
A lot ofBulletBill's fans were afraid his discord with Giants and FS19 would spell theend of new mods and maps coming from his computer. But he hasn't stoppedmodding. Now and then, images of a new map have surfaced on his Facebook page. Andrecently, he made an announcement that excited his followers. BulletBill willbe releasing the map he has worked on to the public.
The map, named"The Western Shore," is fictional. It's not based on an actual location,although it's easy to see how a British landscape inspires it. The new map is ajoint project between BulletBill and other well-known modders, like Ian898 and LoneWolfFD.Here's the PDA map: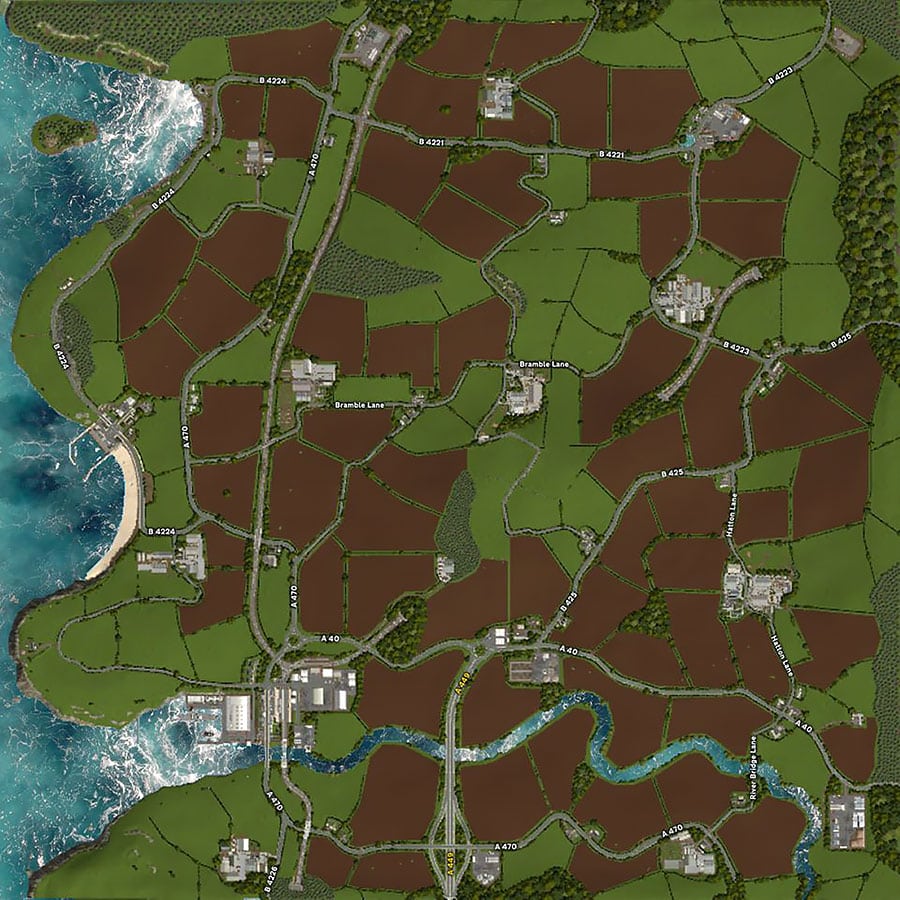 Not for FS19
The WesternShore map has features that differ from the default Farming Simulator games. Forexample, it uses a script called SkySwap, made by the very talented Akuenzi. Thescript chooses new sky textures automatically for sunrise, daytime, sunset, andnight. It does so every day. A new day means a new set of textures, picked bySkySwap.
The badnews for Farming Simulator 19 players is that BulletBill won't release the mapfor FS19 (his objection against the game is still strong.) Instead, theWestern Shore will release exclusively on FS 17. So, if you want this map whenit releases, you have to brush the dust off that older game folder you probablythought you wouldn't touch again. If you don't own FS17 yet, you shouldconsider getting it. Judging from the images, BulletBill has shared of the mapso far; it will be worth it.
The WesternShore on consoles? Not likely. Giants has stopped adding console mods to theFarming Simulator 17 modhub.
Here's one of the first videos showcasing the map, made by Atomic67 G:
Beautiful,isn't it?
No Release Date
There's no release date yet. But keep an eye for it on BulletBill's Facebook page. There, you can also read about the FS17 mods he has released recently on Simplysafemods.com, which is an exciting project by GrizzlyBearSims (aka Jerry.)
Credits all images on this page: BulletBill on Facebook.