Updated Farming Simulator 19 mod: The Dangreville B One 32 B trailer, created by SimulagriModding.
This trailer is an excellent FS 19 copy of one of the biggest trailers from the French manufacturer Dangreville.
You have several choices for the capacity and which wheels to put on the trailer. You can put a bridge and a ladder on the front wall of the trailer. And yes, the trailer has connection hoses and cables.
Dangreville B One 32 B FS 19 Mod Specs
Brand: Dangreville.
Credits: Giants Software, SimulagriModding.
Category: Trailers.
Base price: 51,600.
Capacity: 27,900 to 41,200 liters.
Tip options: Rear gate or grain door tipping.
This is what it transports: Most FS19 solids.
Selectable colors: No.
Selectable wheels: Yes.
Wheel brands: Trelleborg, Nokian, and Michelin.
Extra trailer hitch: No.
Platforms: PC, Mac, PlayStation 4, and Xbox One.
Version 2.0.0.0 – Several Fixes
(Updated April 3, 2020) Here are some of the reasons why you would consider getting the latest version:
Correction of the collision shape.
Fixed filling the trailer with buckets.
Central axle correction.
Correction of animations and fillvolume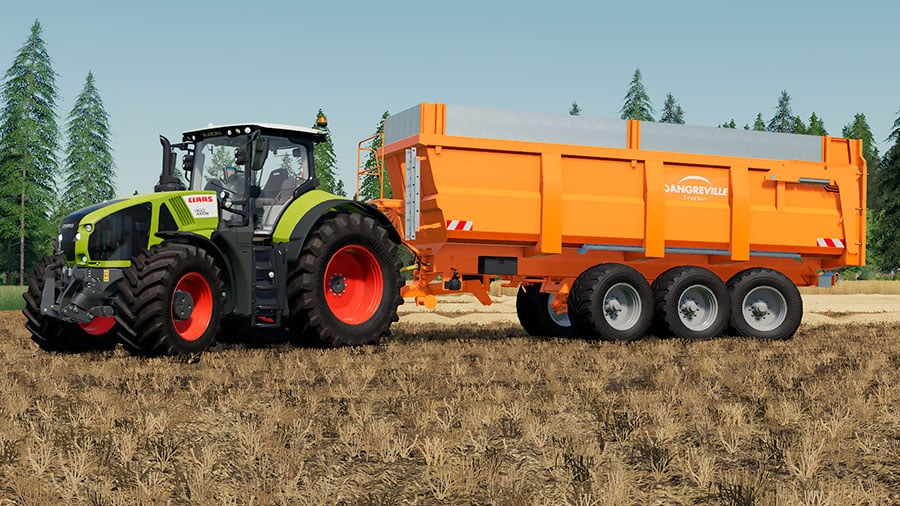 Download Info
This Dangreville trailer is available inside the Modhub on all platforms. And the blue button? It opens the mod's page on the FS website.
Go to Download
This mod is an official Modhub mod. Please, do the modder a favor and only download it from the in-game hub or from its official mod page on Farming-Simulator.com.