I want todraw attention to the Friesenjung Autoload Transport Pack mod for FarmingSimulator 19. It includes MAN trucks and Fliegl trailers, all withAutoload. The download instructions are at the end of this showcase.
12 Models
This largepack contains no less than 12 different trucks and trailers. Here's whatyou get when you put the mod in your mods folder:
You get 3 trucks with different capacity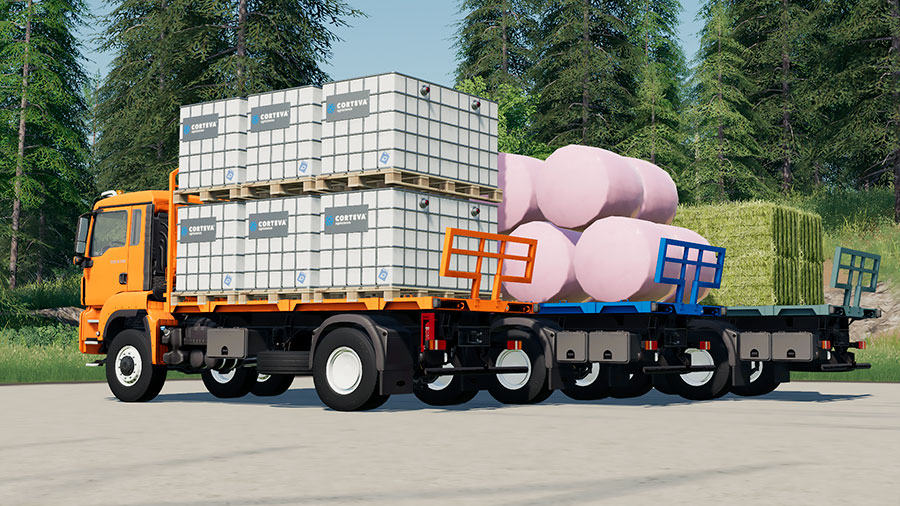 You canpaint the trucks in almost any color. There are several engine optionsavailable, but they don't seem to influence the horsepower stats.
Eachtruck's load capacity varies. The only exception is the cotton modules. Allthree trucks can carry one module each.
Then there are 3 turntabletrailers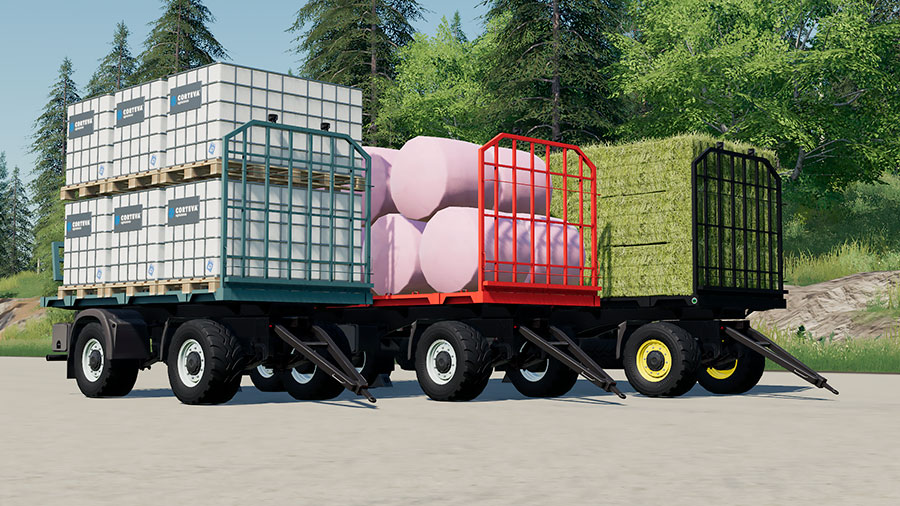 If you buythe largest one, you can haul 22 round bales, 20 square bales, or1 cotton module.
Another group of 3trailers (with drawbars)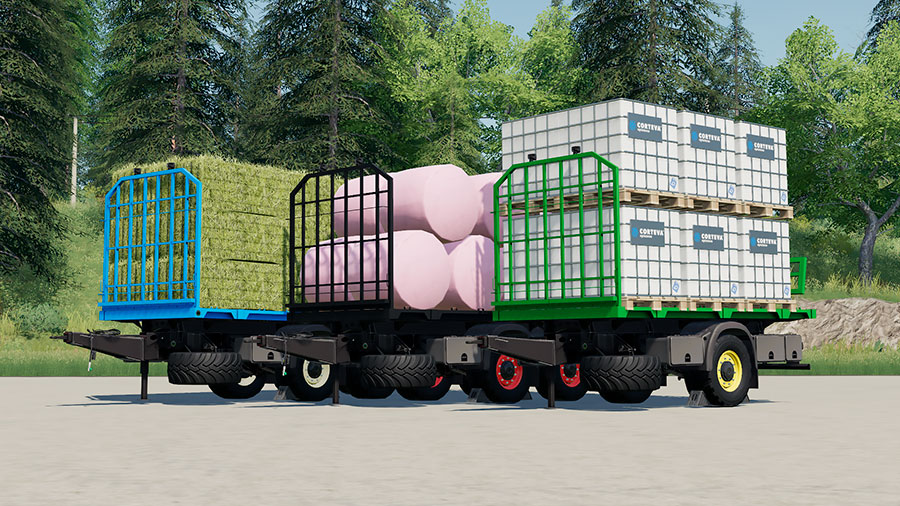 20 pallets or 1 cotton modulewill fit on the largest one. But there is a problem with the support legon the mid-sized version.
Finally, 3 semi-trailers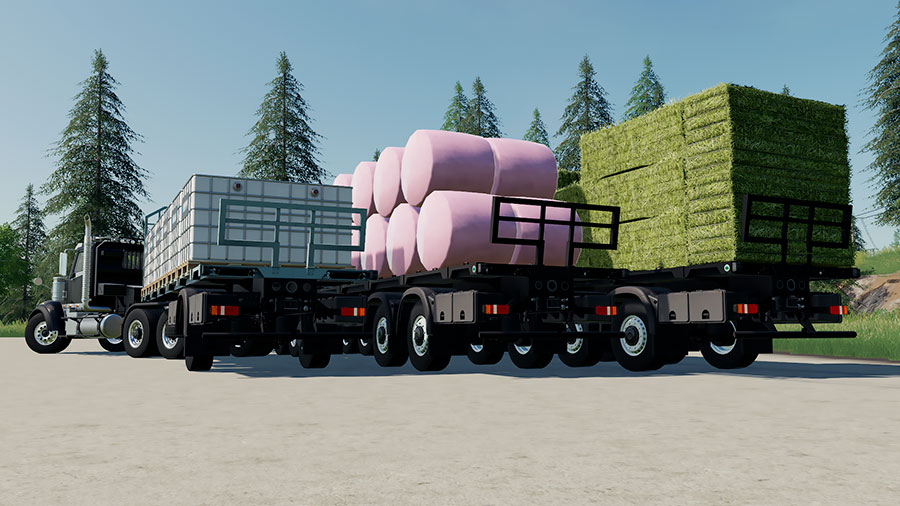 The largesttrailer has room for 38 round bales or 30 square bales, forexample.
The kingpin of each semi-trailer can be moved forward or backward using the mouse. But I suspect this function is the cause of some the errors this mod leaves in the log (see below.)
Oh, I almost forgot... All trucks and trailers includes ramps that turns them into great transport machinery for other vehicles and tools.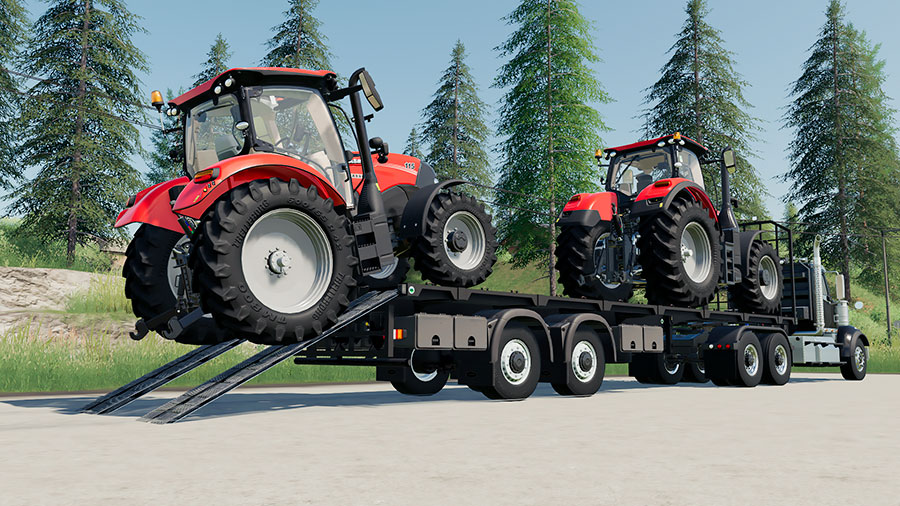 Buyable Autoload
If you wantthe trucks and trailer to have Autoload, you must buy it in the shop duringpurchase. There are two Autoload versions: Regular Autoload and Autoloadlight (I'll do my best to explain the Autoload Light function later.)
Here arethe most used commands:
Z = Cyclesbetween the accepted products.
U = TurnsAutoload on or off.
B = Togglesthe different main unloading positions (guided by a marker.)
Y = Unloadsstuff.
Theposition of the unloading marker can be tweaked further. Take a look at the F1menu for guidance.
Alltrailers and trucks accept standard round bales, square bales, egg boxes,pallets, and standard cotton modules (not the ones that were introduced withthe Anderson DLC though.)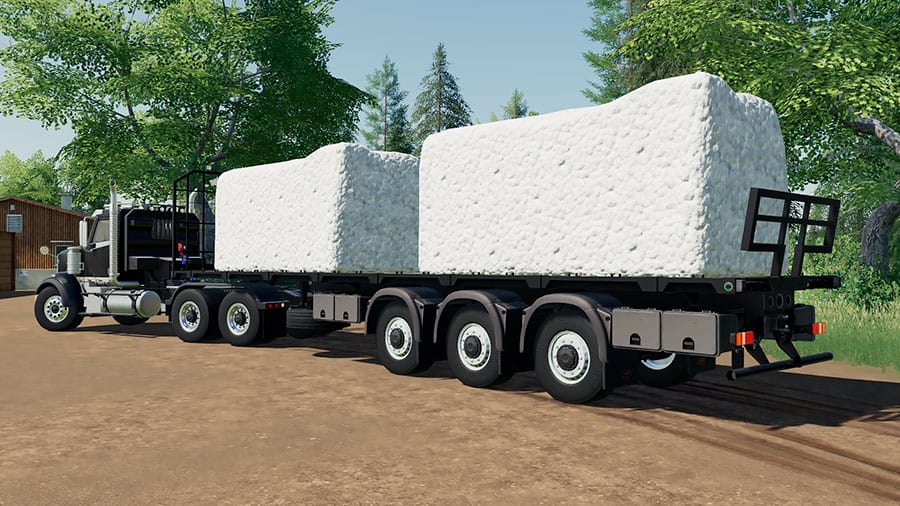 About the Autoload Light
The AutoloadLight choice is what I will call semi-autoload. It's the perfectoption when you want to use, let's say, a front loader or a telehandler tocollect the bales. But you don't want to stack them on the truck or thetrailers manually.
Just getthe bale near the truck or trailer. When you're close enough, the Autoloadfunction (needs to be activated by pressing "U") stack it for you,automatically. A brilliant idea, btw...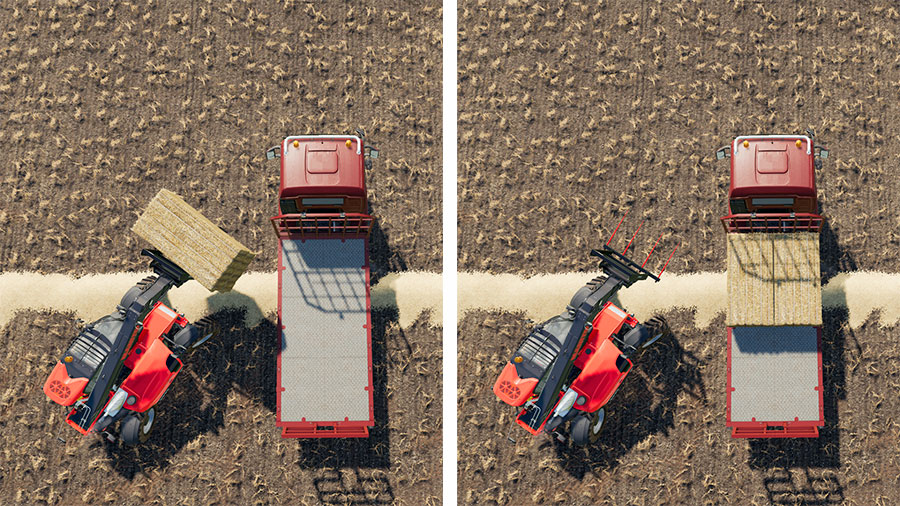 FS19 Friesenjung TransportPack
Thispack of trailers and trucks was first made for FS17 and now converted to FS19.Here are some of the specs for the Farming Simulator 19 version:
Brand: MAN and Fliegl.
Credits: Giants Software, Friesenjung.
Category: Trucks | Trailers.
Base price: Trucks from 135,000 while the trailers starts at 12,000.
Engine configurations: Several.
Power range: 420 hp.
Top speed: 80 kph | 49 mph.
Capacity: Anything from 1 cotton module to 810 egg boxes.
Selectable colors: Yes.
Selectable wheels: Yes.
Wheel brands: Lizard, Trelleborg, and Nokian.
Errors: No.
Warning: The mod did, unfortunately, leave errors and warnings in the log. It didn't affect gameplay directly. But pairing this mod with other faulty ones could eventually lead to disaster...
Still, I wanted to tell you about it. Because it has a lot of potential. Hopefully the modder is motivated enough to fix the errors.
There are also some minor visible hiccups. Due to various pallet heights, some pallets will float in the air. And the support leg on one of the trailers won't raise when attached to a vehicle, making it almost impossible to haul....
(Updated September 2, 2019) With version 1.1.0.0 (see below) many of the log errors have disappeared, like the support arm error mentioned above. There are still some bugs left, but the mod is on its way to becoming error-free.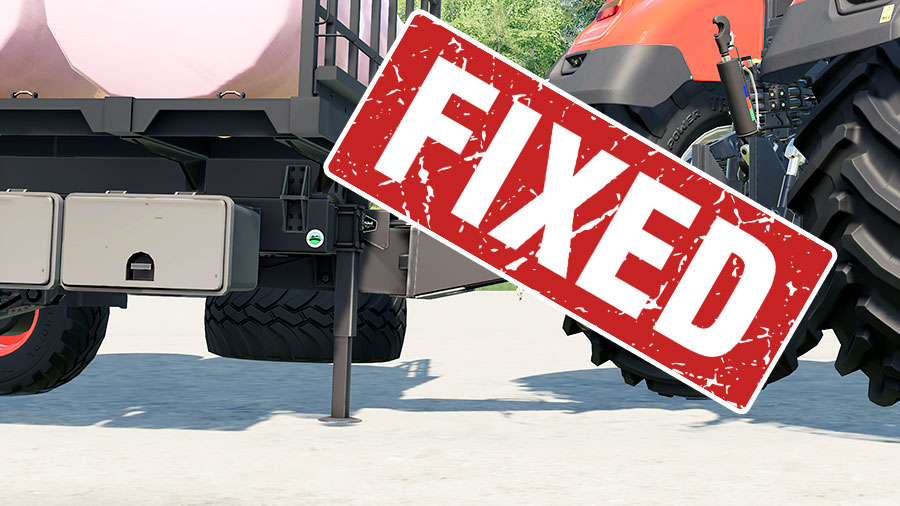 Version 1.1.0.0 - RoundCotton Bales
(UpdatedSeptember 2, 2019)The great pack of Autoload trucks and trailers now also accepts round cottonbales from the John Deere cotton DLC. And that is not the only news.
Someof the truck descriptions have been updated and corrected.
EasyAutoload script has been updated to the latest version.
Horsepower values for the trucks inside the shop have been fixed.
There arestill some smaller bugs that are being worked on. Like Autoloaded goodsbeing automatically unloaded on the beds when the game is saved. And theconnection hoses, that don't work yet.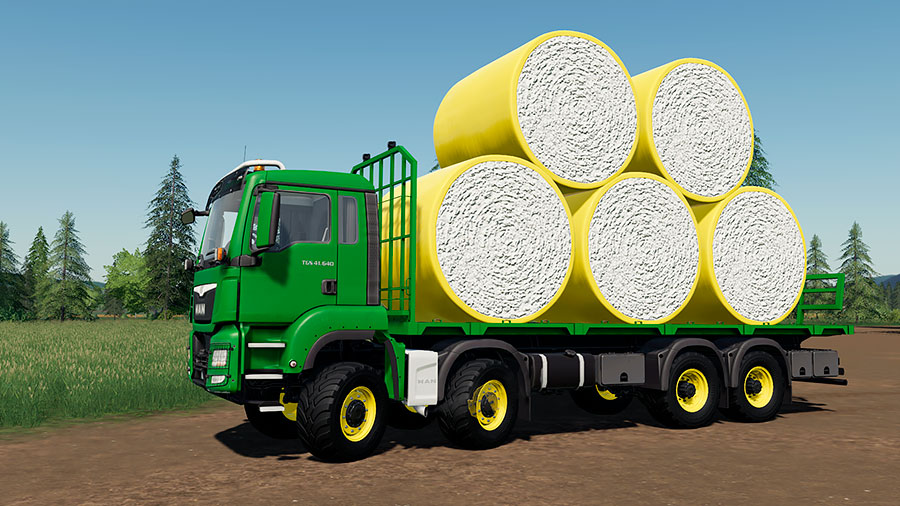 Version 1.1.1.0 - ImprovedVisibility
(UpdatedSeptember 3, 2019)A small update this time. But also a helpful one. First, some minorproblems with the wheel configuration options for a couple of the trailers havebeen fixed.
And theunloading marker has gotten an update too. It has new colors, making iteasier to see. Just download and overwrite the old version to let the changestake effect.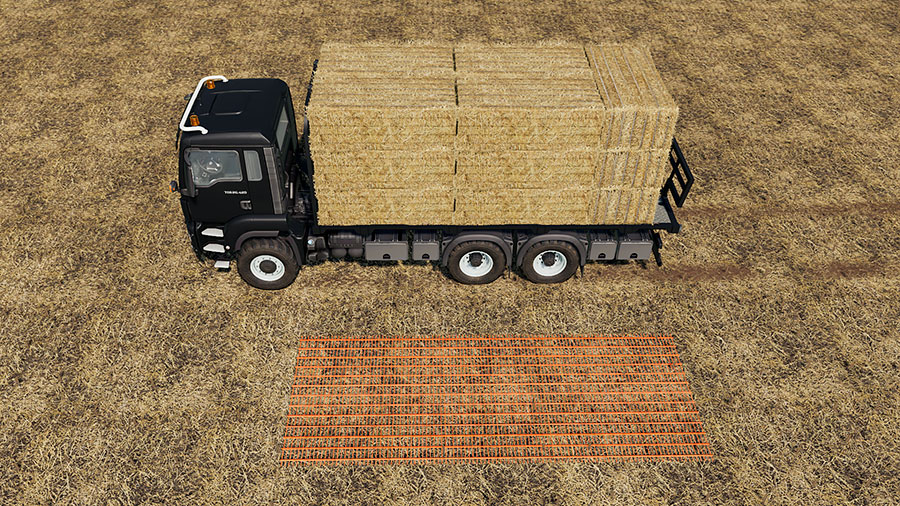 Version 2.0.0.0 - NewAutoload
(UpdatedOctober 23, 2019)The Friesenjung Pack has started using the new version of the Easy Autoloadscript. This means that the script no longer is included with the addon.Instead you need to download the script separately. Here's how to get it:
Visit the Easy Autoload script page at Nexus Mods (click here.)
Download the file and unzip it using a program like 7-Zip.
Copy the FS19_EasyAutoLoad.zip file to your mods folder, then activate it.
You needto register an account with Nexus Mods if you don't already have one. Remember that registering is free.
Other Changes
The 2.0.0.0version of the trucks and trailers includes several changes. Most errors aregone. Some missing square bales have been added. And the loading of egg boxeshas been tweaked for better performance.
Someof the textures have been adjusted as well.
Amissing spare wheel has been added.
And,perhaps most importantly, all beds now accept board pallets.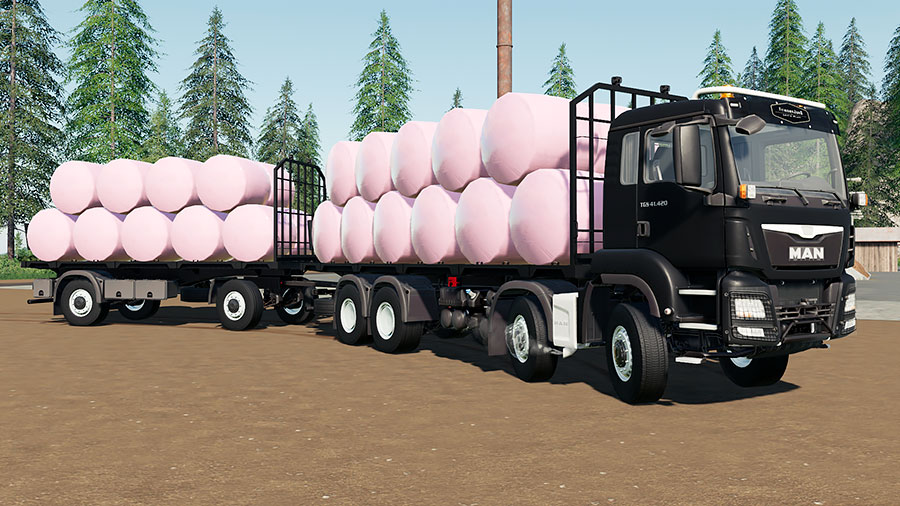 Version 2.1.2.0 – RampsWork Again
(UpdatedDecember 21, 2019)Here's what's new in the updated version of the Autoload trucks and trailers:
Allramps function as expected, and cotton round bales can be autoloaded again.
Withthe removal of the Dynamic Mount Attacher, the tension belts function withouthiccups.
There'sno longer a lights bug, and there's a change in range for the Autoload lighttriggers.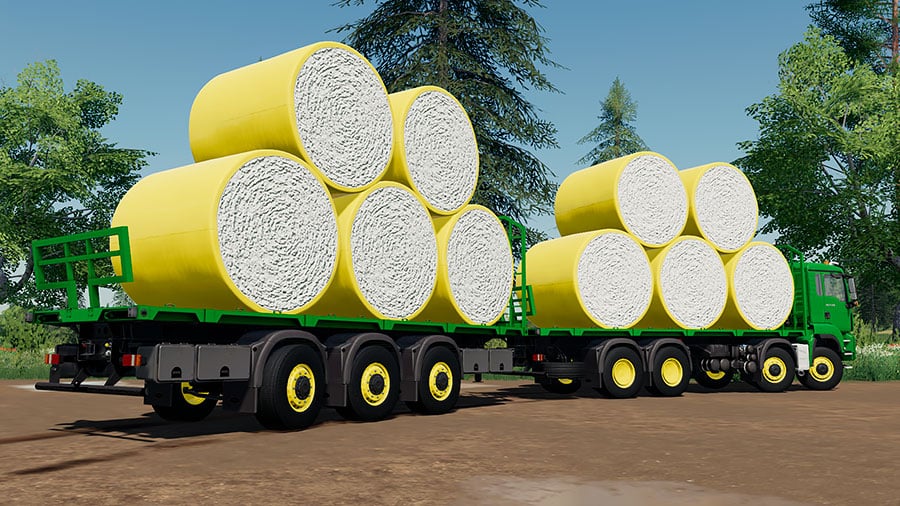 Download Instructions
The official download location for the transport pack is over at LS-Modcompany. The blue button below gets you there. When you arrive, look for a green button in the upper right corner that says 'HERUNTERLADEN'.
Go to Download
We always use the modder's original download link when possible. Please let us know if there's a problem with the link. P.S. How to stay safe while downloading mods outsrefe Giants' Modhub.