New FarmingSimulator 19 mod: The Bergmann TSW 624 W Manure Spreader, modded by Chico,with the help of FarmerBeavis, Lexik, JD7530-Chris, and BM-Modding.
This addon is a further development of the Bergmann Manure spreader Giants Software released some time ago. The new version has more features.
There are several colorization options for both the body and the rims.
Inside the shop, you'll also find more wheel options.
This Bergmann manure spreader can also spread lime.
You can fill it from overhead auger pipes by pressing "R."
And the top sidewall can now be opened. This would mean more effortless loading if it wasn't for the fact that the top wall's collision remains in the original position… (PS. This version has the collision removed...)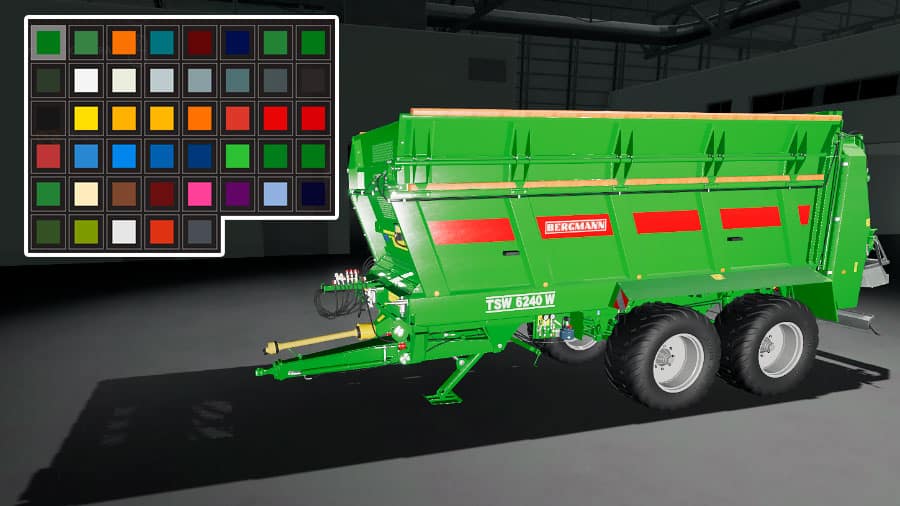 Bergmann TSW 624 W FS19 Mod Specs
Brand: Bergmann.
Credits: Giants Software, Chico, FarmerBeavis, Lexik, JD7530-Chris, and BM-Modding.
Category: Manure Spreaders.
Base price: 92,500.
Working speed: 20 kilometers per hour | 12 miles per hour.
Working width: 24 meters.
Accepts: Manure and lime.
Capacity: 31,000 liters.
Required power: 160 horsepower.
Selectable colors: No.
Selectable wheels: Yes.
Wheel brands: Trelleborg, Michelin, and BKT.
Errors: No.
Platforms: PC and Mac.
Where to Download
You can get this manure spreader from Bergmann by visiting the official download page over at Sharemods. The blue button opens it.
Go to Download
We always use the modder's original download link when possible. Please let us know if there's a problem with the link. P.S. How to stay safe while downloading mods outsrefe Giants' Modhub.