New Farming Simulator 19 mod: The Manure Mod version of the John Deere R4045 self-propelled sprayer, modified by Perma's Modding.
This John Deere sprayer mod works with Wopster's Manure System, meaning you can use hoses to refill its tank.
This John Deere sprayer was first released by KMN Modding, which has approved the release of a Manure System ready version.
In-Game Features
Thesprayer is modular. You'll find the vehicle in the Vehicles|Crop Protectioncategory.
Youcan add a fertilizer and lime spreader to it, found in the Tools|Fertilizer Technologycategory.
Thesprayer module is in the Tools|Crop Protection category.
Thereare several in-shop options for the wheels.
Youcan increase the axle widths and lower the sprayer boom.
And,you can select to have tracks (wide or narrow) on both axles.
John Deere R4045 FS19 ModSpecs
Brand: John Deere.
Credits: KMN Modding, Perma's Modding.
Category: Crop Protection | Fertilizer Technology.
Base price: From 286,209.
The Working speed: 35 kilometers per hour | 22 miles per hour.
Working width sprayer: 36.6 meters.
And the spreader working width: 32 meters (fertilizer.)
Accepts: Liquid fertilizer, herbicide, solid fertilizer, and lime.
Liquids capacity: 4,543 liters.
Solids capacity: 8,500 liters.
Selectable colors: No.
Selectable wheels: Yes.
Wheel brands: Trelleborg, Michelin, and John Deere (tracks.)
Recommended Mods: Manure System.
Errors: No.
Platforms: PC and Mac.
Usage Tips
Check theF1 Help Menu to understand better how to use the Manure System and the hoses.To start filling the tank with liquids, for example, use this setting: "Changepump direction to: filling."
Version 2.2.0.0 – New ConnectionPoint
(UpdatedMarch 19, 2020) There'sa new version of the JD sprayer that wants to get inside your mods folder. Thisis what Perma's Modding has done to it:
Addedan additional connection point for the hoses.
Separatedthe lever above the new connection point. The plan is to animate it.
Removedsome code from the modDesc.xml that may have caused errors for some players.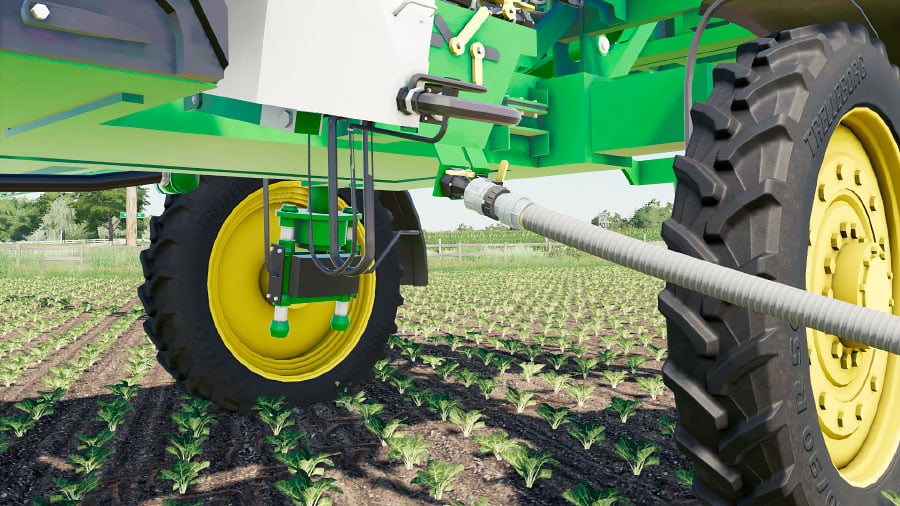 Where to Download
Perma's Modding announced the release of the Manure System ready John Deere Sprayer on Facebook. Click "See More…" inside the copy below to access the download link.
We always use the modder's original download link when possible. Please let us know if there's a problem with the link. P.S. How to stay safe while downloading mods outsrefe Giants' Modhub.