New Farming Simulator 19 mod: The Case IH Axial-Flow 7130 combine harvester pack, converted and modified by Matt26.
Finally, an excellent conversion of the Axial-Flow 7130 harvester for FS 19! Matt26 has done a lot to make it ready for the current version of the game.
Added proper textures.
Animated several parts, also inside the cabin.
Converted the 3020 35 feet header.
The add-on includes the harvester. It also contains a suitable header:
Case IH 3020 35 Feet Header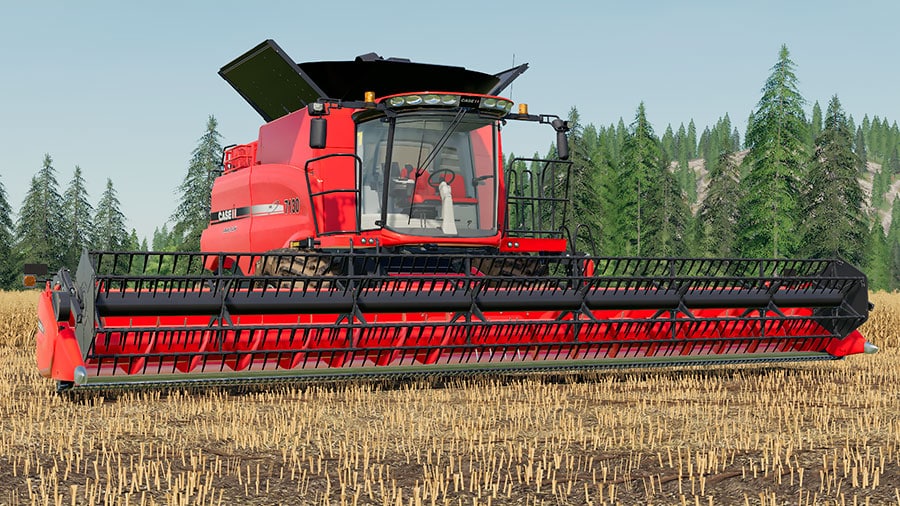 Price: 46,000.
Maximum working speed: 10 kph | 6 mph.
Working width: 10.5 meters.
Note: The combine doesn't have a trailer hitch. You need additional machinery to transport the header on a trailer.
Case IH Axial-Flow 7130 FS 19 Mod Specs
Brand: Case IH.
Credits: Giants Software, Matt26.
Category: Harvesters.
Base price: 310,000.
Grain tank capacity: 10,570 liters.
Selectable pipe options: No.
Engine configurations: 1.
Power range: 415 horsepower.
Top speed: 25 km/h | 16 mph.
Work speed: Depends on which header you use.
The working width: This is also header dependent.
Selectable colors: No.
Selectable wheels: Yes – Standard or wide.
Wheel brands: Trelleborg.
Tracks as an option: No.
Extra trailer hitch: No.
Platforms: PC, Mac, PlayStation 4, and Xbox One.
Download Info
Matt26's version of the Axial-Flow 7130 is available in the FS Modhub on all platforms. If you're on PC or a Mac, you also have the option to download it from farming-simulator.com. The blue button opens the mod page.
Go to Download
This mod is an official Modhub mod. Please, do the modder a favor and only download it from the in-game hub or from its official mod page on Farming-Simulator.com.