Seasons 19 – How to Get Started Guide, Tips, and Tricks
Seasons 19 for Farming Simulator 19 is upon us. Do you want FS19 to be more of a challenge, more realistic? Then you should download and install the mod right now. It was one of the best FS17 mods (some of you will remember it winning the Farming Simulator 17 mod contest.) The new version is deemed to be one the most popular Farming Simulator 19 mods ever.
Seasons 19 FAQ
What is Seasons 19?
Seasons 19 is a mod for Farming Simulator 19. It increases the game's realism by adding seasonal changes. These changes affect how and when you can work your fields and how successful your harvests will be.
How does the mod work?
The mod simulates the yearly cycle of a farmer's life. It alters the in-game weather, crop prices, crop growth, animal behavior, and the vehicle maintenance system. The main goal is to replicate real-world farming as far as possible.
How much does Seasons 19 cost?
The mod is free and can be downloaded from Giants Software's official modhub.
Is it available on PS4 and Xbox One?
So far, it's only available on PC and Mac. But the developers are working together with Giants to make the mod available on consoles.
Who has made the Seasons mod?
It's the five-man strong development team Realismus Modding that has created the mod. The first version of the mod won the Farming Simulator 17 mod contest.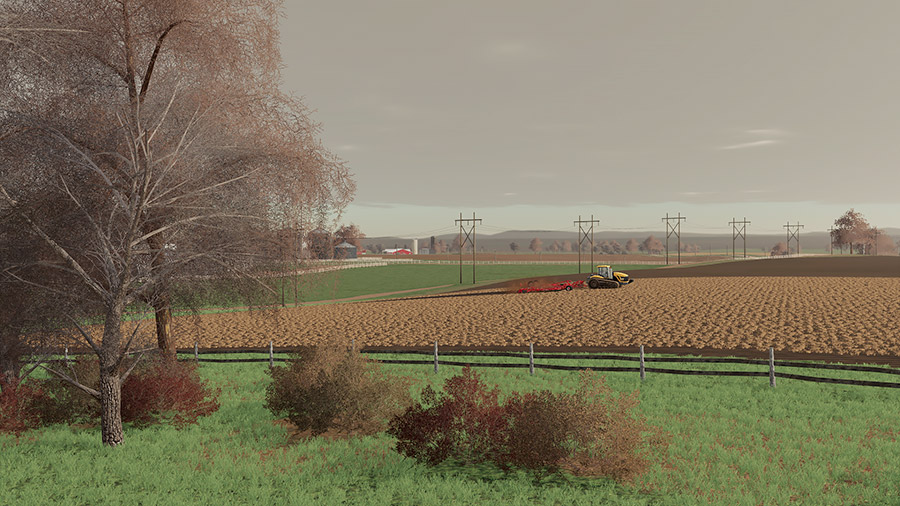 Seasons 19 is created by Realismus Modding. The team members are Jos (Rahkiin), Per (reallogger), Sebastian (theSeb), Stijn (Wopster), and Per (mrbear.) The team won the FS17 mod contest with Seasons 17. Want to try Seasons 19 for yourself? Here's an introduction on how to get started on a good note.
Mod Conflicts
The Seasons mod dives deep into the Farming Simulator game engine. If it encounters mods that do similar things to the game, there might be a conflict. That's why you should take a close look at your mods folder prior to firing up Seasons.
Ideally, you should remove mods that do one or more of the following:
Manipulate growth.
Do stuff to the weather.
Change animal status or behavior.
Alters the game economy one way or another.
When such mods are gone from the mods folder, you can start your Seasons game. Alternatively, you could just make a new mods folder:
Right-click on your current mods folder and press F2.
Rename the folder to something like "ModsPause" or whatever your imagination comes up with.
Create a new folder and name it "mods" (make sure the spelling is correct and that all letters are lower case.)
Copy the Seasons mod, your maps, and other mods you want to use, into that folder.
Think Transitions
To get a better grasp on Seasons 19, you should think in transitions. Every season transit three times.
The transitions are visible in the mod's menu HUD (Alt + S – L1 + Options on consoles.). Since there are four seasons, there are a total of 12 transitions. It's between those 12 transitions that growth happens.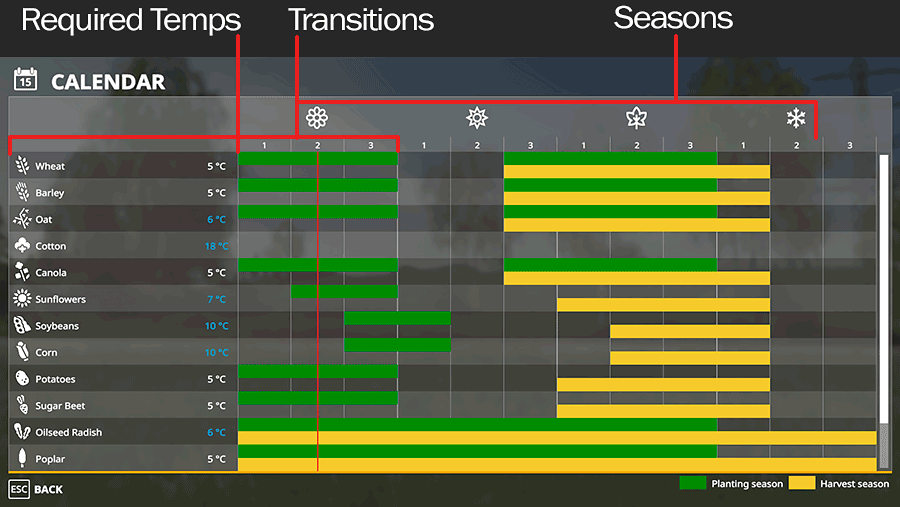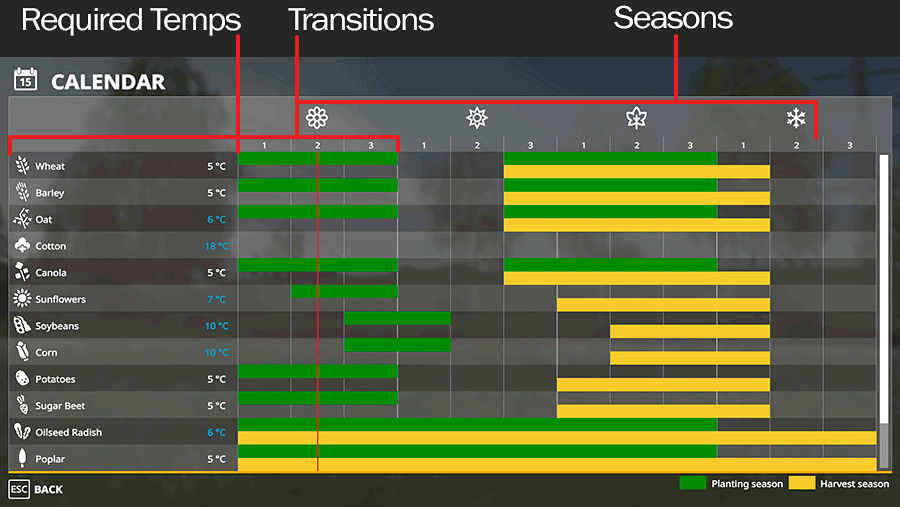 Season Length
There are four seasons. Nothing you can do about it. What you can decide is how long each season should be. To do this, just open the Seasons menu by pressing Alt + S (L1 + Options on consoles.) Here you can set one season to last anything from 3 to 24 in-game days.
Remember the transitions above? Three in each season? When you tell the game that you want your season to be 3 days, there will be a transition each day. A year with this setting takes 12 days.
One season can be 24 days at the most. Here, each transition will happen every 8 days. One year will be 96 in-game days.
This table will hopefully make the available season lengths more understandable: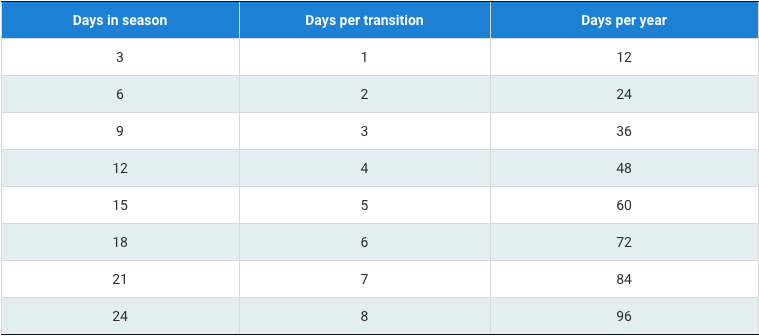 Protips: Check the season length immediately when you start a new game. In our testing, the default season length was set to 6 days. Set your preferred length first of all.
Start a new Game
Seasons 19 forces the game to start in the spring. And it resets all fields. There's no way around this. You might use it together with an existing gamesave, but it's best to start fresh.
The mod will work with most maps even if the map maker hasn't updated it. But you'll probably notice that the snow during winter doesn't look its best on unprepared maps. It will probably look much better on maps edited for the coming winter. Here are some maps that have proper snow masks:
(I've compiled a list of other Seasons 19 ready maps as well – Click here. Just know that we haven't tested any of the maps on that list…)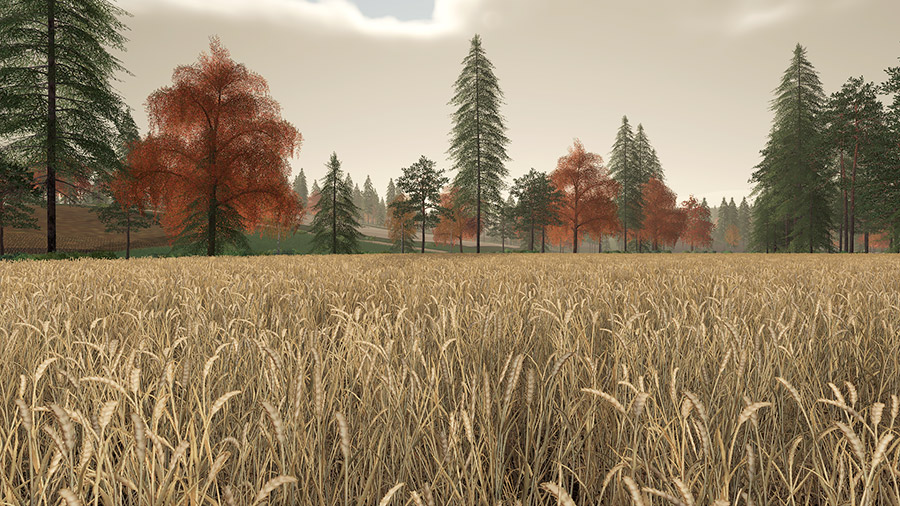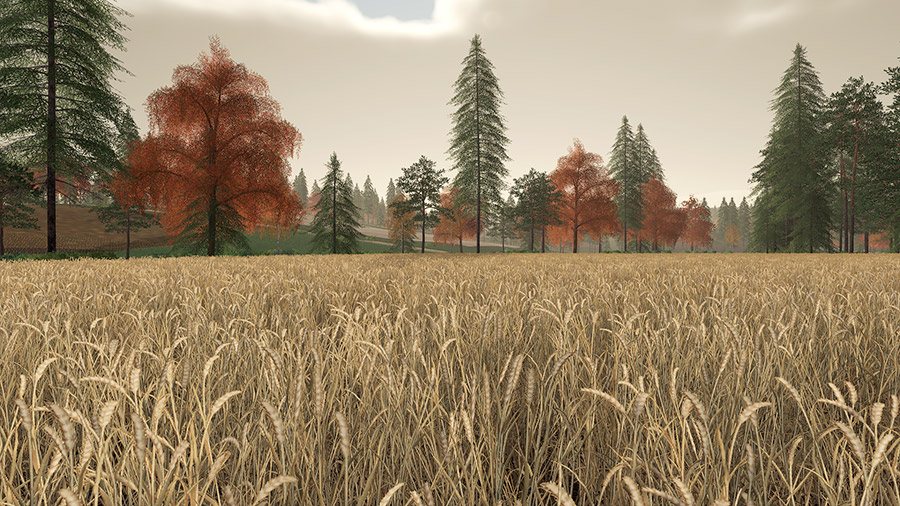 Spring Comes First
You start in spring, with all fields in a harvested state. This means that your first jobs are going to be plowing, cultivating, and sowing. If you want to avoid weeds, this is a good time to get some spraying done.
During the rest of the year, here are some of the typical stuff you need to take care of:
Summer: Spraying, harvesting, mowing, drying, and baling.
Fall / Autumn: More harvesting, plowing, cultivating, fertilizing, sowing (winter crops), and spraying.
Winter: Feed your animals (preferably with stocked food) and machinery maintenance.
Protips: Many FS17 players used the winter downtime to do some forestry like it's done many places in the real world, particularly in the northern hemisphere.
Spring Comes First


Most activities in Seasons 19 is extremely weather dependent. And the developers have worked hard to make the weather match real-life conditions as accurately as possible. But weather in, let's say Germany, isn't the same as in, (again) let's say, Saskatchewan, Canada. This is where the GEO mods enter the game
GEO (as in geographical) mods change the weather, making it resemble the climate for various places on the earth. It may also change the length of the night, the impact of winters, and growth even. For Seasons 17 there were GEO mods for the US Midwest, Northern Sweden, and South Australia, to name a few.
When you start Seasons 19 for the first time, without GEO mods, the climate is similar to that of the Southern United Kingdom.
Here are the official GEO mods that have been made available by Realismus Modding:
Careful with Fast Forward
You might be tempted to fast forward the time when playing with Seasons 19. You might even be tempted to use a mod to make the time move forward super-fast.
Protip: Be careful with fast-forwarding the time. Realismus Modding asks anyone not to make time go faster than 6,000 x in singleplayer, or 1,200 x in multiplayer. The slower, the better.
Guides, Tips and Tricks
Ok. The above should cover the most basic stuff for getting started with Seasons 19 in Farming Simulator 19. Now, it's time we take a closer look at this beast of a mod. Here are more Seasons 19 guides:
(Sources: Realismus Modding and Farmer Klein.)