FarmingSimulator 19 mod showcase: The Scania R 730 3-axle semi-truck, modified byAp0llo.
Want todrive around in one of the world's most popular trucks in FS 19? Then this addonis for you. It's an exquisite replica of what many truckers around the world callthe best truck ever.
R730 Features
Colors – You have 40 different colors tochoose from for your truck. There are also some options for tire rims.
Design – You can add a bullbar to the frontof the Scania. There's also an option to put a German license plate to thefront and the rear of the truck.
FS19 Scania R730 3-Axle TruckMod Specs
I'm a bigfan of Ap0llo's Farming Simulator 19 trucks. They look outstanding. And theengine audio is almost worth the download alone. It is really that good.
Brand: Scania.
Credits: Giants Software, Ap0llo.
Category: Trucks.
Base price:120,000.
Engine configurations:2.
Power range:730 and 880 horsepower.
Top speed:90 kilometers per hour | 56 miles per hour.
Selectable colors: Yes.
Selectable wheels: No.
Extra rear hitch: No.
Errors: No.
Platforms: PC and Mac.
Version 1.0.0.2 – More Lights
(Updated January 27, 2020) Ap0lLo has just released an updated version of the truck. This update brings more lights, like stroboscopic flashers and orange deco lights, mounted on the front of the grille.
There's also a V8 logo inside the cab, that glows in the dark.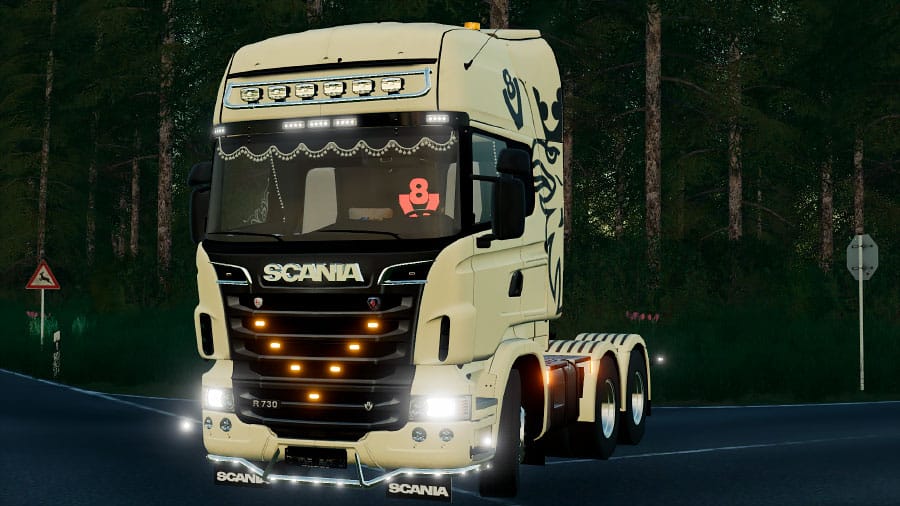 Where to Download
Ap0llo has chosen to host the Scania at Uploaded. Click on that blue button under to get to the download page.
Go to Download
We always use the modder's original download link when possible. Please let us know if there's a problem with the link. P.S. How to stay safe while downloading mods outsrefe Giants' Modhub.