FS 19 mods showcase: The Mack Pinnacle Truck by 5nine. If all you want is the download instructions, they are at the end of this post.
Here's another result of the colossal modding efforts by 5nine. It all starts with the Mack Pinnacle truck mod he released some time ago. Now, it has gotten the same treatment as the Ford LTL 9000 truck, making the Pinnacle one of the most flexible piece of machinery to ever hit your mods folder.
The modgives you 4 trucks in one:
1. A Semi-Truck (In 3Sizes)
There's ashort version. And a long version. And one even longer... Each model canbe equipped with 4 different types of headache racks.
Note thatthe 5th wheel can be moved back and forth. You do this with your mouseor a controller.
2. There's a HookliftVersion.
The Mack Pinnacle hooklift truck allows you to use all kinds of hooklift applications, like the ITRunner pack by Giants or the various add-ons that you'll find on 5nine's website.
Get the spreader from 5nine's website.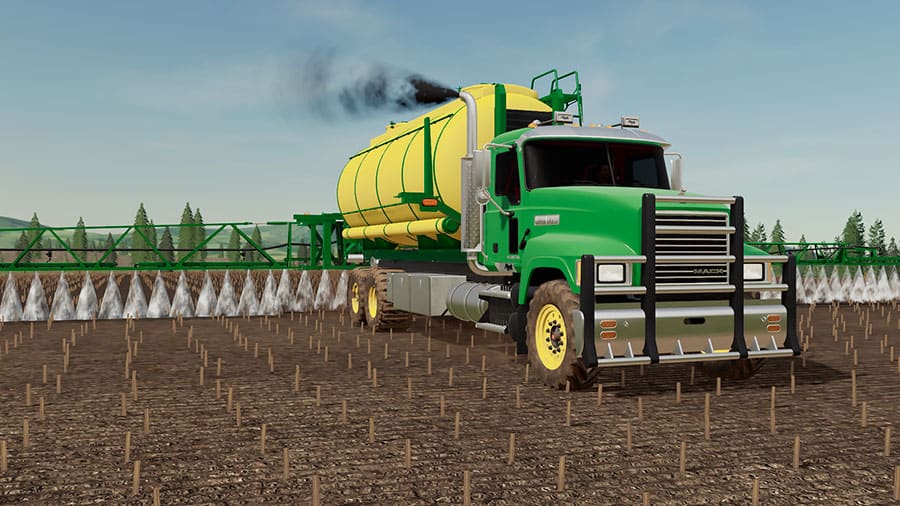 3. Of Course, there's aDump Bed.
Here, youcan change the colors of both the cover and the dump box itself. You canalso add a salt spreader to the rear of the truck if you're doing a lot of snowremoval with Seasons 19.
About the plow: You can get the Expandables Modding heavy-duty plow from this page. Then, you can choose the plow mount bumper option in the shop for your truck. Happy plowing!
4. Finally, the FlatbedModel.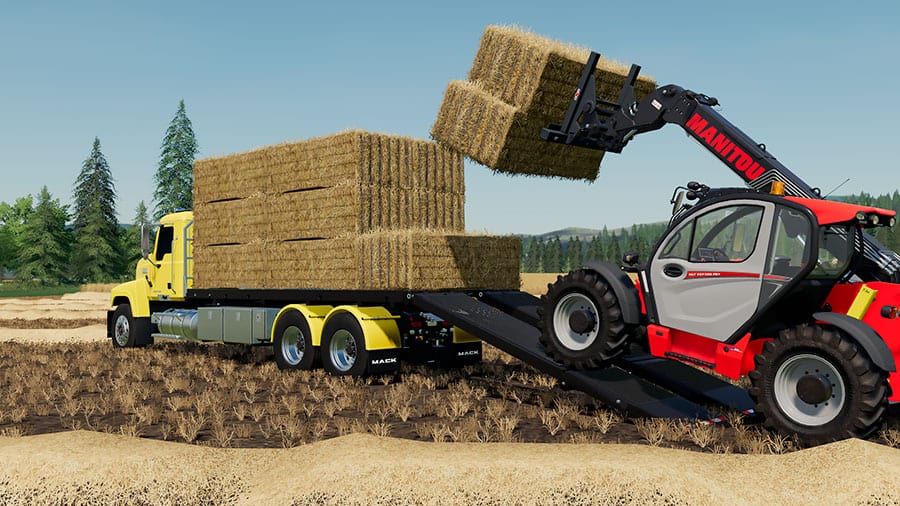 It's justnot one version. You can choose from two models. With or without loadingramps.
The flatbed Mack has Autoload. You need to download the Autoload script mod from Nexus Modding and put it inside the mods folder (click here.)
If youdon't have a Nexus account, you need to register first. Remember thatyou can create an account for free.
(On the"Choose Package" page, just click "Create Account" at thebottom of the page if you don't want a paid membership.)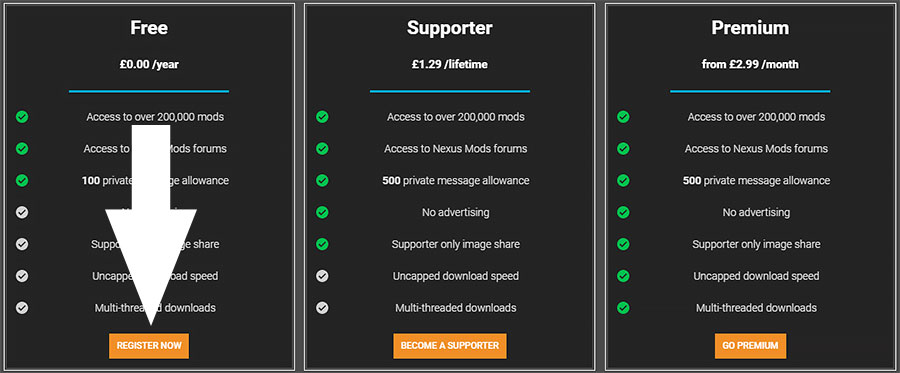 Autoload: Full vs. Light
Inside theshop, you'll get two Autoload options. Here are how they differ:
Full - Willautomatically load anything near the truck.
Light - Justlift the objects close to the bed for the Autoload to kick in.
Unloading
Autounloading is guided by a marker. You have many options for pinpointing theoff-loading position. See the F1 Help menu for which buttons you need topress. Here are the most common keystrokes to get you started:
Z = Defineswhat products to load.
U =Activates and deactivates Autoload.
B = Helpsyou determine the dump positions.
Y =Off-loads stuff.
Tons of Options
You havemany universal customization options, on top of the model-specific ones. Here'sa quick rundown:
Wheels - 5brands, 3 different rims. You can also add chains and crawlers.
Tag axle- None, single or dual. The tag axle can be raised/lowered with a mouse orcontroller.
Design Options- 7 different fenders, 4 exhaust pipes, 8 bumpers, including the plow mount.
Most of thetruck parts can be painted in a vast selection of colors, you can add atrailer hitch to the rear of the truck, and you can choose to have tintedwindows. Or not...
FS 19 Mack Pinnacle Truck
5nine isthe champion of Farming Simulator 19 US trucks. The Pinnacle is a truemasterpiece. If you're just going to download one truck mod for FS19, it mightas well be this one. Here are some of the facts:
Brand: Mack.
Credits: 5nine (the main guy), Expendables Modding, NastyModz (audio), alfalfa6945 (the Easy Autoload script), Ifko[nator] (addConfig script), and finally, Realismus Modding (plow and salt script.)
Category: Trucks.
Base price: 134,000.
Engine configurations: 3.
Power range: 325 and 485 horsepower.
Top speed: 74 miles per hour | 120 kilometers per hour.
Dump bed capacity: 40,000 liters.
Flatbed capacity: 16 pallets, 15 square bales, 18 round bales, 1 cotton module, 3 John Deere cotton bales, and tons of egg boxes.
Selectable colors: Oh, yes!
Selectable wheels: Yes.
Wheel brands: Lizard, Nokian, Michelin, Mitas, and Trelleborg.
Extra rear hitch: Yes.
Errors: No.
Platforms: PC and Mac.
I couldnot detect any dramatic errors while having fun with the Pinnacle. The only, tinytriviality, is with the flatbed version. It can be somewhat bumpy at higherspeeds…
How to Download
5nine keeps most of his mods at Sharemods. The blue button under opens the Download page. But wait! Please consider donating to 5nine before you download. Here's the donation link: PayPal.Me/modsby5nine.
Go to Download
We always use the modder's original download link when possible. Please let us know if there's a problem with the link. P.S. How to stay safe while downloading mods outsrefe Giants' Modhub.