Farming Simulator 19 mod showcase: The Zaccaria ZAM 200 DP8SP trailer, brought to FS 19 by STv-Modding. The download information is located at the end of the showcase.
This is a sturdy, high-capacity trailer made by the Italian company Zaccaria that has produced almost 30,000 trailers in various shapes and sizes since 1960.
FS17 Favorite
I know a lot of FS players, especially from the southern parts of Europe, appreciated this trailer enormously back in FS17. Thanks to STv-Modding, the trailer has been converted to please a large chunk of FS19-farmers as well.
This is just some of the work that has been put into the modded trailer:
The trailer is using the new FS texture system. It looks darn good…
It has gotten a new set of tire configurations.
It also has connecting hoses and cables, together with a matching PTO.
Variable Capacity
There are several ways to configure the trailer. Here's some of the stuff you can change:
The capacity is 38,000 liters or 52,000 liters depending on whether you choose extensions or not. You can also switch wheel brands and colors for the dump box, the logos, the rims, and the extensions.
FS 19 Zaccaria ZAM 200 DP8SP
I like this trailer a lot. It's very colorful. It can be configured to have a massive capacity. The only, tiny fly in the ointment, is the logos. They seem a bit blurry. But that's nitpicking, isn't it? Here are some necessary facts:
Brand: Zaccaria Quality Trailers.
Credits: Iron Farmer, AgricultureGaming, and STv-Modding.
Category: Trailers.
Base price: 65,000.
Capacity: 38,000 liters, 52,000 liters with extensions.
Accepted: Most Farming Simulator 19 solids.
Tip options: Tipping through the rear door.
Selectable colors: Yes, many.
Selectable wheels: Yes.
Wheel brands: Trelleborg and Michelin.
Extra rear hitch: No.
Errors: No.
Platforms: PC, Mac.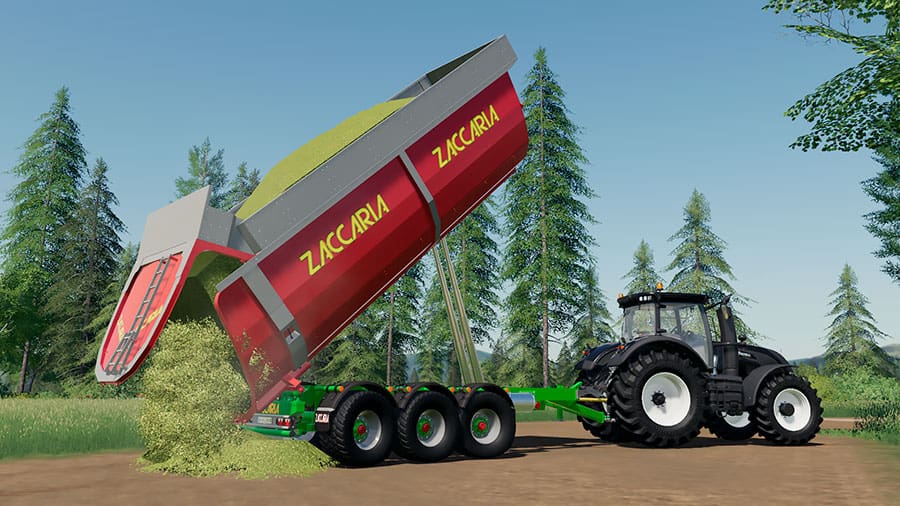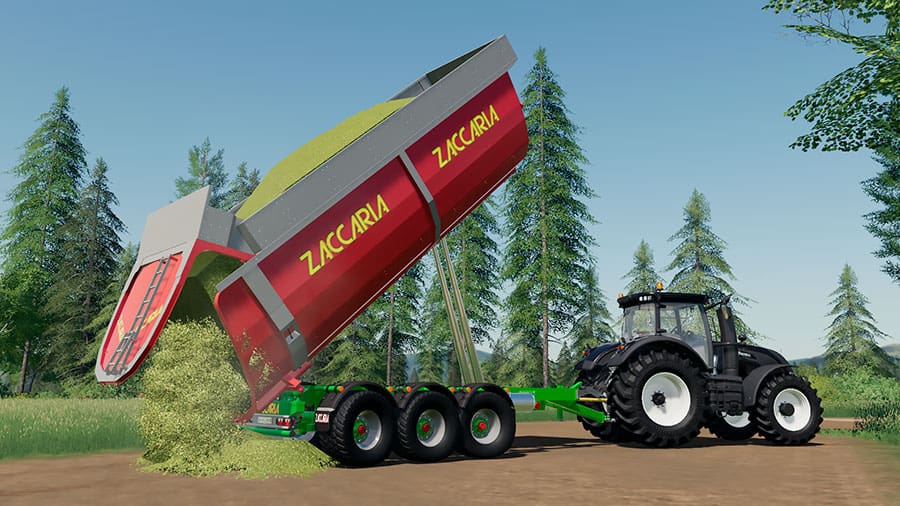 Version 1.1.0.0 – More of Most
(Update September 24, 2019) STv-Modding has just released an update to the Zaccaria trailer. The new version has more color options, more wheel options, and new customization choices for the logos.
How to Download
See that big blue button? Press it. It will take you to the modder's official download page for this mod.
We always use the modder's original download link when possible. Please let us know if there's a problem with the link. P.S. How to stay safe while downloading mods outside Giants' Modhub.