FS19 mods showcase: The Fliegl Flatbed Semitrailer with Autoload, modded by TopAce888. You'll find the download instructions at the end of this post.
Even themost die-hard dedicated realism players cheat sometimes. This rebuild of aFliegl trailer allows you to cheat in style.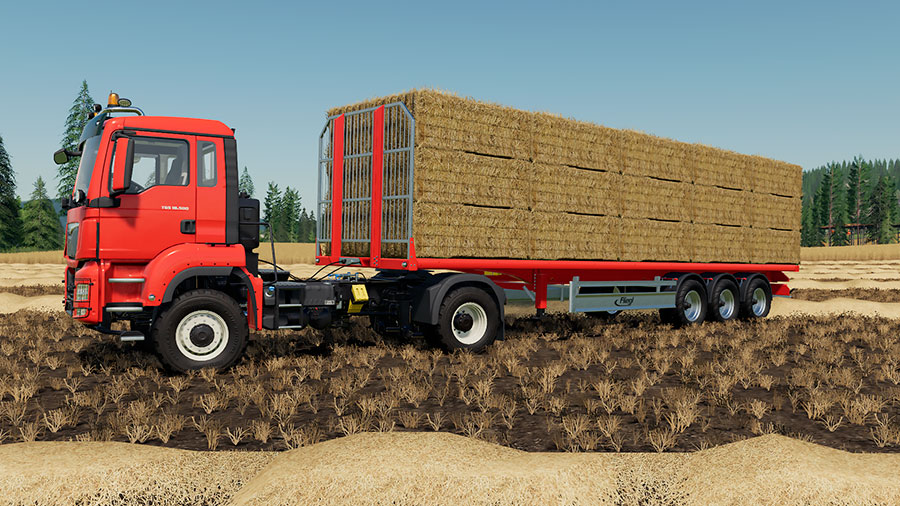 Cotton Too
The Flieglflatbed autoload semi-trailer has been available for a while already. Recently,it got an update that makes the trailer accept cotton modules and round cottonbales from the John Deere cotton DLC.
The trailersalready accept round and square bales, but no pallets. And when I say "trailers,"it's because the mod includes two versions. One for round bales and one for thesquare ones, cotton modules included.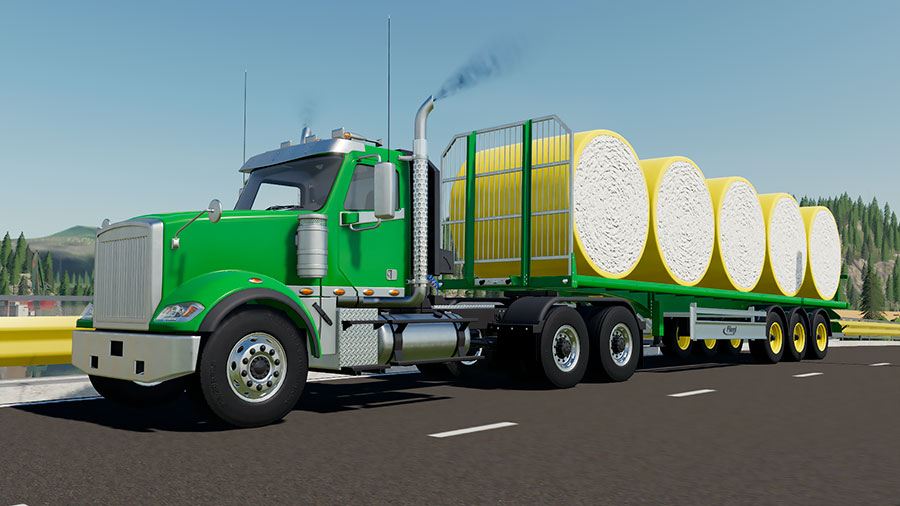 Easy to Use
Thetrailers are straightforward to use. Just activate the "WorkingPosition" setting (see the Help Menu) to start collecting bales.Once you're finished, just put the trailer into "Transport Position."
Unloadingthe Fliegls is perhaps the coolest feature. Activate the unload function (again,see the Help menu.) Then, slide the stack of bales off the trailer withyour controller or with a mouse.
You can slidethe load sideways. It's also possible to move the bales vertically. Whenyou're happy with the position, press "Y" to finish theunloading process. Check the help menu for which buttons to press on consoles.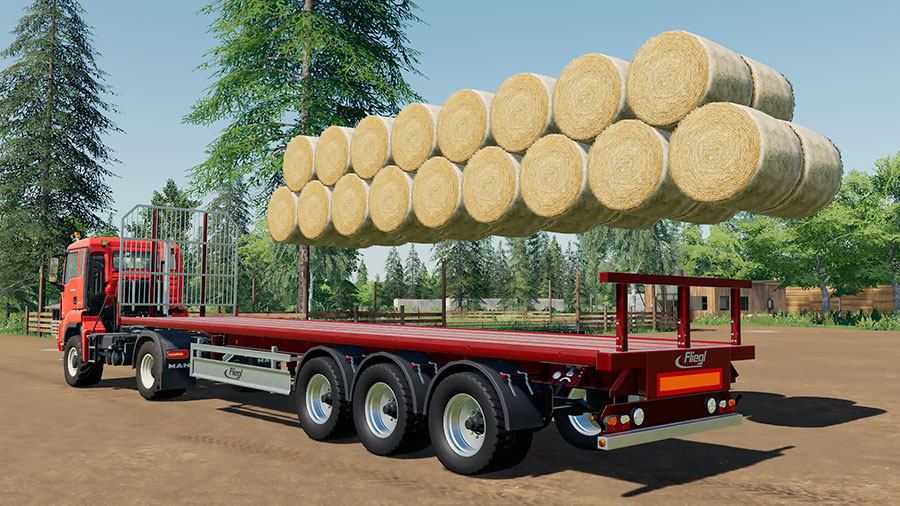 FS19 Fliegl FlatbedAutoload
It's agame. Everyone is entitled to his or her own playing style. Want to cheat usingAutoload equipment? Go ahead. I'm definitely not judging. Heck, I do it myselfsometimes. When I do, these trailers are some of my favorites. Here are some ofthe bullet points:
Brand: Fliegl.
Credits: Giants Software, TopAce888.
Category: Baling Technology | Cotton Technology.
Base price: 28,000.
Capacity: 34 round bales, 30 square bales, 5 round cotton bales, and 2 cotton modules.
Accepted: Round bales, square bales, cotton modules.
Selectable colors: Yes.
Selectable wheels: Yes.
Wheel brands: Lizard, Michelin, and Trelleborg.
Extra rear hitch: Yes - optional.
Errors: No.
Platforms: PC, Mac, XB1, and PS4.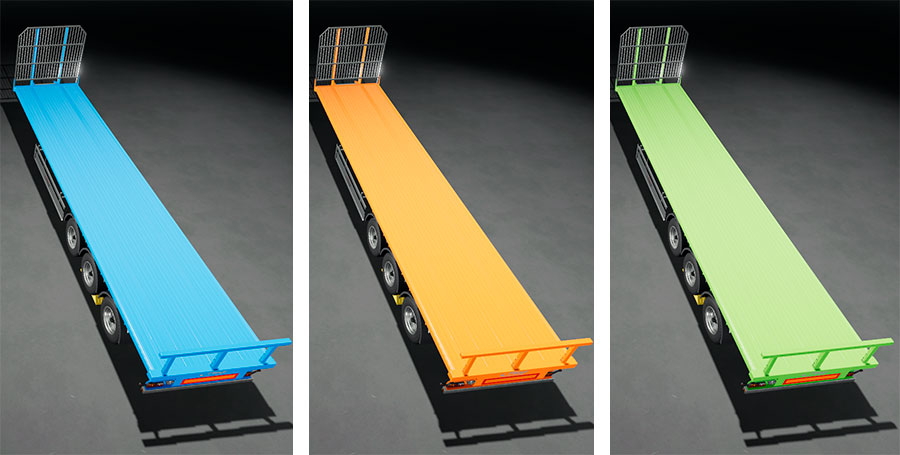 Separate Categories
The modincludes 4 different trailers. The standards square and round bale trailers arefound in the Baling Technology category. The cotton trailers are locatedin the Cotton Technology category.
Version 1.2.0.0 – AcceptsHesston Bales
(Updated September 27, 2019) Many players who rely on the Hesston Big Balers, by the ARM Team, will be happy to learn that the 1.2.0.0 version of the trailer accepts the bigger Hesston bales for Autoload. There's a separate trailer for it (Flatbed Semi Trailer Squarebales Big) inside the shop. The trailer holds 20 big bales.
The newversion includes more changes, as well:
Thecontrol of loaded bales has been improved.
Asquare bales collision bug has been fixed.
Thereare now different tension belt positions for different bale types.
Andfinally, the Autoload function is now a customization option inthe shop.
Version 1.3.0.0 – SteeringAxle
(UpdatedJanuary 2, 2020) Thenew year starts in a good way for fans of this useful bale trailers pack.TopAce888 has just released a significant update, which does the following tothe Fliegl trailers.
Thereare new color options for the bed, the trailer frame, and the rims.
Acouple of minor errors are gone, while the connecting hoses are optimized.
Youcan now buy a steering axle for the rear of the trailer.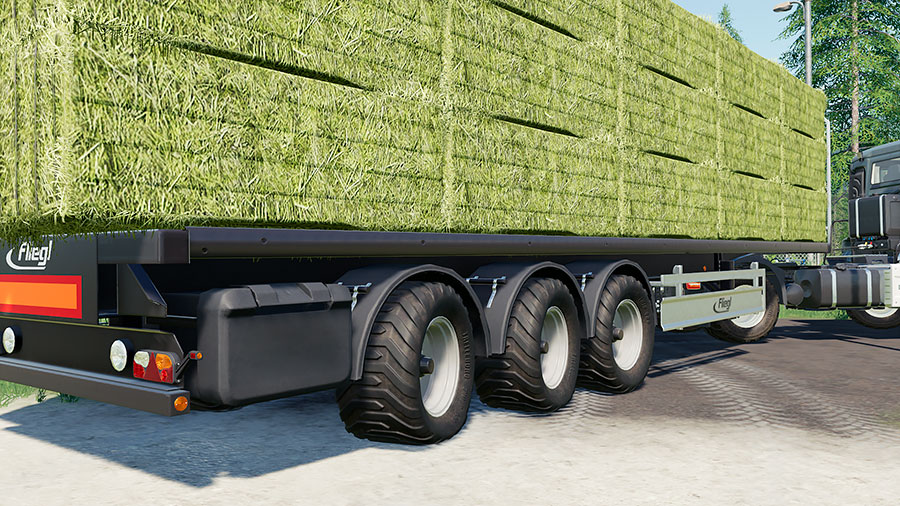 How to Download
This mod is on the official Modhub. You can get it straight from the in-game modhub. Or you can download it from its web page. The blue button opens that second option.
Go to Download
We always use the modder's original download link when possible. Please let us know if there's a problem with the link. P.S. How to stay safe while downloading mods outsrefe Giants' Modhub.