FarmingSimulator 19 mod: John Deere 864 Premium Round Baler, converted by BV -Westphalen Modding.
Need a JohnDeere round baler? The 864 premium baler is an OK alternative. It's a fine FarmingSimulator replica of the real thing.
Note thatthis version has some hiccups, though. I'll get back to them soon.
864 Baler Features
The 864Premium baler is a conversion of the FS17 version. It looks good inside FS19. Ilike how it has connection cables and hoses that attach to any tractor ready toaccept them.
And that'sabout it. There're no in-shop customization options for it, which I think isfine, by the way.
FS19 John Deere 864 Premium
Brand: John Deere.
Credits: BJR-Modding, Kooper Modding (BV - Westphalen Modding.)
Category: Baling Technology.
Base price: 105,000.
Working speed: 20 kilometers per hour | 12 miles per hour.
Accepts: Grass, hay, and straw.
Capacity: 4,000 liters.
Required power: 140 horsepower.
Selectable colors: No.
Selectable wheels: No.
Errors: Yes.
Platforms: PC and Mac.
The Errors
The baler did leave some LUA errors in the log, unfortunately. Here are a couple of examples:
Error: Failed to find child 0 from node Logo, only 0 childs given
Error: Index not found: 0>18|0
No, it didn'tdo any harm to my gameplay. But I guess the errors are the reason why the rear JohnDeere logo is a bit off when unloading bales…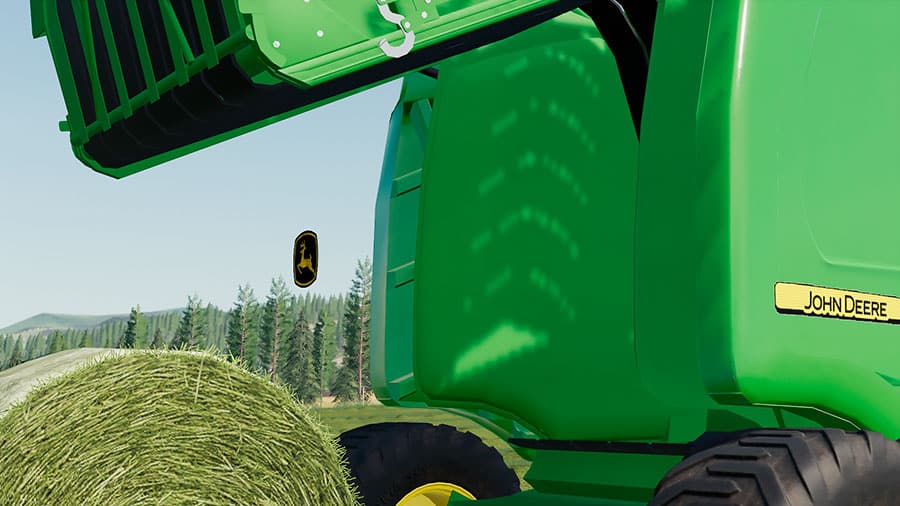 Download Information
The modder has released the John Deere round baler on his Facebook page. Here's a copy of the release post, with the download link at the bottom:
We always use the modder's original download link when possible. Please let us know if there's a problem with the link. P.S. How to stay safe while downloading mods outsrefe Giants' Modhub.