FarmingSimulator 19 mod presentation: The Deutz-Fahr Agrostar 6.61 Series Tractors,modified by The FBM Team.
One of my favorite modding teams, the FBM Team, has just released an updated version of a Farming Simulator favorite, the Agrostar 6.61.
This addon isone of the most feature-rich versions of this particular model, which has beenpart of the Farm Sim universe since the early beginning.
Agrostar 6.61 In-GameFeatures
Colors – The FBM Agrostar has some excellentcolor options for the body. You'll also find color pickers for the rims and thelower parts of the body.
Wheels – Several wheel arrangements arebuyable in the shop, for example, wide tires or rear twin wheels.
Design – You have several choices for the placementof the beacon lights. You can add weight brackets to the tractor's front, frontlinkage with PTO, or nothing at all.
You can buyan Alö front loader mount. And when you choose one of the two "Warrior" engine configurations,the Warrior logo appears on the bonnet.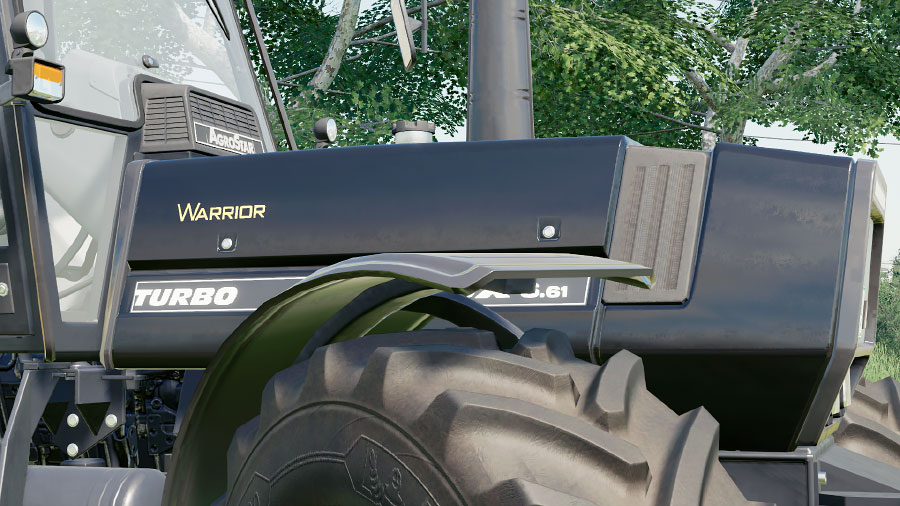 Animations
TheDeutz-Fahr has animations for the gas pedal and the gear sticks. Note thatthere's also a version with gear shift sounds available in the shop.
You cancontrol the left door, together with the front and rear windows, with a mouseor a controller.
FS19 Deutz-Fahr Agrostar6.61 Mod Specs
The FBMversion of the Agrostar is gorgeous. It has more options than most. It looksstaggering, thanks to the newly added textures. The engine sounds are amazing.
I particularly like how the modders have created two versions: One version has standard audio, the other one comes with gearshift sounds.
Brand: Deutz-Fahr.
Credits: Giants Software, The FBM Team (AgroMike,Puma, and PeterAH.)
Category: Small Tractors.
Base price:28,000.
Engine configurations:4 (Agrostar 6.61, Agrostar DX 6.61, Agrostar 6.61 Warrior, and Agrostar 6.61Warrior Special.)
Power range:143 to 178 horsepower.
Top speed:43 kilometers per hour | 27 miles per hour.
Selectable colors: Yes.
Selectable wheels: Yes.
Wheel brands:Trelleborg, Mitas, Nokian, and Michelin.
Front loaderattacher: Yes.
Errors: No.
Platforms: PC andMac.
Where to Download
If you want this version of the Deutz-Fahr Agrostar in your game, you should visit the official download page over at Workupload.com. The blue button gets you there.
Go to Download
We always use the modder's original download link when possible. Please let us know if there's a problem with the link. P.S. How to stay safe while downloading mods outsrefe Giants' Modhub.