FarmingSimulator 19 mod: The Zetor Forterra HD Series Tractors, modified by Matt26.
Yes! Finally, we're starting to see great looking, good working Zetor tractor models in Farming Simulator 19. Some days ago, we got the Zetor Proxima, modded by Arikson. Today, the Zetor line-up got another addition, the Forterra HD series.
I'm prettysure the FS 19 version of the Forterra is based on the model that came with FarmingSimulator 17. Regardless, the new model has more options, especially when itcomes to the exterior.
Forterra HD Features
Colors – This Zetor mod has a couple ofcolor options for the rim. There's also a special edition available, wherewhite is the main color for the body.
Wheels – You got wheels from Nokian andTrelleborg to choose from. The Trelleborg variants includes a full set of twinwheels and narrow care wheels.
You canalso put a front loader attacher on the tractor. It's also reasonably priced,compared to the base game models in the Medium Tractors category.
FS 19 Zetor Forterra HD
I've grownup around farms where Zetors used to be one of the most popular brands. It'sgreat to see more of them in the game, especially when they look and drive asgood as this addon.
Brand: Zetor.
Credits: Matt26.
Category: Medium Tractors.
Base price: 99,000.
Engine configurations: 6, when counting the special edition models.
Power range: 127 to 147 horsepower.
Top speed: 40 kilometers per hour | 25 miles per hour.
Selectable colors: Yes.
Selectable wheels: Yes.
Wheel brands: Trelleborg and Nokian.
Front loader attacher: Yes.
Errors: No.
Platforms: PC, Mac, XB1, and PS4.
Version 1.1.0.0 – Selectable Weights
(Updated February 17, 2020) There'sa new version of the Zetor that you can download. The new version has a new setof base wheels when you enter the shop.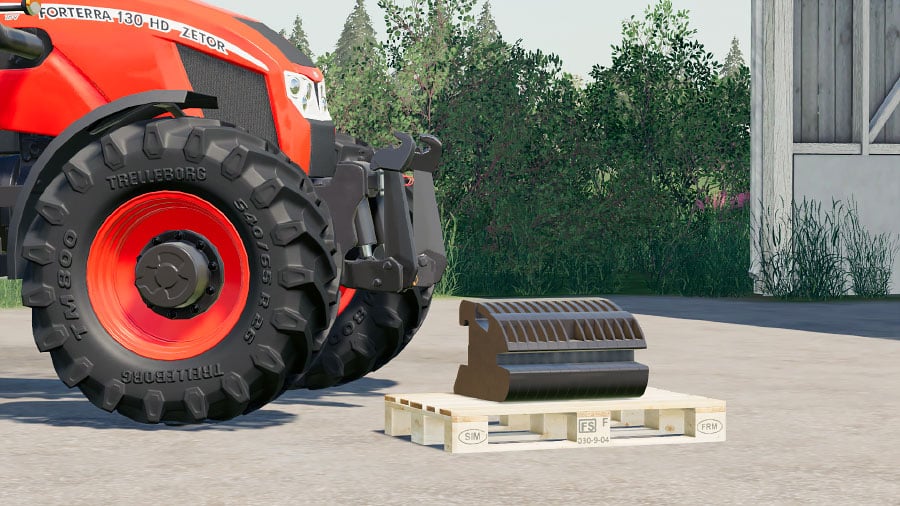 Otheradditions:
Youcan now choose whether you want a 3-point attacher or a weights mount on thefront.
Theincluded weights are in the Tools | Weights category. There you can select howheavy the total weight shall be.
Download from Modhub
You'll find the Zetor Forterra in the Modhub inside the game. You can also get it from its official mod page on Farming-Simulator.com. The blue button opens it.
Go to Download
This mod is an official Modhub mod. Please, do the modder a favor and only download it from the in-game hub or from its official mod page on Farming-Simulator.com.