FarmingSimulator 19 tractor addon: The John Deere 7R Series tractors, modified by UdruzenjeNezavisnih Modera (Jukka.)
This addonis Jukka's version of the base game John Deere. The mod has several featuresthat sets it apart from the other modifications out there.
Jukka's 7R Features
Colors – There are more colors than thestandard John Deere green available. You can paint your JD black, orange, or theolder JD green colors. There are also colorization options for the rims and thetop air inlet on the hood/bonnet.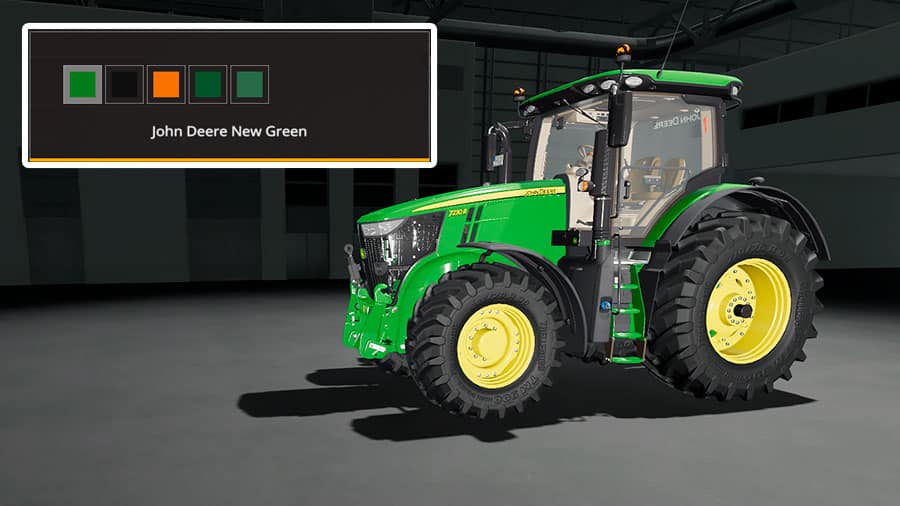 Silver options – Some of the engine options changethe logo from JD yellow to silver.
Wheels – You have a lot of wheel optionsat your disposal. Anything from narrow wheels to wide duals all the way.
Design – You have much customization freedomregarding flags, fenders, and warning signs. You can also add a StarFire unitto the roof, an Alö front loader console, one Samson terminal, and orangestrobe lights to your tractor.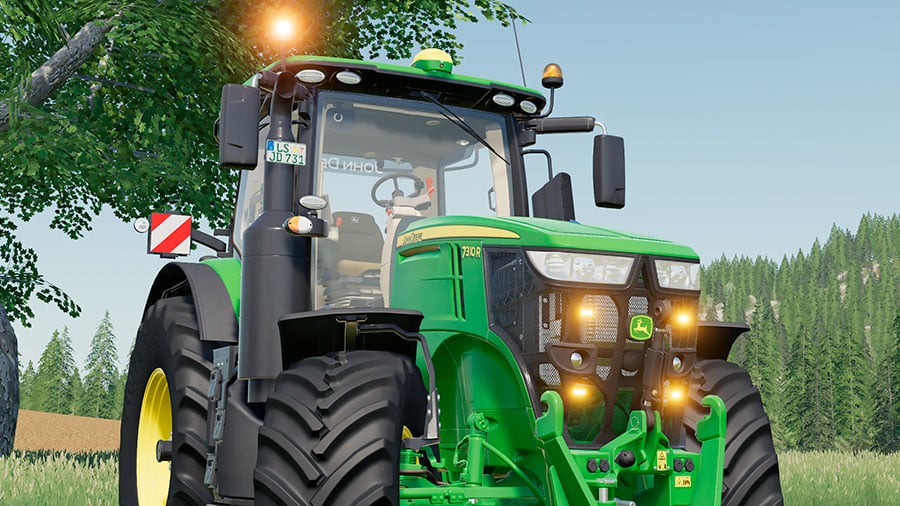 IC Controls
Jukka'sJohn Deere 7R has IC (In Cab) controls. You activate it by pressing thespacebar. When engaged, you can open the left door and the rear window with it.
Jukka has asmart solution for avoiding conflicts with Courseplay. The IC controls areselectable. If you want them, you have to buy them in the shop. The option to notinstall it should help with the Coruseplay problems.
FS 19 John Deere 7R
The JD 7Ris another great mod from Jukka. Yes, there are several similar versions outthere. But I can't remember any of them having the older JD colors or strobe lightsas options.
Brand: John Deere.
Credits: Udruzenje Nezavisnih Modera (UNModding.)
Category: Large Tractors.
Base price: 208,000.
Engine configurations: 10, including the Silver options (7230R, 7250R, 7270R, 7290R, and 7310R.)
Power range: 269 to 352 horsepower.
Top speed: 50 kilometers per hour | 31 miles per hour.
Selectable colors: Yes.
Selectable wheels: Yes.
Wheel brands: Trelleborg, Mitas, and Michelin.
Front loader attacher: Yes.
Errors: I did not notice any errors or warnings.
Platforms: PC and Mac.
Where to Download
Jukka has chosen to host the John Deere at Sharemods. Click the blue button to open the download page.
Go to Download
We always use the modder's original download link when possible. Please let us know if there's a problem with the link. P.S. How to stay safe while downloading mods outsrefe Giants' Modhub.