Here you have the Case IH Steiger Series modded by KarlFarms. Are you a fan of great US or Canadian based FS19 mods? Then this tractor is an absolute must. Especially if you are into large scale farming.
Trivia: The Steiger company was purchased by Case IH's parent company back in 1986. The Steiger name disappeared for some years. But today, Case IH uses the name on it's huge four-wheel Quadtrac tractors.
American Feel
KarlFarm has done a lot to make the Steiger look and feel like it belongs in a large field, somewhere in North America:
Theback of the tractor rotates independently from the front. Drive it over somebumps, and you'll see the cool effect.
Thetractor has gotten the real Steiger sound. It's a beautiful sound.
Theindoor camera moves together with the seat. Again, drive it over some bumps. Itlooks darn cool.
You can equip your Steiger with a couple of Case IH saddle tanks. These are bought separately (in the crop protection category.) Note that you have to buy the weights option for the tractor to attach the tanks.
Mod Facts
Brand: Case IH - Steiger.
Modder: KarlFarms.
3 Models with matching engine configs: Steiger 470, 540, and 620.
Horsepower range: 525 hp to 682 hp.
Base price: 438,000.
Kudos to KarlFarms for making av great mod! It's free for errors. And it's a blast to drive.
Case IH Steiger – Version 2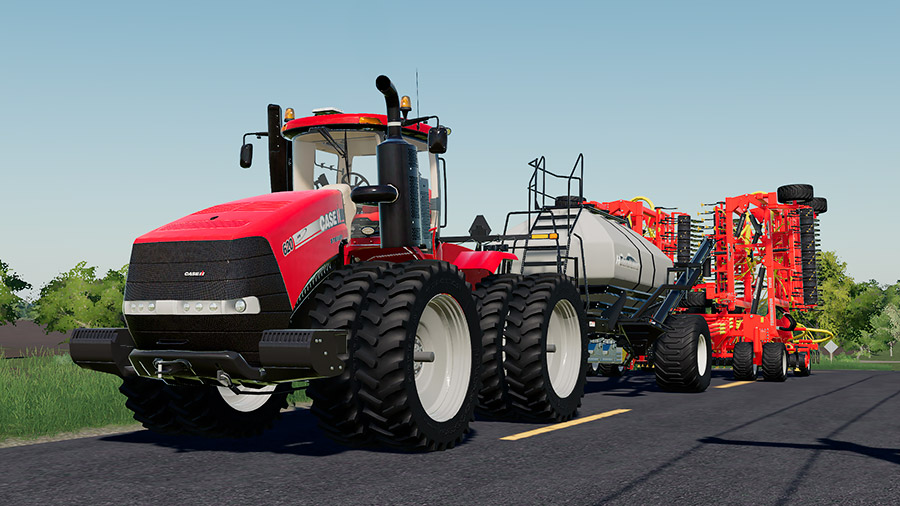 (Update April 2, 2019) The big and beautiful Steiger has gotten an extensive update since the last time we wrote about it. KarlFarms has basically made a new tractor out of the old model. Here are just some of the additions, changes and fixes:
Newwheel configurations: Firestone (duals, wideduals, and triple wheels.) Rowtrac, Rowtrac wide, Quadtrac and Quadtrac wide.
Thereare also floater wheels to choose from (fromGoodyear.)
Wheelrim color configurations have been added: Default Gray, black, and Steiger green.
The modellineup has been revised. Here are theadded motor configurations and their prices:
370(405 HP - Cost 356,700)
420(462 HP - Cost 390,700)
470(517 HP - Cost 423,200)
500(550 HP - Cost 443,200)
540(605 HP - Cost 476,100)
580(638 HP - Cost 495,700)
620(682 HP - Cost 522,200)
Steiger Green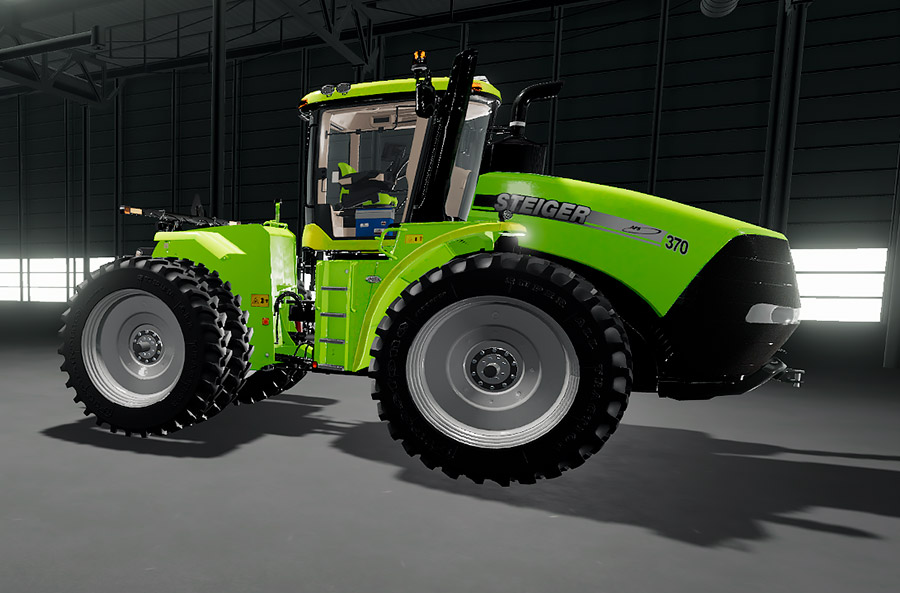 The original Steiger Green has been added as a configurable color option. When you choose that color, the side decals change to the vintage Steiger decals. Even the seat colors can be changed now, to red, black or Steiger green.
The front weightsare configurable. The interior dashboard has gotten lights. And the rear Americanturn light bar has changed. The width of the bar changes together with thedifferent wheel configurations.
Other updates:
Front3 point hitch has a new location and rotation limits. Leveling silage is much easier now.
Dirttextures, engine sounds, and light typeshave also been updated.
In other words: This is a massive and impressive upgrade!
How to Download
You must visit KarlFarms on Facebook to download this mod (the blue button below takes you to that page.) Once you're there, you'll need to locate the "Play Game" button in the upper right corner (under the cover photo).
Pressing this button takes you to KarlFarms' Mega-account, where you can download the Steiger.
Go to Download 72.8MB
We always use the modder's original download link when possible. Please let us know if there's a problem with the link. P.S. How to stay safe while downloading mods outsrefe Giants' Modhub.