FarmingSimulator 19 mod presentation: The Case IH Optum CVX Series tractors,modified by Nervtöter and Chrisi136.
I think Case'sOptum tractors are some of the best-looking, newer tractors. That's why I washappy to see that Giants Software added it to FS 19. The modified version makesa good thing even better, because it offers noticeable more options, comparedto the original.
Optum CVX Features
Colors – The mod lets you play around withsome colors for most of the body, mainly variations of red and black. The rimsgot color options, as well.
Wheels – You'll find wheels from severalbrands inside the shop. Trelleborg has most configurations, ranging from standard-sizedtires to rear twins, or duals on all axles.
Design – Inside the shop, you can go withjust one or two beacon lights. You can add or remove the front PTO, as well.
You canopen and close the roof window with either a mouse or a controller.
FS 19 Case IH Optum CVX ModSpecs
I like it alot when modders add more value to already great models. The Optum is moreexciting now, thanks to the brilliant modifications made by the modders.
Brand: Case IH.
Credits: Giants Software, Nervtöter, and Chrisi136.
Category: Large Tractors.
Base price:231,000.
Engine configurations:4.
Power range:273 to 363 horsepower.
Top speed:55 kilometers per hour | 34 miles per hour.
Selectable colors: Yes.
Selectable wheels: Yes.
Wheel brands:Mitas, Michelin, and Trelleborg.
Front loaderattacher: No.
Errors: No.
Platforms: PC, Mac,XB1, and PS4.
Version 2.0.0.0 – Lots ofAdded Eye Candy
(UpdatedJanuary 7, 2019)The Optum mod has reached version two. The updated version includes severalvisual and functional additions.
There'snow a roof window, which is controlled by a mouse or a controller.
Ithas more colors and engine options.
Theinterior now looks like the most current, real-life version. The same goes forthe outside mirrors.
Youcan see the engine through the front grille. And the tractor has a widersteering angle.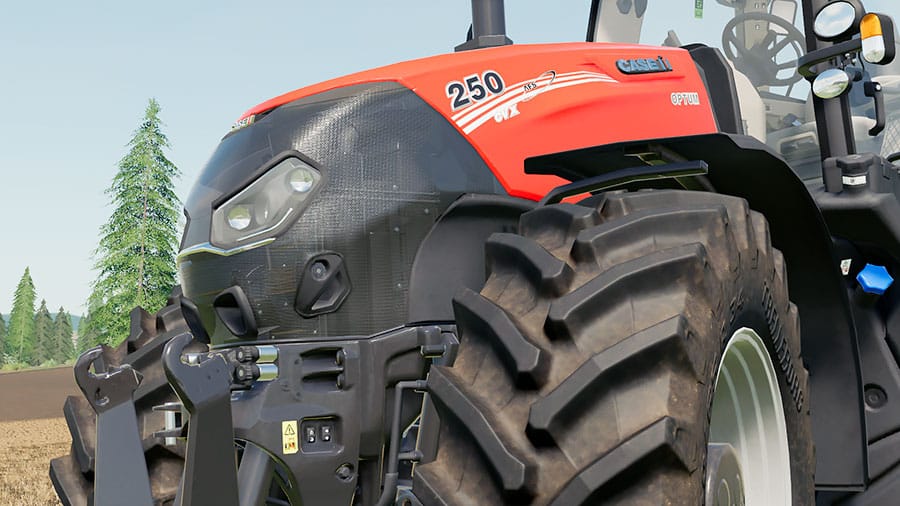 Download from the Modhub
This version of the Case IH Optum tractors is available through the Modhub. You can download it when the game runs or by visiting the official mod page at the Farming Simulator website.
Go to Download
This mod is an official Modhub mod. Please, do the modder a favor and only download it from the in-game hub or from its official mod page on Farming-Simulator.com.