Farming Simulator 19 mod map presentation: The Wild West mod map, created by Cazz64.
Are you upfor a really, really, Big challenge? Then try your farming skills onthis mega-map. It will probably keep you occupied for a while…
And ifyou're into big farming machinery, you'll most likely like it here. On thismap, there's no such thing as too many and too big…
Huge Map
Let's lookat some numbers to get our heads around how big this map is. First, you shouldknow that a standard-sized Farming Simulator map is 2 x 2 kilometers. Then,there are 4x maps, which are 4 x 4 kilometers.
The WildWest map is 8 x 8 kilometers. You have almost 64,000,000 m² ofarable farmland and forest areas at your disposal!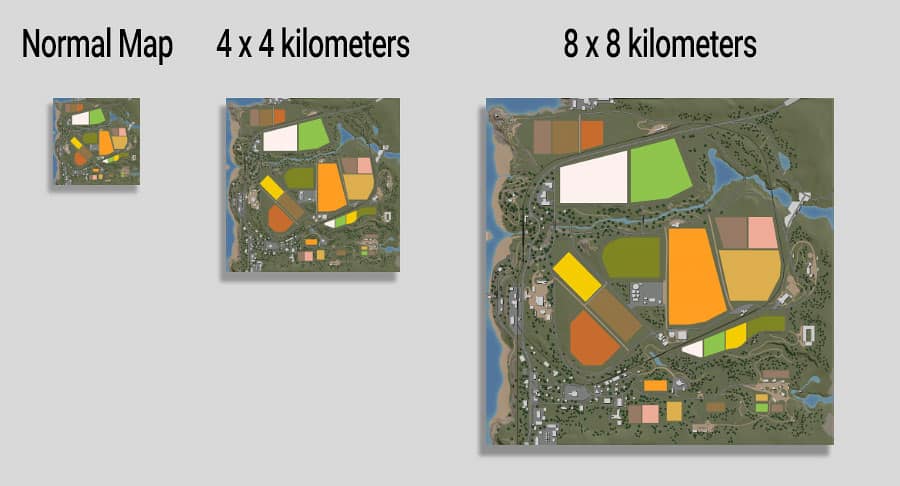 Mega-Fields
Yes, thereare some small fields on the Wild West map. The smallest is about 3 acres or1.2 hectares, which is a decent-sized field on a standard map…
The largestfield (#17) is 2,021 acres or 818 hectares. Buying it will costyou a whopping 24,636,490 (on New Farmer, Easy Economy.)
I spent more than 18 minutes with a cultivator to get from end to end of that field.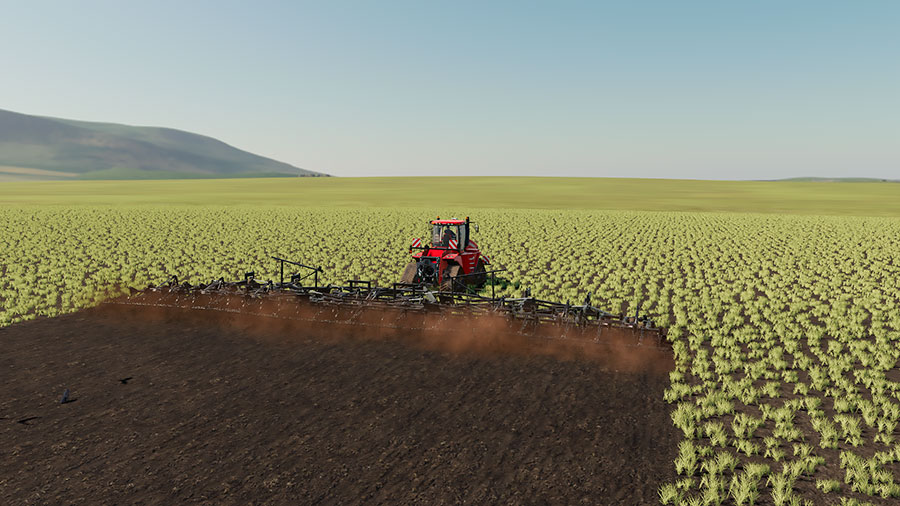 Impressive
I've seen mega-mapswhere the modder has slapped a couple of mega-fields into it, calling it a mod.This is not the case here. The creator must have spent an insane amountof time bringing life and details to the map.
Severalthings impress me. Like the highway system and its traffic. And map optimization.A map of this size will wreak havoc on a lot of computers if not correctlyoptimized.
This map isoptimized correctly. Kudos to Cazz64 for thinking of game performance whencreating the map.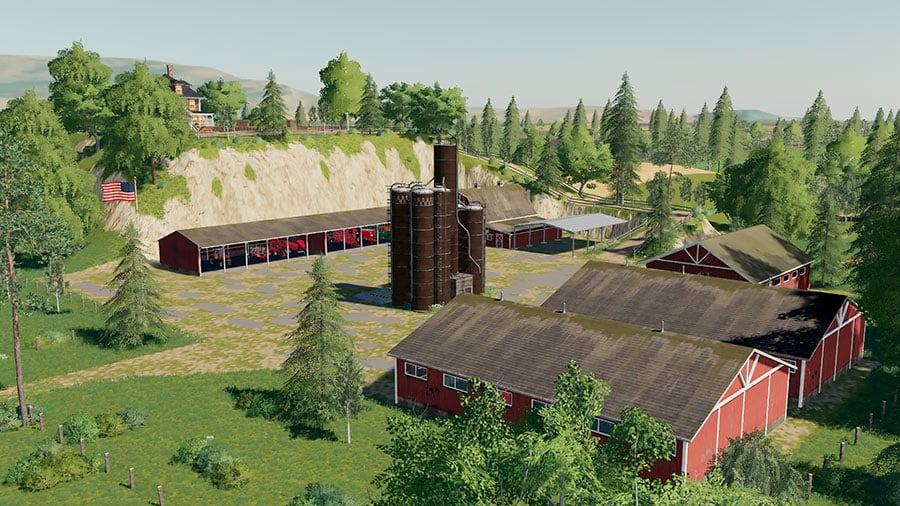 Forestry Too
Yes, thereare forests here. They, too, are humongous. Trees as far as the eye can see…
Since beinginspired by an American environment, I would recommend US style logging. Thebigger machinery and longer log lengths will be more efficient in these woods.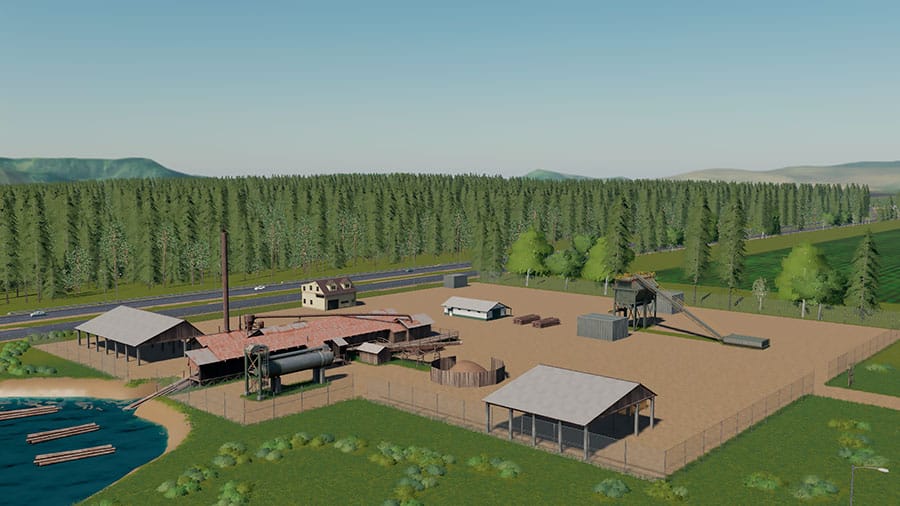 The mapincludes several large areas where you can put down a lot of placeable objects.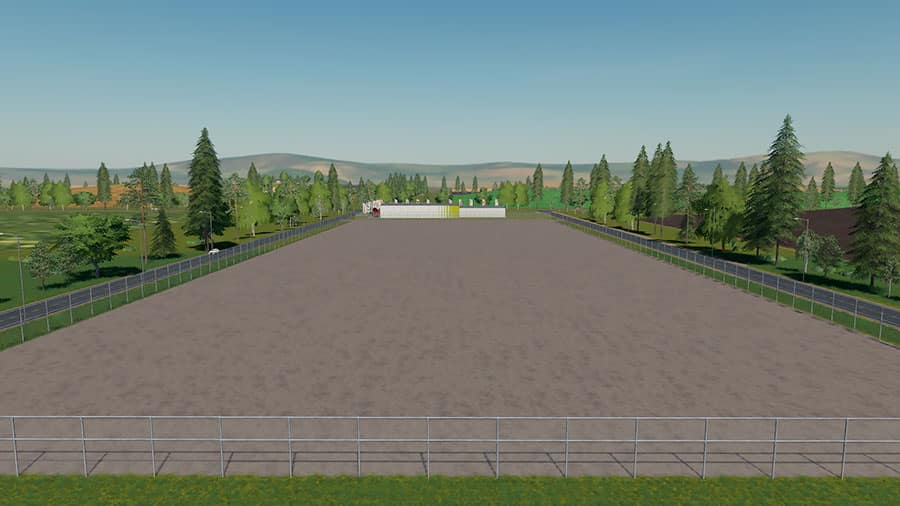 You'llalso find a lot of custom made, placeable objects in the shop.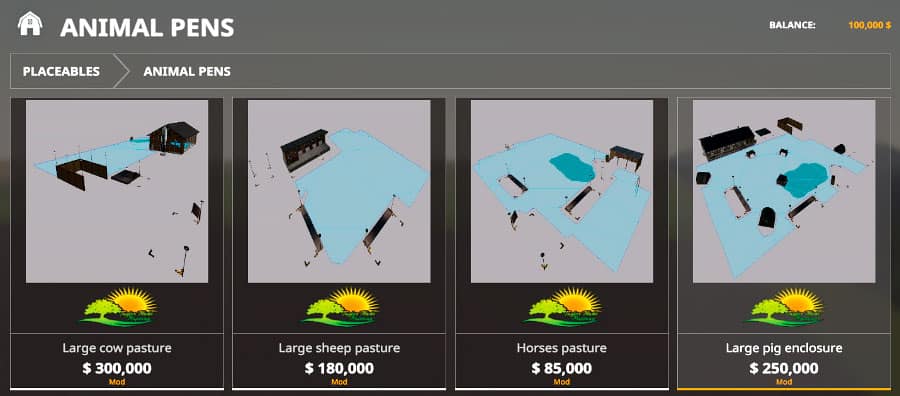 FS19 Wild West Mod Specs
I like thismap a lot. Yes, it's too big for most one-person crews. It's great for multiplayeror massive automation of most farming chores.
The thingthat pleases me most is how Cazz64 has done a magnificent job with detailingthe map. Giving life to a 2 x 2 map is a lot of work. Adding this much detailsto a map of this size? Incredible!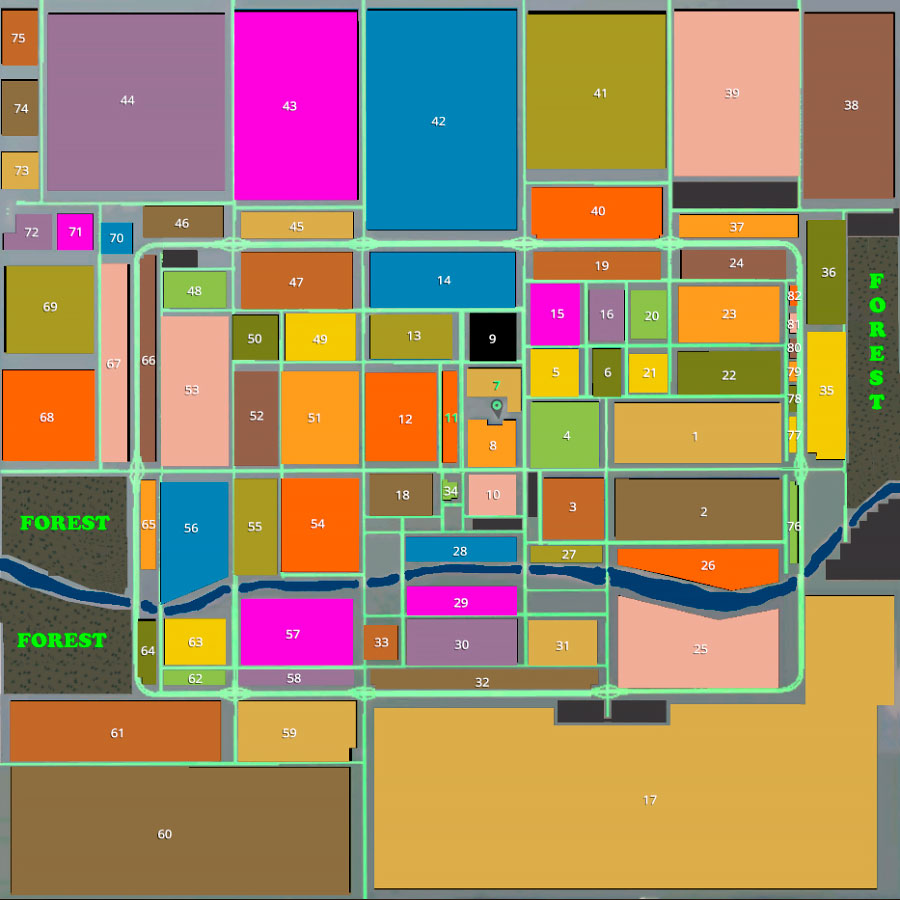 Map Name: Wild West.
The Map Creator: Cazz64.
Map size: 8 x 8 kilometers.
Number of fields: 82.
Number of buyable farmlands: 112.
Selling points: 15.
Additional crops: Yes, for example, onion, clover, millet, rye, spelt, poppy, and hops.
Errors: I could not find any errors.
Platforms: PC and Mac.
P.S. You can join Cazz64's Facebook group for help with the map and news about upcoming mods.
Version 1.2.0.0 – NewCrops, Fixes
(UpdatedMarch 28, 2020) Thelatest version of the Wild Wild West map offers both new stuff and some fixes. Thisis what Cazz64 has done:
Addednew crops: Mustard, coffee, and rice.
Fixedthe diesel sale trigger, and some of the lights removed the floating light overat the animal dealer.
Youcan store cabbage and spelt in the main silo. The silo also has a bale trigger,turning bales into straw.
Traffic Issue
Someplayers have encountered problems with turning traffic off and on. Thisweird glitch is fixed like this:
Start the game, turn off thetraffic, then save the game.
Shut down FS19 and restart. Trafficoff/on should work.
Note: If you want all fixes to work,you need to start a fresh gamesave.
How to Download Version1.2.0.0
If you wantthe latest version of the Wild Wild West map, you need to sign up as a member overat Papasmurfmodding.us. The download button will be visible once you'veconfirmed your membership.
Signing up is both free and easy. Click here to join.
Where to Download V1.1.0.0
Cazz64 has made the Wild West map available for all PC and Mac players over at Sharemods. The blue button opens the download page.
Go to Download
We always use the modder's original download link when possible. Please let us know if there's a problem with the link. P.S. How to stay safe while downloading mods outsrefe Giants' Modhub.