FarmingSimulator 19 mod presentation: The JCB 435 S wheel loader (stage IV and V),modified by RedCat3D and Pixeldesign.
This addonis a rebuild of the 435 S wheel loader that Giants Software made available as amod for FS 19 some time ago. Stage 4 and stage 5 designations describe the enginemodels.
435 S Features
Colors – Your JCB can be traditionalyellow, black or red. There are also some colorization alternatives for therims.
Wheels – Want front duals, or twin wheelsall the way? No problem. This addon has more tire options than most other wheelloader mods.
Design – There are no less than sevendifferent beacon lights configurations, together with a number of ways to put warningsigns or warning stickers on your loader.
FS19 JCB 435 S
I'm surethis is the best version of the JCB 435 S ever. It might also be the best wheelloader addon so far in the history of Farming Simulator games.
Brand: JCB.
Credits: Giants Software, RedCat3D, and Pixeldesign.
Category: Wheel Loaders.
Base price: 184,000.
Engine configurations: 2 – Stage IV and Stage V.
Power range: 235 to 252 horsepower.
Top speed: 40 kilometers per hour | 25 miles per hour.
Selectable colors: Yes.
Selectable wheels: Yes.
Wheel brands: Michelin, Mitas, and Trelleborg.
Errors: No.
Platforms: PC, Mac, XB1, and PS4.
Where to Download
This JCB 435 S is a modhub mod. You can download it from the game's modhub. You can also download it from its download page. The blue button opens it.
Version 1.1.0.0 – Works with SimpleIC
(Updated May 20, 2020) RedCat3D and Pixeldesign have made ready an update for the JCB wheel loader. Here are the additions and fixes:
You can control the door with the Simple IC script on PC and Mac.
Michelin XHA2 communal tires are added as an option.
There are also some fixes for the seat textures, the steering wheel, and in-game behavior.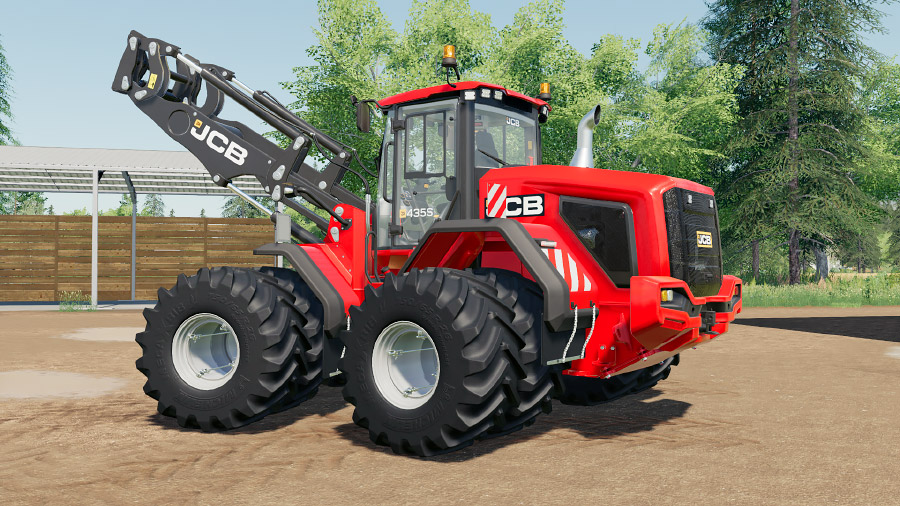 Go to Download
This mod is an official Modhub mod. Please, do the modder a favor and only download it from the in-game hub or from its official mod page on Farming-Simulator.com.