Farming Simulator 19 mods presentation: CIMC flat deck trailers pack by JFL Modding. If you just want the trailers right now, the download instructions are located at the end of the showcase.
This is abrilliant pack of Autoload trailers that double as transport trailersfor other vehicles and equipment. Combined, they have enough space to bring atractor, a baler, and a telehandler to the fields. And it can transportan enormous number of different bales when returning to the farm.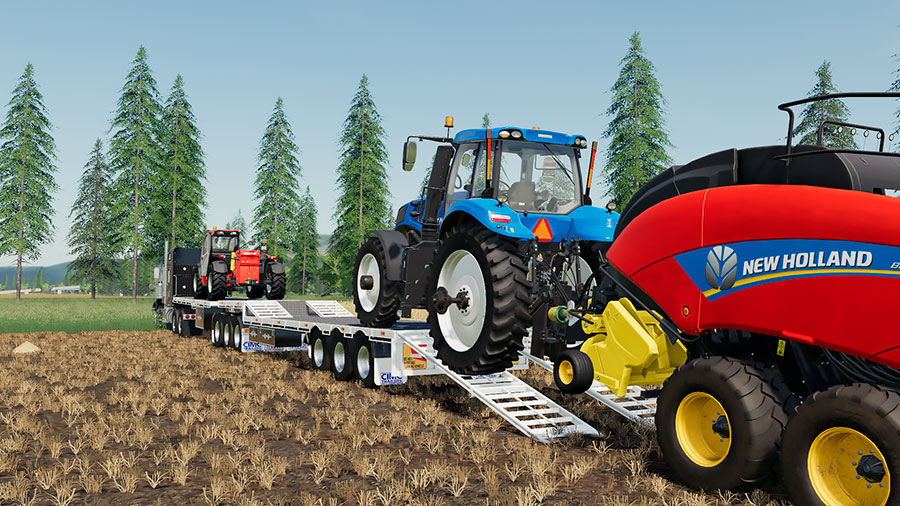 Great Aussie Modding
JFL Modding has modeled the trailers after the real-life flat decks, made by the Australian company CIMC Vehicle Australia. Just take a look at the company website. Then, check out the FS19 versions. Now that's what I call impressive modeling and texturing.
Here'sthe FS19 line-up:
One Flat-Deck A Trailer.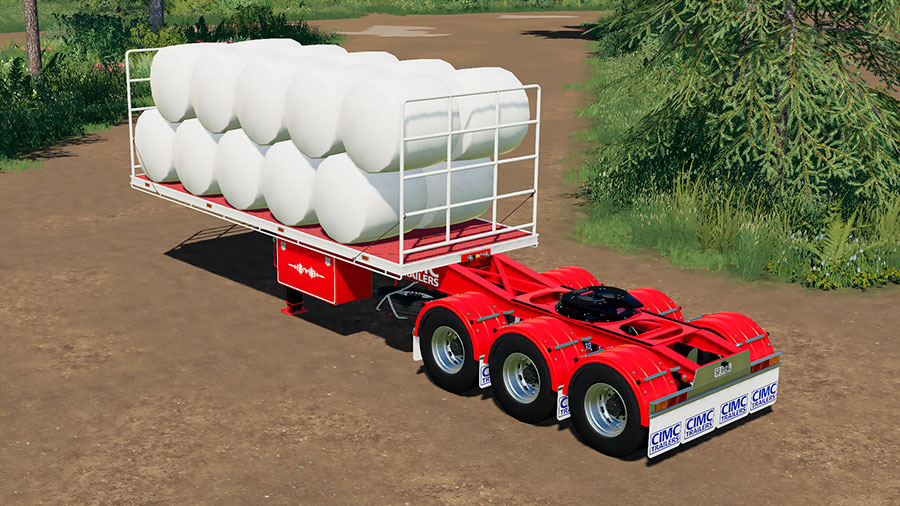 There are acouple of hidden ramps inside the deck of the A trailer. Use your mouseor a controller to get them into the open. The ramps make it easier forvehicles to drive from another flat deck onto the A trailer when both are attached.
It's alsopossible to slide the 5th wheel on the A trailer back and forth.
Here's someof its Autoload capacity: 8 pallets, 24 square bales, 20 round bales, 2cotton modules, and 3 cotton bales.
A Flat-Deck B Trailer.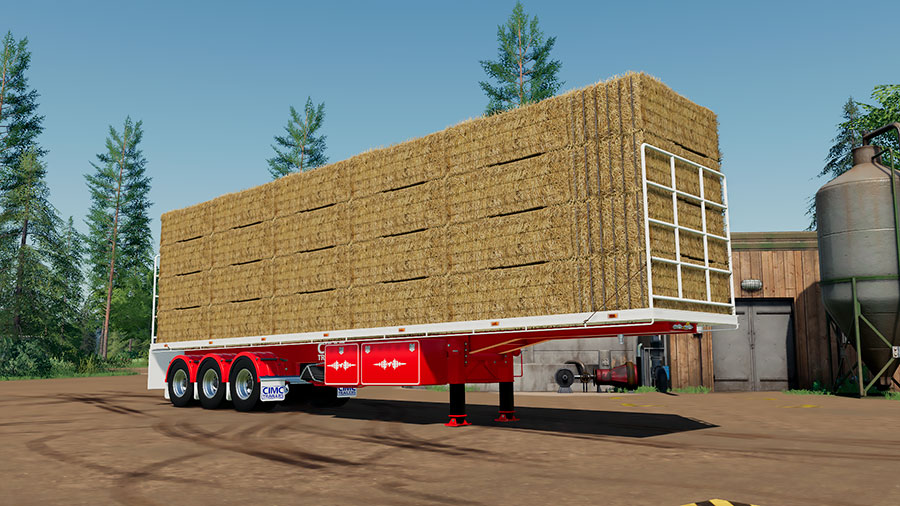 Thistrailer will hold the following when using Autoload: 44 square bales, 14pallets, 38 round bales, 5 cotton modules, and 5 cotton bales.
And One Drop Deck Trailer.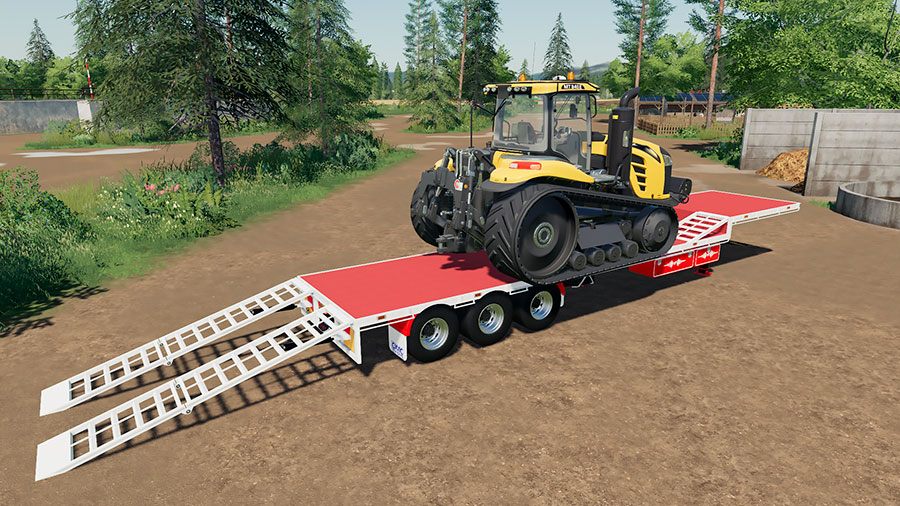 The dropdeck version can be equipped with two sets of ramps. One from the groundonto the lower level. And another set from level 1 to level 2. And yes, alsothis trailer has Autoload. Here are some examples of what you can load it with:38 round bales, 14 pallets, 41 square bales, 4 cotton modules, and 5 cottonbales.
What to Configure
All threetrailers have several customization options. You can change the colors of manyof each trailer's parts. Don't want the headache racks? Or do you want to use allframes available? No problem. Just customize it in the shop.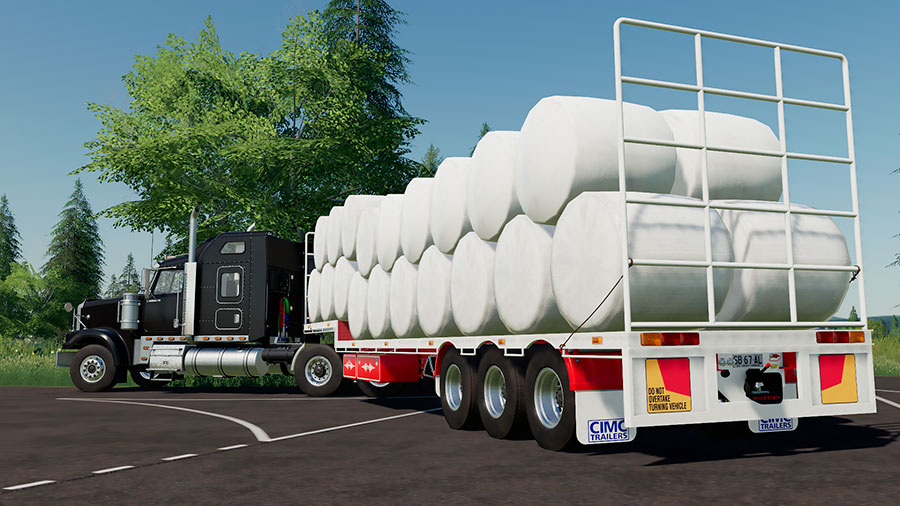 The Autoload Function
Most of youprobably know how the Farming Simulator 19 version of Autoload works by now.But just to make sure, here are some of the most used keyboard shortcuts:
Z = Setswhat product to load.
U =Activates and deactivates Autoload.
B = Helpsyou choose the unloading positions (guided by a marker.)
Y =Auto-unloads your load.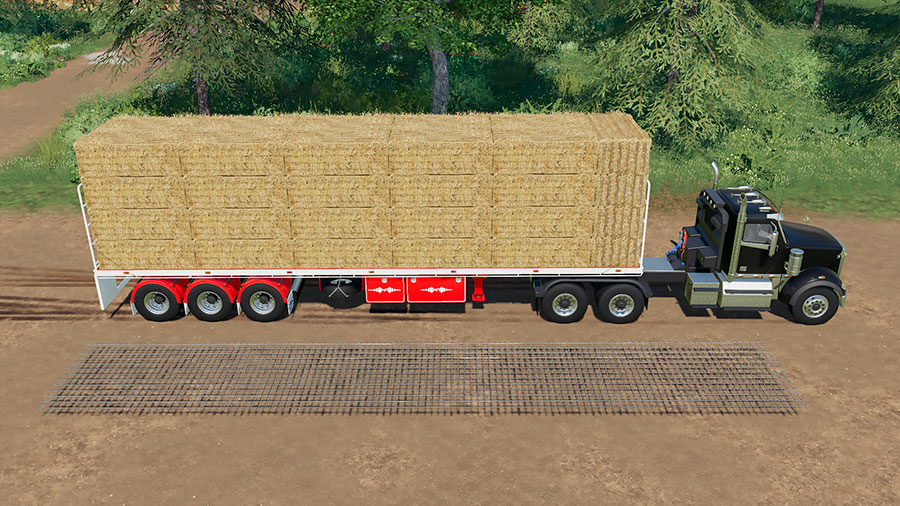 Alltrailers accept most of the standard FS19 bales, pallets, and cotton modules,the JD round cotton bales included. But for some reason, it won't accept woolpallets. It's also worth mentioning that they are using an older version of theAutoload script, and not the "Global" version Alfalfa6945 released justrecently.
FS19 CIMC Flat DeckTrailers
I likethese trailers a lot. They'll let you haul enormous amounts of bales inone turn. Yes, there are some small warnings in the log, but these are nothingto worry about. Here are more details:
Brand: CIMC Trailers.
Credits: JFL Modding.
Category: Baling Technology.
Base price: 38,000.
Capacity: See above.
Selectable colors: Yes.
Selectable wheels: Yes – Standard or with spider rims.
Wheel brands: Lizard.
Extra rear hitch: Yes, on the B trailer and the Flat Deck.
Errors: Nothing to worry about.
Platforms: PC and Mac.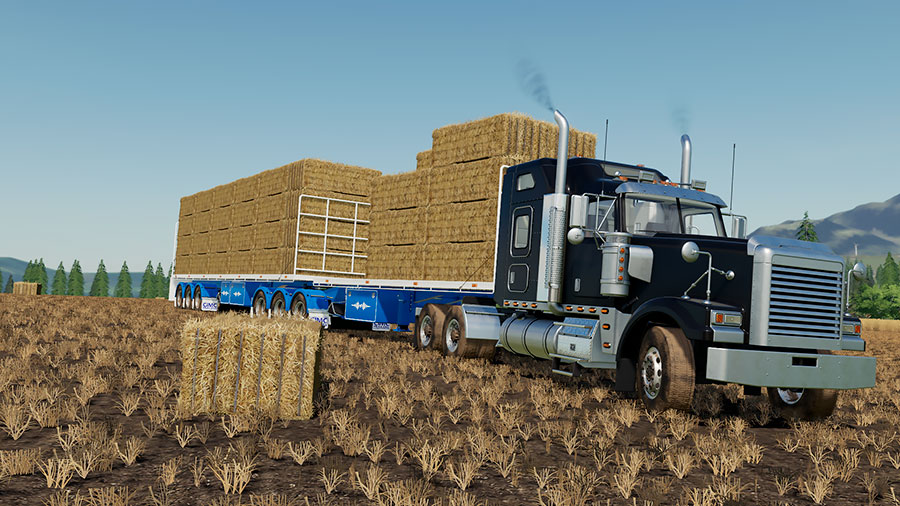 Version 1.1 – Not GettingStuck Anymore
(Updated September 20, 2019) A new version of the fantastic trailers is available. Perhaps the most significant change is the inclusion of the most recent release of the Easy Autoload script by Alfalfa6945. This is what it means for you:
Since the new Autoload script is Global,the Autoload script itself needs to be in your mods folder and activated. (Noworries, JFL Modding has included the script with the trailers.)
You need to unzip the mod filesfirst, then copy both files to your mods folder.
Other importantupdates:
The collisionshave been fixed. The trailers should not get stuck anymore by "invisibleobstacles." And all trailers now accept Hesston baler bales and wool pallets.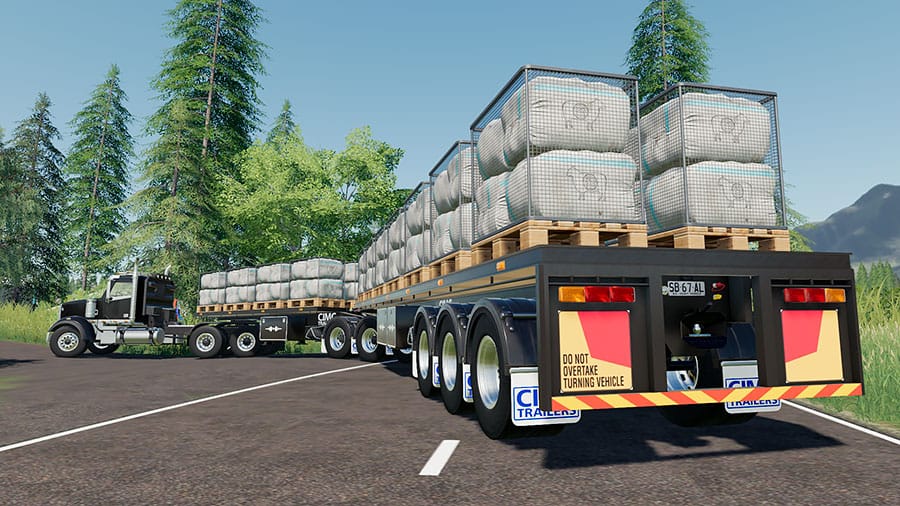 (I'vetested the mod with other Autoload mods that have the script included. Theydid not seem to be interfered by the Global version of the script)
How to Download
To get these great-looking trailers into your mods folder, you need to visit the official download page over at Mediafire. Just click the blue button to get there.
Go to Download
We always use the modder's original download link when possible. Please let us know if there's a problem with the link. P.S. How to stay safe while downloading mods outsrefe Giants' Modhub.