(Update) The Horsch mod packs for Farming Simulator 19 have been released on Giants' modhub. This is the link for the Horsch Agrovation map mod. And here's the link to the tools mod pack.
Remember that impressive Horsch Agrovation DLC for Farming Simulator 17? Which, on top of all, was free? It had a beautiful map and tons of equipment.
Here are some of the tools you got:
A Horsch Maestro 12SW
The Horsch Leeb PT 350
Horsch Maestro 16.75 SW
A Fertilizer Spreader
The pack made tons of players really happy. After all, it was a DLC you would expect to pay money for. But Horsch wanted it to be a gift to all FS fans.
Great Mods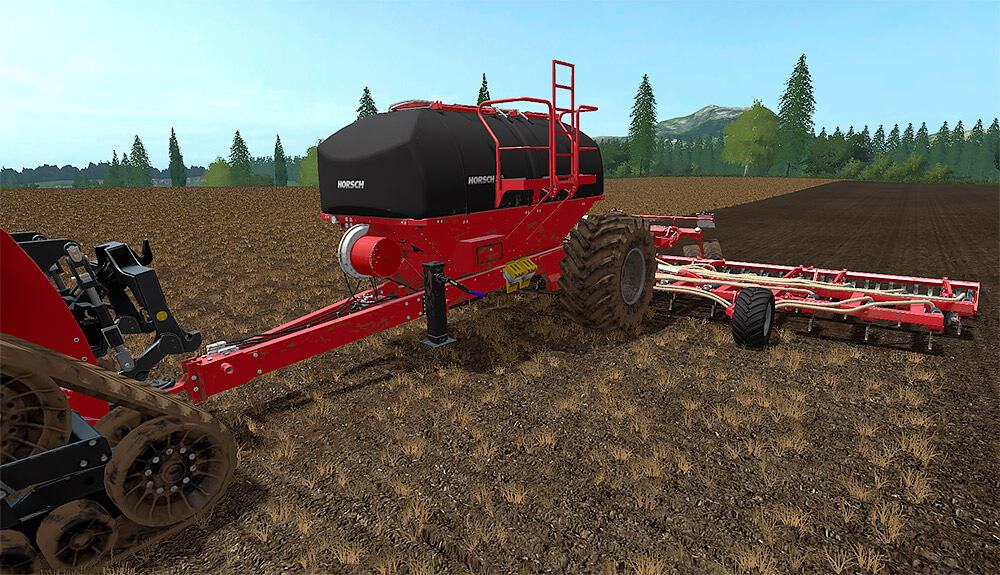 The Horsch pack had 16 different tools. And a map. All made by the talented people at Vertex Dezign. The mods had the same modeling and texture quality you're used to from Giants.
Personally, I loved working with the EVO 12.375 seeder (in the picture above). It soon became my preferred tool for putting seed in the ground. I really miss that seeder, now that FS19 is here…
Great News
I really enjoyed the Horsch pack back in FS17. If you did too, you'll love what I'm about to tell you:
Horsch is bringing another free DLC to FS 19! This was mentioned in a recent update on the company's website.
At this point, there's no talk about an ETA. Nor is it clear what will be in the pack. But there is talk about both a map and several types of equipment. I guess that they are still working with Vertex Dezign.
I'm hoping we'll soon see many of the tools we loved to use in FS17, making a comeback in FS19. Oh, the image above shows the current Horsch line-up in FS19…
Horsch + Giants
It seems Horsch is a fan of the Farming Simulator series. The number of Horsch tools is one thing. Another is the fact that Michael Horsch himself invited Giants to host FarmCon 18 at the Horsch plant in Schwandorf, Germany.
At this event, Michael Horsch was even one of the speakers, talking about the benefits of no-till farming (quite interesting, actually.)
We think it's safe to say that Horsch has discovered the marketing powers of having their equipment in front of millions of console and PC players around the world. Many of those players are real life farmers. Or might be one someday…