FarmCon the show every Farming Simulator fanboy is waiting on. Every year Giant Software the developers of the Farming Simulator franchise organize an event named FarmCon on this event they usually talk about modding, the next Farming Simulator, and perhaps new DLC's. And that last one is the case for this year.
The new DLC
With the announcement of delaying the next Farming Simulator to 2021 Giant Sofware also announced that they still will support the current Farming Simulator game with new updates and DLC's. With the announcement of FarmCon 20 they also said they gonna show us the new DLC. Information about the new DLC is at this moment very vague but we can guess of course. The previous big DLC, the Platinum Expansion was announced a while back at the headquarters of Claas. Cool right? FarmCon normally would have taken place at the Deutz-Fahr arena this year so maybe the next DLC will be a Deutz-Fahr DLC? Who knows ...
FarmCon Online
Because of the Pandemic Giant Sofware announced that FarmCon will take place online via streaming events. Each event will take around 30mins. So make sure you tune in on the 19th of July for an awesome event by the makers of Farming Simulator!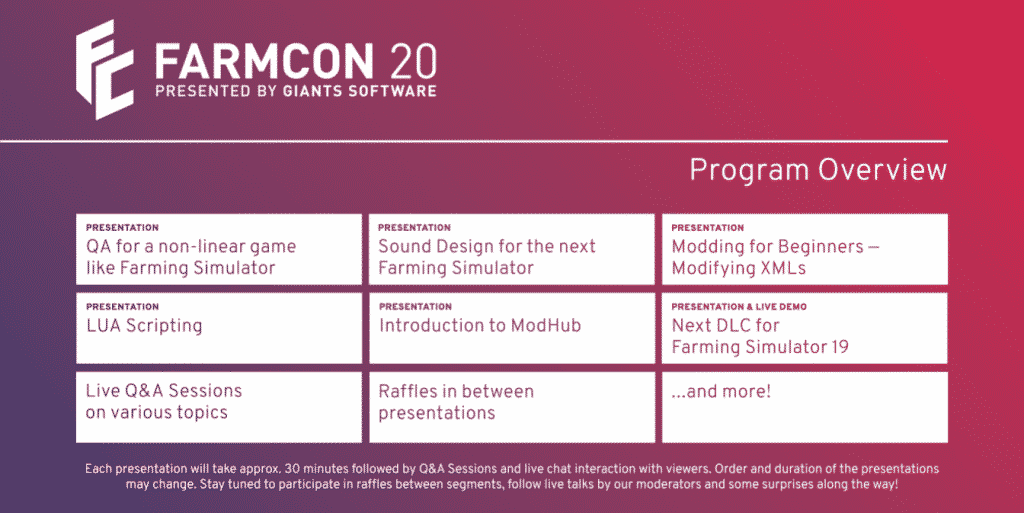 The Next Farming Simulator
Will they announce the next Farming Simulator? Probably not. But they gonna give us a sneak peek at the sound design of the new Farming Simulator. Will this be Farming Simulator 21 or 22? We can only guess after the name.