New FarmingSimulator 19 mod: The Veenhuis Profi Line 16600 slurry tanker, created bySeme.
Theslurry tanker has a couple of tire options.
Itadds connection hoses and cables to the vehicle pulling it.
You can attachvarious injectors to the back of the tanker, like the Amazone Catros 6002-2 whenyou apply the Vogelsang SynCult extension.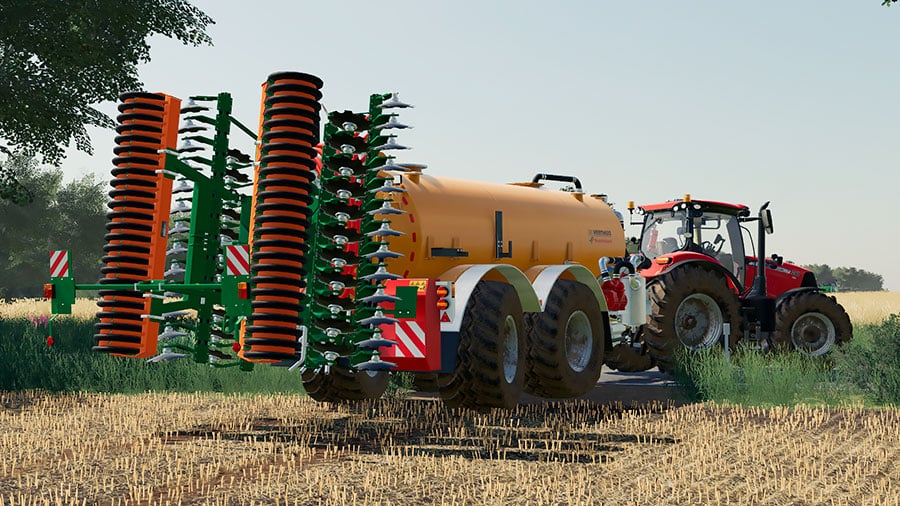 Veenhuis Profi Line 16600FS19 Mod Specs
Brand: Veenhuis.
Credits: Giants Software, Seme.
Category: Tools | Slurry Tanks.
Base price: 105,000.
Working speed: 15 kilometers per hour | 9 miles per hour.
Working width: Depends on the injector.
Accepts: Slurry and digestate.
Capacity: 16,600 liters.
Required power: 185 horsepower.
Selectable colors: No.
Selectable wheels: Yes.
Wheel brands: Trelleborg and Nokian.
Platforms: PC, Mac, PS4, and XB1.
How to Download
You can get the tanker from the official modhub, either when the game is running, or online, if you're on PC or a Mac. The blue button opens the last option.
Go to Download
This mod is an official Modhub mod. Please, do the modder a favor and only download it from the in-game hub or from its official mod page on Farming-Simulator.com.