New FarmingSimulator 19 mod: The Horsch UW160 auger wagon (grain cart), convertedand modified by FriendlyX.
Inside theshop, there are two versions: One that looks used. The other one looks brandnew.
TheHorsch auger wagon has several work lights, also on the auger pipe.
Ithas a working DigiStar weight display mounted on the front.
Youcan extract the telescopic axle with a mouse or a controller.
Horsch UW160 FS19 ModSpecs
Brand: Horsch.
Credits: Bigfarmer145, Geri-G, and FriendlyX (FS19version.)
Category: Auger Wagons.
Base price:From 22,000.
Accepts: Wheat, barley, oat, canola, sunflower,soybeans, corn, solid fertilizer, and seeds.
Capacity: 20,000 liters.
Selectable colors: No.
Selectable wheels: No.
Wheel brands:Trelleborg.
Errors: No.
Platforms:PC and Mac.
A Couple of Notes
I like theHorsch auger wagon a lot. It's a good conversion. Still, I want you to be awareof a couple of things:
Itsunloading speed is very fast, like a few seconds (can be changed in the XMLfile…)
Partof the load is visible through the cover when the cart is full.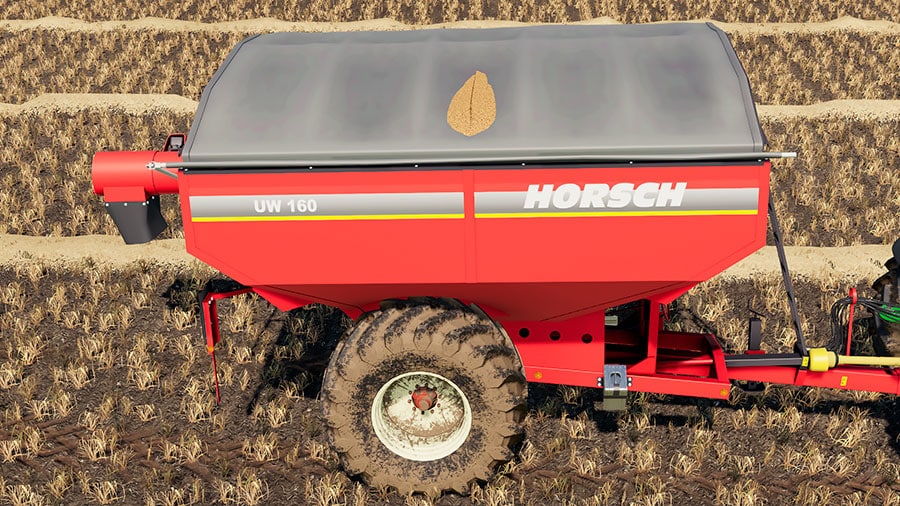 How to Download
You must visit Sharemods to get the Horsch UW160. The blue button takes you to the official download page.
Go to Download
We always use the modder's original download link when possible. Please let us know if there's a problem with the link. P.S. How to stay safe while downloading mods outsrefe Giants' Modhub.