New FarmingSimulator 19 mod: The Fliegl VFW 25000 slurry tanker semi-trailer, modifiedby Baki.
Ever wantedto use trucks to fertilize your fields in FS19? (Yes, that happens inreal-world farming…) Then, this cool-looking Fliegl semi-trailer will behandy.
The trailerlooks good and works without hiccups. The textures are up to date, but there isnothing you can configure in the shop.
FS19 Fliegl VFW 25000 Mod Specs
Brand: Fliegl.
Credits: Baki.
Category: Slurry Tanks.
Base price:32,000.
Capacity: 25,000 liters.
Working width: 20 meters.
Working speed: 17 kilometers per hour | 11 miles per hour.
Accepted: Slurry (liquid manure) and digestate.
Spreading options: Via splash plates.
Selectable colors: No.
Selectable wheels: No.
Wheel brands:Trelleborg.
Extra rear hitch: No.
Errors: No.
Platforms: PC, Mac, PS4, and XB1.
Version 1.1.0.0 – Manure System Ready
(Updated May 19, 2020) Baki has updated the slurry tank. You can now use it with Wopster's manure system. It's also possible to store the liquid manure hoses on the sides of the tank.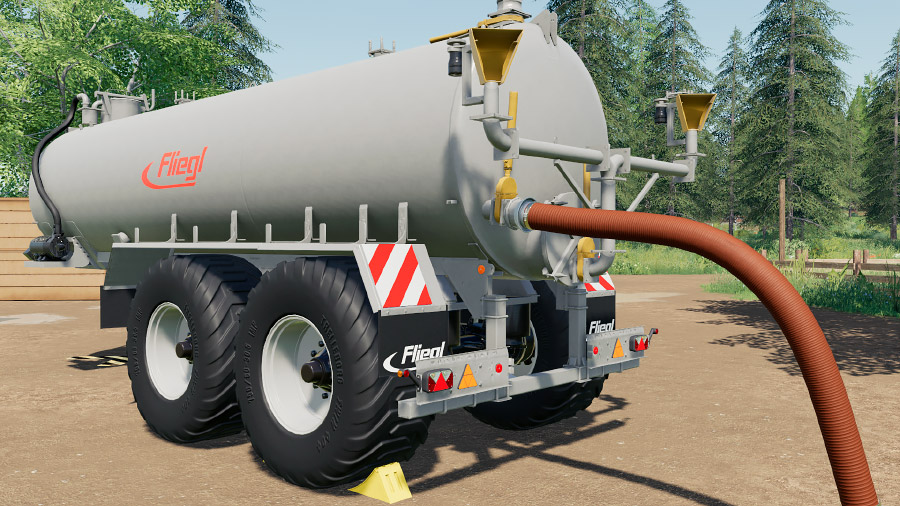 How to Download
The Fliegl slurry semi-trailer is an all-platform modhub mod. You can download it from the modhub inside the game. Computer farmers can also download it from Farming-Simulator.com. The blue button opens the last option.
Go to Download
This mod is an official Modhub mod. Please, do the modder a favor and only download it from the in-game hub or from its official mod page on Farming-Simulator.com.