New FarmingSimulator 19 mod: The Annaburger HTD slurry tanks pack, created by VertexDezign.
You can usethis Annaburger-addon to spread slurry and digestate. It can also function as atransport tank for refilling other spreaders.
You can useit with trucks, and thanks to the included dolly, you can also use a tractor topull it.
FS19 Annaburger HTD ModSpecs
Brand: Annaburger.
Credits: VertexDezign.
Category: Slurry Tanks.
Base price: 50,000.
Capacity: 24,000 liters.
Working width: 18 meters
Accepted in the tank: Slurry and Digestate.
Selectable colors: Yes.
Selectable wheels: Yes.
Wheel brands: Lizard, Nokian, and Michelin.
Extra rear hitch: No.
Platforms: PC, Mac, PS4, and XB1.
Version 1.1.0.0 – NewTrailer, Manure System
(UpdatedMarch 21, 2020) VertexDezign has just released a substantial update for the Annaburger pack. The newversion includes a new trailer, the HTD30.27 turntable trailer. The new trailercosts 60,000 and can hold 24,000 liters.
The teamhas done other stuff to the slurry pack, as well:
Fixed some issues with the model collisions.
Added more color options for the tanks.
Made the trailers ready for Wopster's Manure System.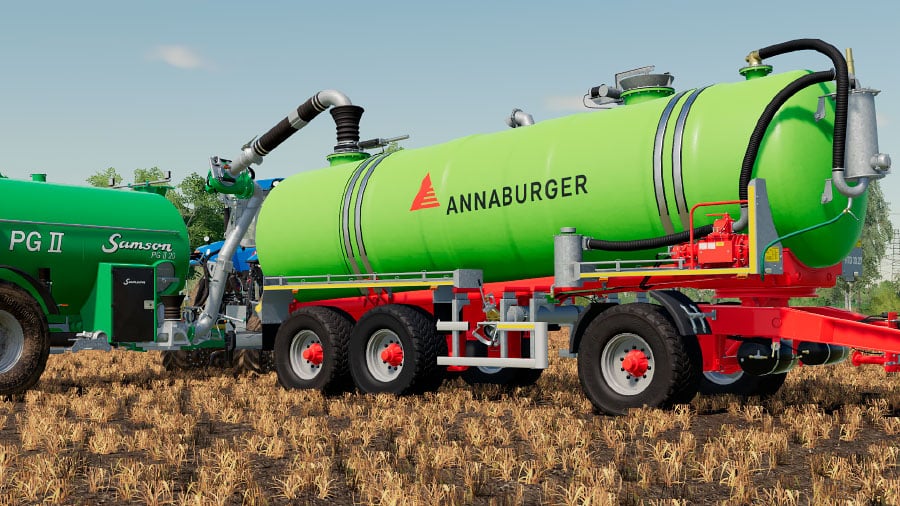 How to Download
You can download this fantastic Annaburger mod from within the game, from the modhub. If you're on PC or Mac, you can also visit the official download page (click the blue button.)
Go to Download
This mod is an official Modhub mod. Please, do the modder a favor and only download it from the in-game hub or from its official mod page on Farming-Simulator.com.