New FarmingSimulator 19 mod: The New Holland T7 AC Series tractors, modified by STv-Modding.
This addonbrings the AC version of the New Holland T7 to FS19. (I believe AC standsfor Auto Command…) It lets you open the left door and change the colors ofthe body, rims, and the logo. It's very pimpable: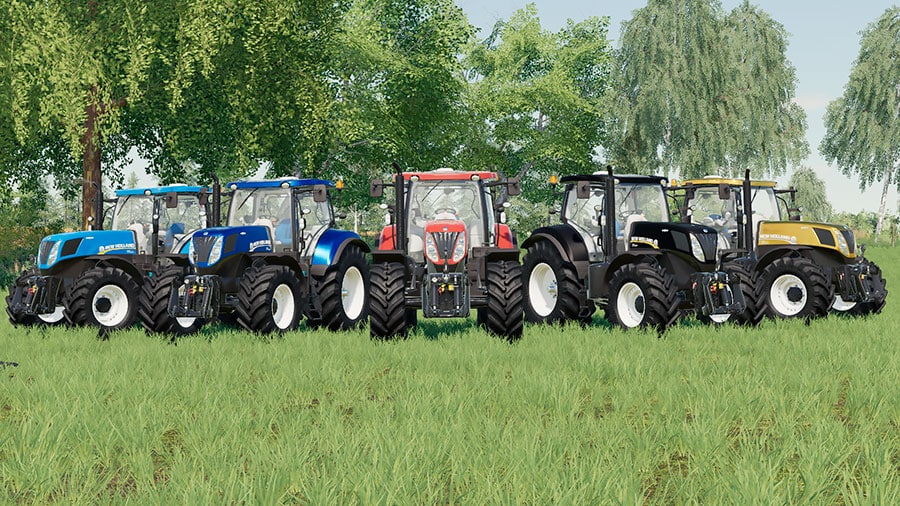 Thereare also several tire options available from Trelleborg, Mitas, and Michelin,but no twin wheel configurations.
Thisaddon has nice animations inside the cab and awesome engine sounds.
Youcan add fixed weights or a 3-point hitch with PTO to the front.
New Holland T7 AC SeriesFS19 Mod Specs
Brand: New Holland.
Credits: Giants Software, STv-Modding.
Category: Medium Tractors.
Base price: 152,000.
Engine configurations: 6 – T7.220, T7.235, T7.250, T7.260, T7.270, and T7.310.
Power range: 218 to 310 horsepower.
Top speed: 50 kilometers per hour | 31 miles per hour.
Color options: Yes.
Wheel options: Yes.
Wheel brands: Michelin, Mitas, and Trelleborg.
Front loader attacher: No.
Platforms: PC, Mac, XB1, and PS4.
Where to Download
You can download this New Holland from the modhub inside the game. The blue button opens its mod page on the FS website.
Go to Download
This mod is an official Modhub mod. Please, do the modder a favor and only download it from the in-game hub or from its official mod page on Farming-Simulator.com.