New FarmingSimulator 19 mod: The custom New Holland C232 skid steer loader, modded by Blauea.
This addonis a modified version of the base game's tracked New Holland skid steer loader.It offers more of pretty much everything, compared to the original version. It'sa bit faster too.
Here arethe features:
Twoengine options (C232 and C232+.)
Animateddoor.
Standardor wide tracks.
Colorpickers in the shop.
Optionsfor the beacon light.
Designoptions (tinted windows, logo colors.)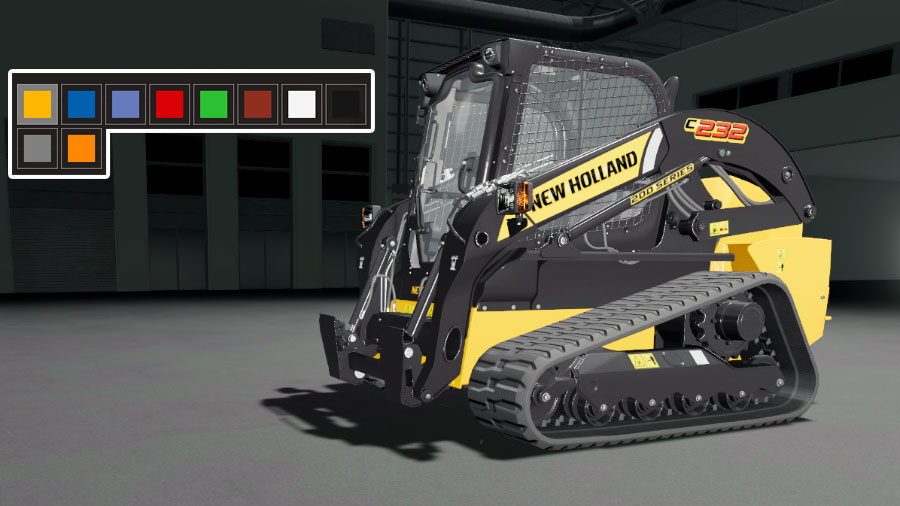 New Holland C232 FS 19 ModSpecs
Brand: New Holland.
Credits: Giants Software, Blauea.
Category: Skid Steer Loaders.
Base price: 49,000.
Engine configurations: 2.
Power range: 74 and 111 horsepower.
Top speed: 18 km/h | 11 mph.
Selectable colors: Yes.
Track options: Yes.
Extra trailer hitch: No.
Platforms: PC, Mac, PlayStation 4, and Xbox One.
Download Info
The modified New Holland skid steer loader is granted access to the official modhub inside the game. Note that the blue button leads you to its mod page on the FS website.
Go to Download
This mod is an official Modhub mod. Please, do the modder a favor and only download it from the in-game hub or from its official mod page on Farming-Simulator.com.