FarmingSimulator 19 mod presentation: Wilson Pacesetter A-Train Trailers, modded byStephan Beran (Custom Modding.)
A-trainsemi-truck trailers use dollies to connect a second trailer to the lead trailer,whereas B-trains are connected thanks to a fifth-wheel coupling mounted on therear of the lead trailer. Note that on this mod, the dolly is attachedpermanently to the rear trailer.
Nevertheless,if you manage to reverse this setup flawlessly, pat yourself on the back. You'rea true reversing superstar!
Pacesetter A-Train In-GameFeatures
Colors – You can put different colors onthe body and the rims, like black, white, or mixed kinds of metal finishes. Youhave a lot more color choices for the cover.
It'spossible to disconnect the rear trailer from the leader, as well. This functionis handy when you want to use just one trailer, for example.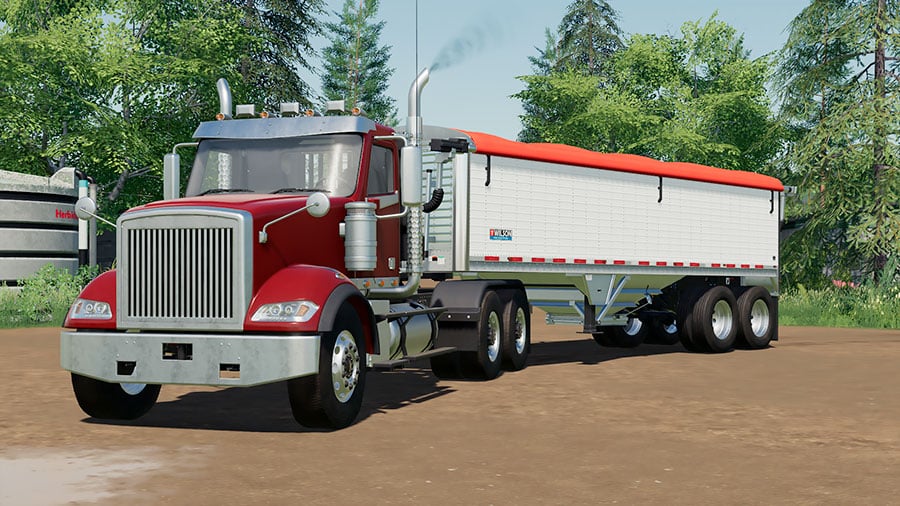 FS19 Wilson PacesetterA-Train Mod Specs
I love howStephan Beran has transformed the base game Wilson trailer into this A-traincaravan. The trailers look amazing, especially behind one of the many Americantruck mods.
Brand: Wilson.
Credits: Giants Software, Stephan Beran (Custom Modding.)
Category: Trailers.
Base price: 70,000.
Capacity: 55,000 liters (30,000 + 25,000.)
Accepted: Most Farming Simulator 19 solids.
Tip options: Bottom dump (belly dump.)
Selectable colors: Yes.
Selectable wheels: No.
Extra rear hitch: Yes, on the lead trailer.
Errors: No.
Platforms: PC, Mac, PS4, and XB1.
Version 1.0.1.0 – Light Fix
(UpdatedJanuary 14, 2020)There's a small update for the Wilson trailers available at the officialmodhub. The update fixes the flickering lights.
Where to Download
Do you want these Wilson trailers in your mods folder? You can download them from the in-game modhub. You can also get them from the Farming Simulator website as long as you're on a PC or a Mac. Click the button to open the download page.
Go to Download
This mod is an official Modhub mod. Please, do the modder a favor and only download it from the in-game hub or from its official mod page on Farming-Simulator.com.