New Farming Simulator 19 mod showcase: The Zunhammer SKE 18.5 PUD slurry tank, modified by DaLumma.
Here you have a modified version of the base game Zunhammer slurry tank trailer. The most noticeable difference is that the mod lets you use the filling arm to refill the tanker. You can control it with a mouse or a controller.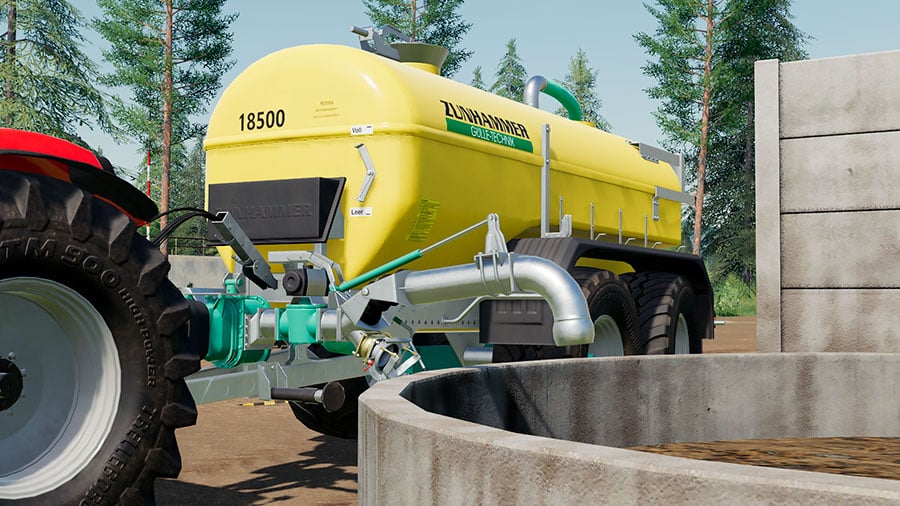 Other changes and additions:
It works with the Manure System mod (you need to open the slurry flow to refill.)
You can use the splash plate or add injectors to the tank.
The mod has connection hoses and cables.
There's an extra color option in the shop (grey) and additional wheel configurations.
Tire Pressure Script
DaLumma (the modder) has added Wopster's tire pressure script to the Zunhammer slurry tank. This is how you control it:
Hold Left Ctrl + Page Up or Page Down (sets the desired pressure.)
Press Left Ctrl + P to activate the chosen pressure settings.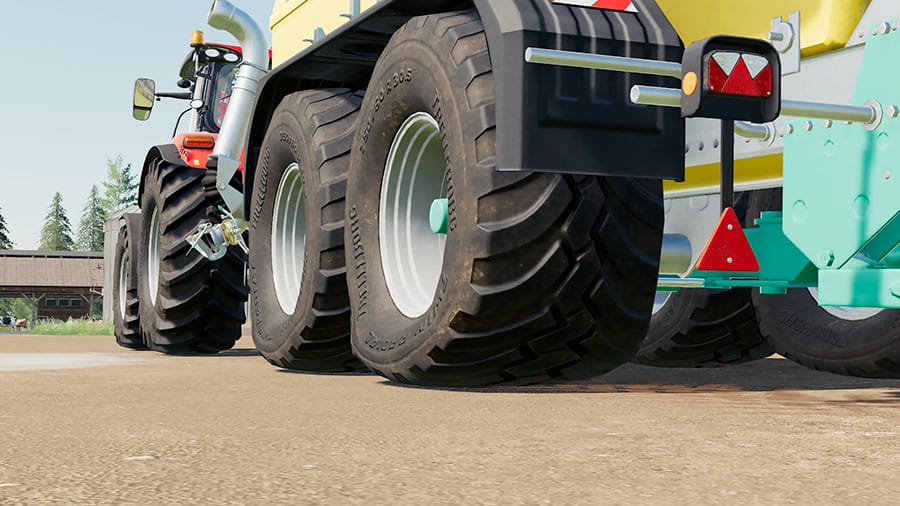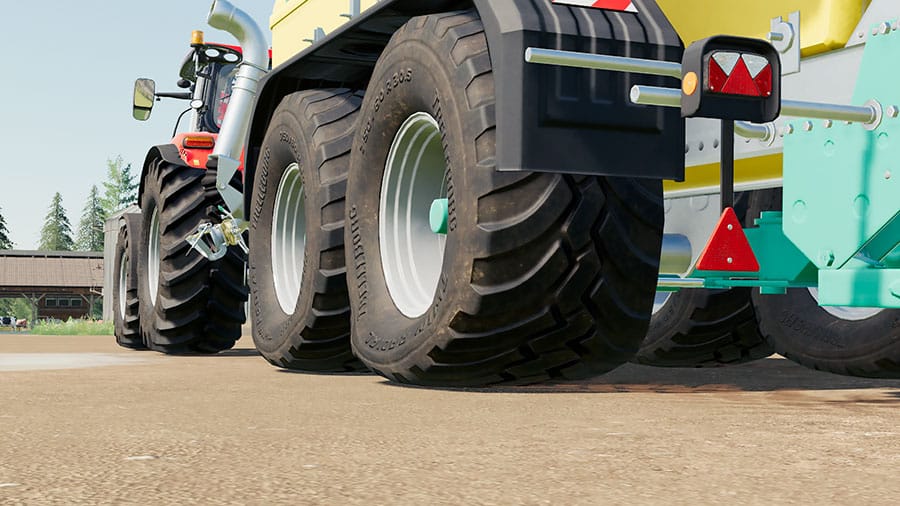 Zunhammer SKE 18.5 PUD FS 19 Mod Specs
Brand: Zunhammer.
Credits: Giants Software, DaLumma.
Category: Slurry Tanks.
Base price: 65,000.
Required power: 180 horsepower
Capacity: 18,500 liters.
Spreading options: Splash plate or injectors.
It accepts the following: Digestate and manure (water also, with the Manure System mod.)
Work speed: 17 km/h | 11 mph.
The working width: 14.8 meters (when using the splash plate.)
Selectable colors: Yes, yellow and grey.
Selectable wheels: Yes.
Wheel brands: Trelleborg and Nokian.
Extra trailer hitch: No.
Injector hitch: Yes.
Errors or Warnings: No.
Recommended mods: Manure System mod.
Platforms: PC and Mac.
The Unique Features
This is what sets this addon apart from similar mods: It's Manure System ready. And the filling arm is animated.
Version 1.2.1.0 – More Colors, Telescopic Axles
(Updated April 6, 2020) A lot about the Zunhammer slurry tank has changed since the first release. Here's the current status for the changes and additions:
Second Zunhammer yellow color added.
All colors are available as matt or glossy.
Mouse and controller-controlled drawbar.
Telescopic axle.
Wheel collision object fixed.
Note: The file name has changed. You have to remove the old version manually.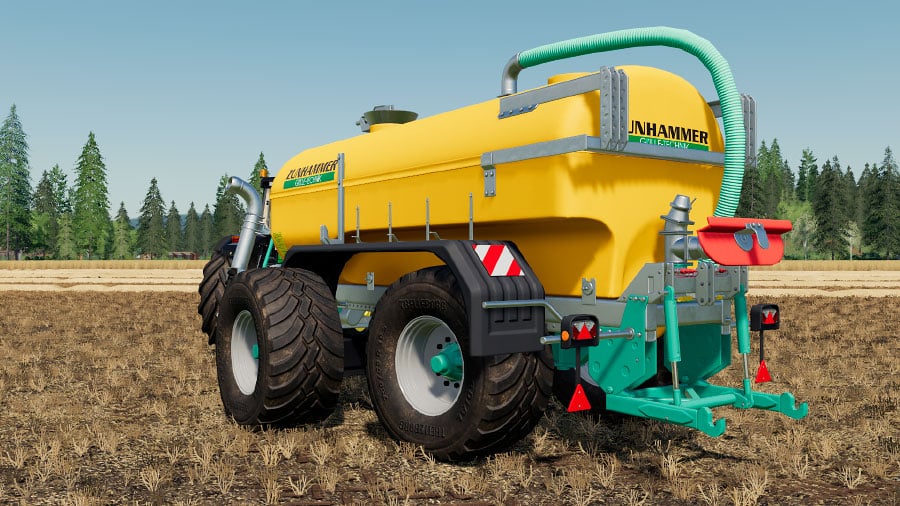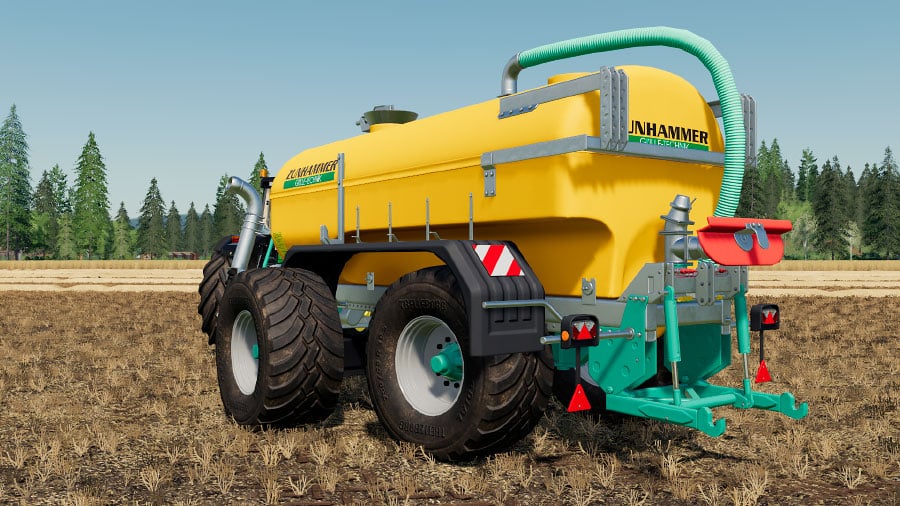 Download Info
DaLumma is sharing his version of the Zunhammer slurry tank via Mediafire. Click the blue button to get to the download page.
We always use the modder's original download link when possible. Please let us know if there's a problem with the link. P.S. How to stay safe while downloading mods outside Giants' Modhub.