FarmingSimulator 19 mod showcase: The Deutz-Fahr 7 Series Tractors (Stage 4) moddedby Kevin8228.
There are several versions of the Deutz-Fahr available as addons for FS19 (like this one.) What separates this version from the rest is the inclusion of the Universal Passenger script, visual readiness for Wopster's Guidance Steering mod, plus the hood is custom made.
7 Series In-Game Features
Colors – You can paint the main body ofthe tractor in a wide range of colors, like variations of green, red, black,and orange. There are also a lot of rim colors to pick from.
Wheels – Trelleborg, Mitas, and Michelin,are the included brands. Out of these, Trelleborg has the most configurationoptions, ranging from standard-sized tires to twin wheels all around.
Design – You can add an Alö front loaderattacher to the Deutz. There are several light setups available. Oh, and it hasdaytime running lights.
The leftdoor and the roof hatch will open with the help of a mouse or a controller. Andwhen you buy the Guidance Steering in the shop, the roof gets equipped with anAgrosky unit.
FS19 Deutz-Fahr 7 Series Stage4 Mod Specs
I reallylike the new hood that comes with this 7 Series addon. Sure, other mod versionsmight have more customization options. But I can't recall any of the others beingready for both the Universal Passenger script and the Guidance Steeringmod.
Oh, andbefore I forget, the engine audio that comes out of this addon is pure brilliance.
Brand: Deutz-Fahr.
Credits: Giants Software, Kevin8228, STv-modding, Puma, and Pfuscherwerkstatt.
Category: Medium Tractors.
Base price: 182,000.
Engine configurations: 4 – 7210 TTV, 7230 TTV, 7250 TTV, and 7250 TTV Warrior.
Power range: 224 to 263 horsepower.
Top speed: 63 kilometers per hour | 39 miles per hour.
Selectable colors: Yes.
Selectable wheels: Yes.
Wheel brands: Trelleborg, Mitas, and Michelin.
Front loader attacher: Yes.
Errors: No.
Platforms: PC and Mac.
Version 1.1.0.0 – SimpleIC
(Updated February 20, 2020) There's a new version of the Deutz-Fahr tractor waiting to get inside your mods folder. You can use the updated version with the Simple IC script, which lets you control the left door, the rear window, and the roof hatch.
Other changes:
Thehood/bonnet doesn't illuminate unintendedly anymore.
Insidethe shop, you can now remove the front fenders if you don't want them.
There'salso an update for the indicator lights.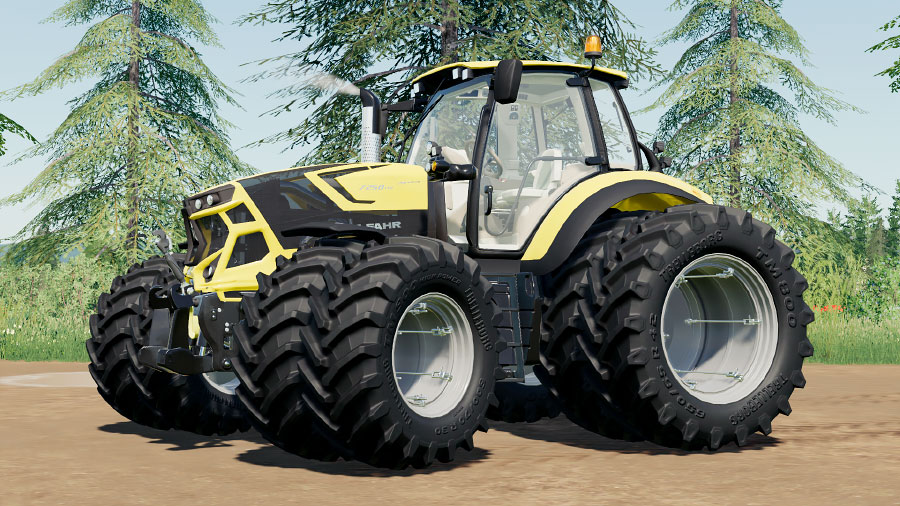 Where to Download
This FS 19 version of the Deutz-Fahr 7 Series is hosted at Sharemods. Just click the blue button to open its download location.
Go to Download
We always use the modder's original download link when possible. Please let us know if there's a problem with the link. P.S. How to stay safe while downloading mods outsrefe Giants' Modhub.