New FarmingSimulator 19 mod showcase: The Coolamon 36T chaser bin (auger wagon),created by JavierZzS.
Here you have the FS 19 version of one of the moresignificant chaser bins (grain carts) made by the Australian companyCoolamon. The replica looks very much like the real thing.
Here's a video of the real-world version:
In-Game Features
You'll see that this Coolamon augerwagon has five different wheel options in the shop.
Tracks, instead of wheels, is one ofthe choices.
The trailer has work lights mountedon the auger pipe and inside the bin.
And capacity? Sure! 45,400 liters tobe precise.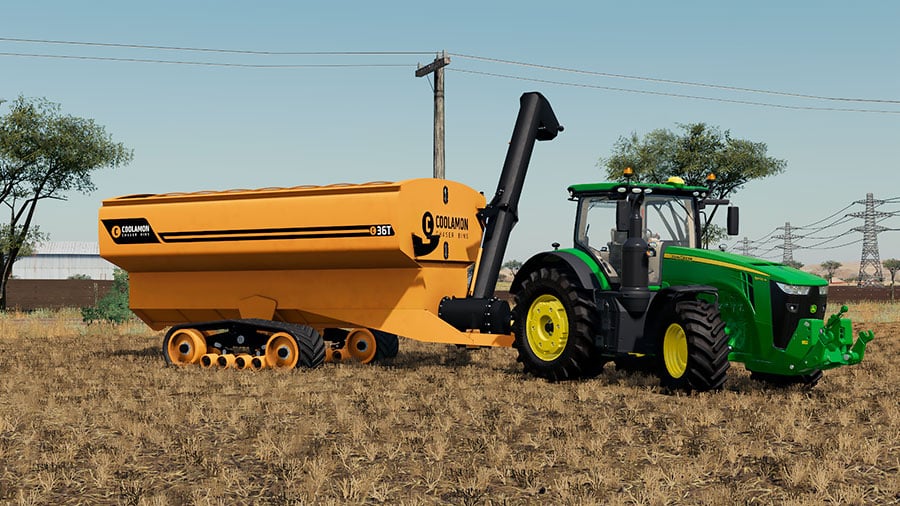 Coolamon 36T FS19 Mod Specs
I enjoyedthe Coolamon bins from JavierZzS immensely back in Farming Simulator 17. I'm sohappy that he is bringing them over to FS19, as well, because this is brilliantmodding.
Brand: Coolamon.
Credits: JavierZzS (Big Boss Modding.)
Category: Auger Wagons.
Base price: From 56,200.
Accepts: Wheat, barley, oat, canola, sunflower, soybeans, corn, solid fertilizer, and seeds.
Capacity: 45,400 liters.
Selectable colors: No.
Selectable wheels: Yes.
Wheel brands: Trelleborg, Michelin, and Nokian.
Errors: No, but it misbehaves… (see below.)
Platforms: PC and Mac.
It Slides
No errorsin the log, but for some reason, the model with tracks slides sideways during loadingand unloading.
How to Download
Want the Coolamon chaser bin in your mods folder? Just click the blue button. It opens the official download page over at Sharemods.
Go to Download
We always use the modder's original download link when possible. Please let us know if there's a problem with the link. P.S. How to stay safe while downloading mods outsrefe Giants' Modhub.