Here's an opportunity to download the Fendt 700 Vario & Fendt 800 Vario TMS mods for Farming Simulator 19.
This is two tractor mods in one pack. And what a pack it is! I've used so many tractor add-ons over the years. This duo is close to being some of the best versions of the Fendt Classics ever.
Yes, it's a bold statement. But also true, especially because the Fendts have so many amazing features. Both use the FS19 lights and texture system of course. They have tons of configuration options. Even the fenders can be configured.
Animations andIlluminations
Other things we dig about this mod pack:
The cab interior is both animated and illuminated.
Pressing Ctrl+F switches between the standard driving lights and the top lights.
You can remove the EU warning signs (not very popular among North American players) in the shop.
On top of that, you can also control the doors, windows and the roof hatch with your mouse. All this, and still the mod is perfectly optimized for game performance.
What You Should Know
Mod: Fendt Favorit 700 Vario & Fendt 800 Vario TMS FS19 tractors.
Model: XX_Malle_XX.
FS19 Conversion: Cayman.
Base price 700 Vario: 98,200.
And the 800 Vario TMS: From 129,200.
700 Vario models: From 711 Favorit to 718 Vario.
Power range: 115 to 180 HP.
800 Vario TMS models: From 818 Vario to 820 Vario with chip tuning.
Power: From 185 to 279.
Tons of design customization options.
Platforms: PC and Mac.
FS19 Configuration Options
700 Vario: You can buy it with or without front fenders. There are also lots of color and wheel choices. The colors are the same that Fendt has used for their real-world counterparts. And that's not all…
And if you use Wopster's GPS, you have the choice to equip the tractors with either the StarFire 6000 or GreenStar 2630.
You can adda front loader attacher to the tractor. All of these features apply to the 800Vario TMS too.
Version 3.0.0.0 – SimpleIC and New Wheels
(UpdatedFebruary 6, 2020) Yes!Finally, an update to one of my favorite FS19 tractor mods. Here are thechanges and the additions:
The updated version includes several adjustments to the 3D model.
It now works with Simple IC (click here to learn more about Simple IC.)
Engine audio volume is lowered. And you can now add Trelleborg TM1060 wheels to the tractors as long as you have the Claas DLC installed and activated.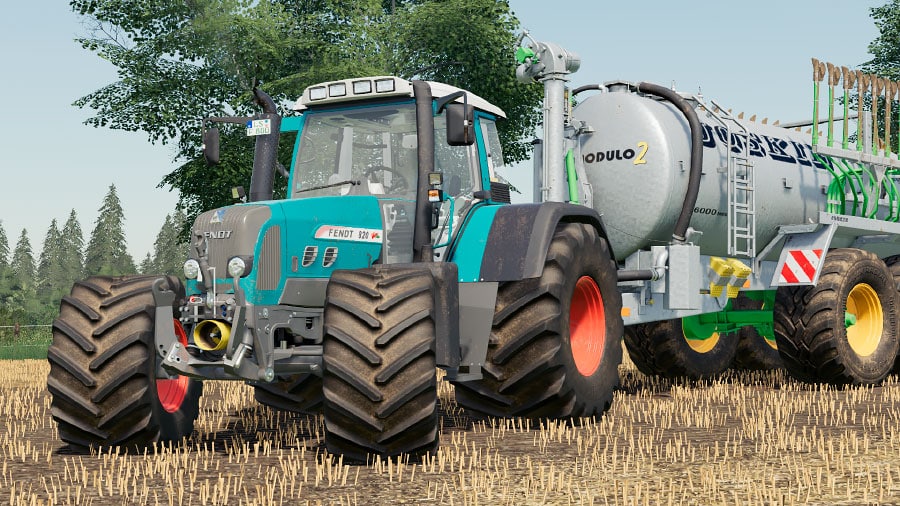 How to Download
We're juststunned about the quality of these tractors. They are very detailed while thegame optimization is kept at an impressive level. And the audio... Wow! Just wow! You really need to hearit for yourself.
Click on the button to download the 2 Fendts.
Go to Download
We always use the modder's original download link when possible. Please let us know if there's a problem with the link. P.S. How to stay safe while downloading mods outsrefe Giants' Modhub.