FarmingSimulator 19 mod presentation: Fendt 700 Vario S5 Series tractors, modifiedby Bayern-Agrar.
This addonis an excellent modification of the base game's Fendt 700 Varios. The new bonnet/hoodis a fascinating addition. The mod lets you add the latest design to the tractors,a design which currently adorns the 1000 and 900 series tractors.
I don'tknow if Fendt will use the design for its real-world 700s when the time hascome to update the models.
700 Vario S5 Features
Both thehand throttle and the gas pedal are animated.
Colors – There are more than 40 differentcolors available for the Fendt's main body. A lot of these are different variationsof green. There are also colorization choices for the rims and the front loaderattacher.
Wheels – Here, you can add standard-sizedor wide wheels to your tractor from Trelleborg, Mitas, and Michelin. There arealso configurations with or without wheel weights available.
Design – You can add one or two beaconlights to the roof. There's an option for a Stoll front loader console. Perhapsthe coolest feature is how you can add the old or the new hood/bonnet design toyour tractor.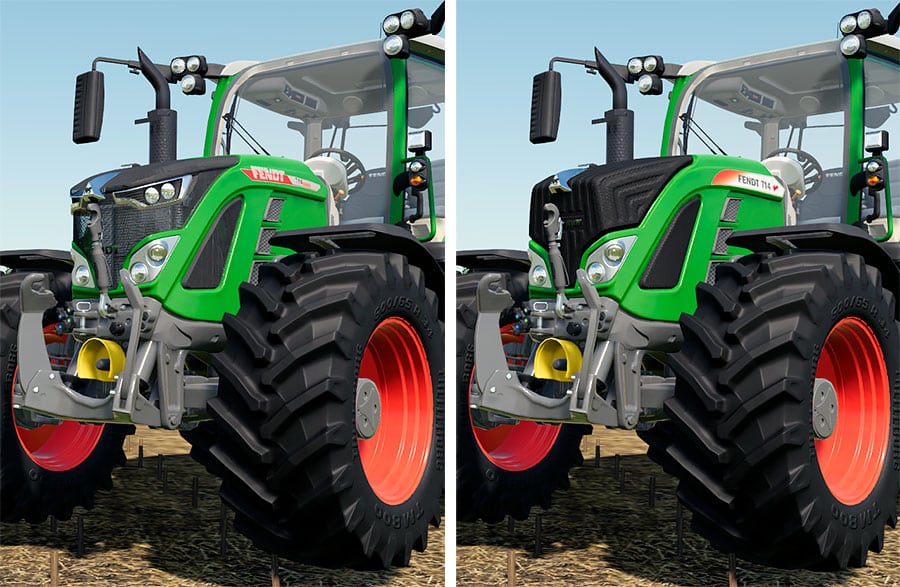 In-Cab Controls
This versionof the Fendt 700 Vario tractors comes with In-Cab (IC) controls. Just press thespacebar on your keyboard to activate them. Once enabled, you can open doors,windows, and the roof hatch with them.
Afriendly warning: theIC controls script and Courseplay are not the best of friends. Severalplayers have reported how the two scripts create errors in the game when usedtogether.
FS19 Fendt 700 Vario S5Mod Specs
This addon isan impressive modification of the 700 Series tractors. It looks terrific. Itdrives flawlessly. And it has outstanding audio. So, can it be any better? Yes,if the modder decides to add more wheel options, like rear duals and twinwheels on all axles.
Brand: Fendt.
Credits: Giants Software, Bayern-Agrar, Lukas2002, and Dani-86.
Category: Medium Tractors.
Base price: 183,000.
Engine configurations: 16 – (Profi and Power versions of the 714, 716, 718, 720, 722, 724, 726, and 728 engines.)
Power range: 145 to 297 horsepower.
Top speed: 60 kilometers per hour | 37 miles per hour.
Selectable colors: Yes.
Selectable wheels: Yes.
Wheel brands: Trelleborg, Mitas, and Michelin.
Front loader attacher: Yes.
Errors: No.
Platforms: PC and Mac.
How to Download
You can download the Fendt 700 S5 mod from Sharemods. The blue button below takes you to the official download page.
Go to Download
We always use the modder's original download link when possible. Please let us know if there's a problem with the link. P.S. How to stay safe while downloading mods outsrefe Giants' Modhub.