Here you have the Fenton Forest mod map for Farming Simulator 19. This FS19 mod map is created by Stevie. Longtime players associate his name with top-notch mod maps. Fenton Forest is no exception.
Stevie's mapis a massive edit of Giants' Felsbrunnmap. Tons of stuff has changed. Mostsignificant are the fields. Many of the smaller Felsbrunn fields have beenmerged into bigger one, justifying the need for bigger equipment.
And the central farm has been moved to one of the map's corners. It's a nice move, giving more space to arable areas.
A Massive Rebuild
Here are some of the things Stevie has done:
All animals are gathered at the main farm.
The Silo holds most items, including milk.
Storage for manure, digestate, and liquid has been added to the main farm.
Fenton Forest has a vast natural forestry section (costs a pretty penny though.)
The BGA (already included with the farm) has a sunken high capacity tip point (just drive a trailer over it.)
The fields are both square and shaped.
And for everyone missing the FS17 log crane: It's several of them on this map.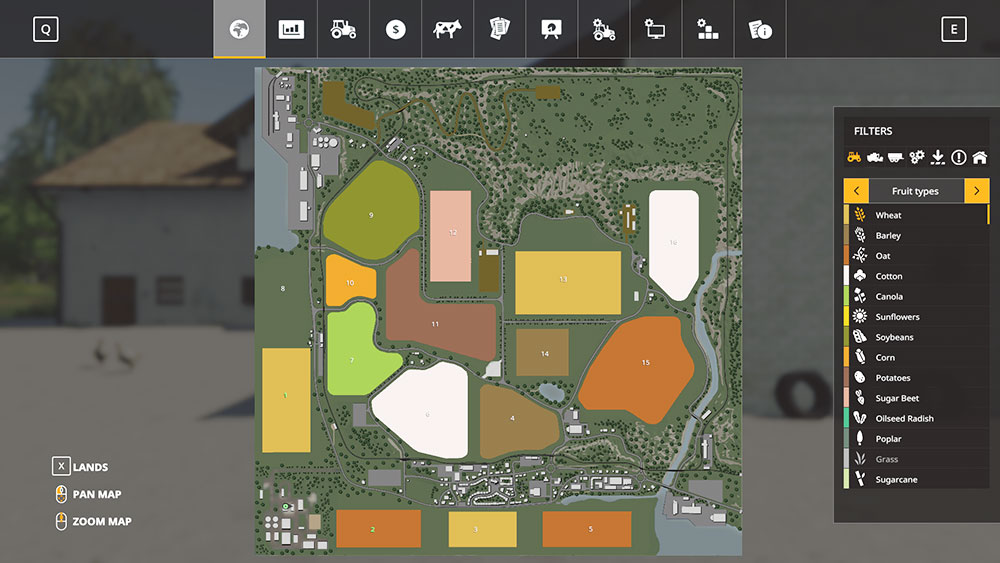 When youstart a new game, you already have animals and an excellent selection of great machinery.You also have supplies in the silo to sellor feed to your animals. The farm buildings generate solar income. It's notmuch but helps towards running costs.
Some facts:
Thereare 16 fields all in all.
14selling points including the spinnery, sawmill, and the BGA.
Silocapacity: 16,000,000 Liters per crop.
We already clocked almost 100 hours on Fenton Forest. It's a darn good map. We look forward to even more updates, for example a future inclusion of the Factory scripts.
Fenton Forest Version 1.3is Here
(Update March 23, 2019) Stevie has updated the fantastic Fentonmod map. And yes, all the updates require a new game save…
Here are some of the changes:
Themap has gotten further ground collisions and foliage layers.
Shaders,the clip distances, LODs and XML files have been adjusted.
Severalnew items have been installed.
It'spossible to paint grass in first growth stage using the in-game editor.
Mostof the prices have been adjusted. And the BGA has gotten a rebuild.
Another significant change is that the main placeable areas have been separated. They now cost a lot less to buy.
Version 1.33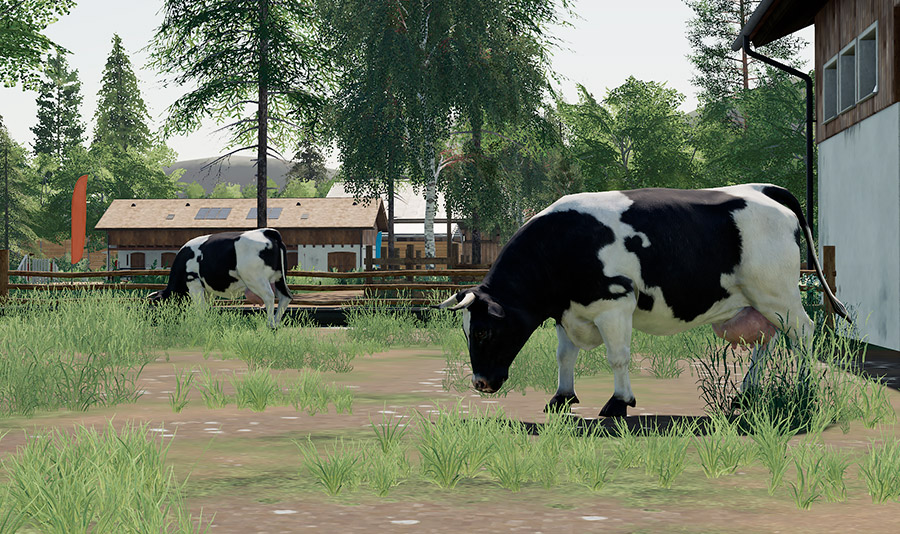 Stevie has posted another update on his Facebook page. This is probably the last update of the Fenton Forest map (though Stevie has mentioned making a 4 x 4 version of it.)
In order touse this version, you need to start a new gamesave. And you should not copyover older gamesaves once you've created a new one. That will break stuff.
The most significant change in this version is that you no longer start with animals. You have to buy them.
P.S. The Download button is located below...
Version 1.34 is Here
(Update April 8, 2019) It seems Stevie never rest. A newversion is available. The good thing is that this version should not require a new gamesave. Just don'trename the map folders, and you should be fine.
Here are some of the new changes:
Animalzone lights are now grouped with the placeables. They won't be left behind ifyou sell the animal pens.
Acollision bug at the cow silo has been removed, the animal slurry pits have beenlowered, wool pallets area is increased, and the cows won't longer jump on topof the milking machine…
Thefarm barn now accepts bio bales (from theAnderson Group DLC.)
Rigidbody collisions have been removed from the farm silo chute. Your Väderstad SeedHawk won't get stuck.
And that'sjust the tip of the iceberg…
How to Download: The button below takes you to the Fenton Forest release post on Facebook. Look for the download link at the bottom of the post.
Go to Download - 1.3BG
We always use the modder's original download link when possible. Please let us know if there's a problem with the link. P.S. How to stay safe while downloading mods outsrefe Giants' Modhub.
Want Smoother FPS?
To have better FPS, you should delete the old cache.This is how you do it: Delete the shade cache folder,load the map in a new gamesave and startdriving. Do some in-cab driving too. Include most areas, some at night also.
Save and exit the game. Remember to delete that gamesave before quitting the game entirely. When youstart a fresh game after doing this, the FPS should be nice and smooth.