Farming Simulator 19 addon presentation: The New Holland CR9000 Series combine harvesters by Custom Modding.
Want more New Holland combines in your fields? Then you owe it to yourself to try this one out. It's a great model of a harvester that had the world record for being the largest harvester in North America (the CR9080.)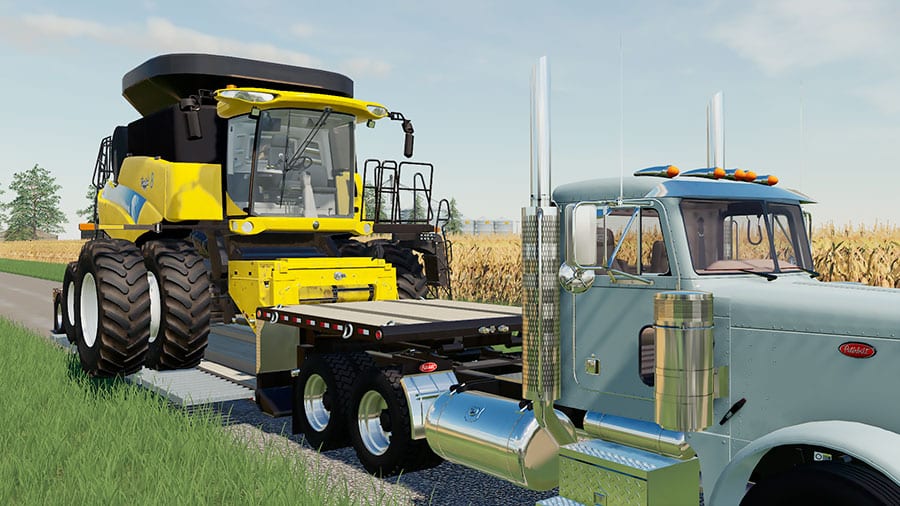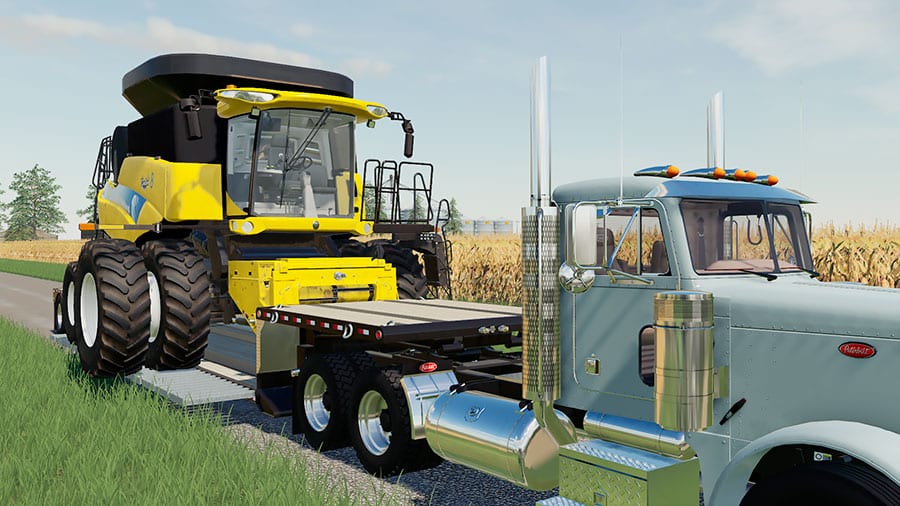 The real world CR9000 Series made its debut in 2006. The CR9090 set another world record in 2008 when it harvested 451.2 tonnes of wheat in eight hours.
Here's a video from that event:
Americanized New Holland CR9000 Series
Custom Modding released the US, and Canadian versions of the CR9000 combine series on Thanksgiving Day 2019. And it's stuffed (no pun intended) with configuration options.
Extra objects – You can add an extension to the grain tank, increasing the capacity with almost 2,000 liters. You can switch choppers and add both the Custom Modding logo and numbers to each combine.
Wheels – Oh, yes! There are tons of wheel options from brands like Firestone, Michelin, and Goodyear (you must check out the floaters!) I especially enjoy the track options. There are three of them, including a couple of SmartTrax alternatives.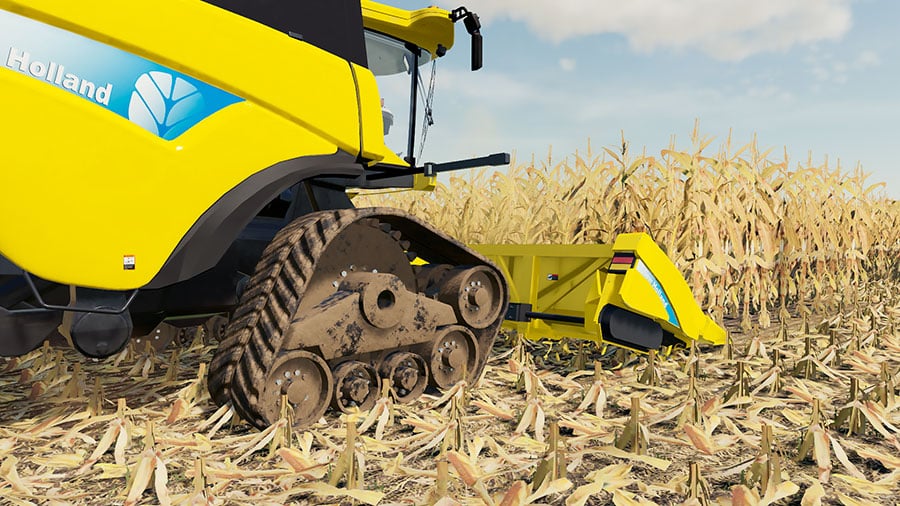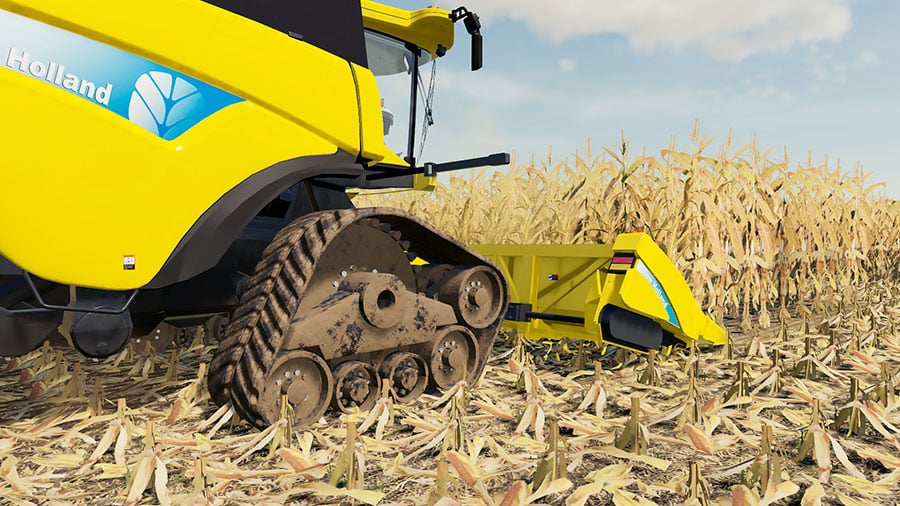 Custom Headers
The New Holland CR9000 mod from Custom Modding includes two headers. One for standard grain harvest. And a corn header.
1. The New Holland 74C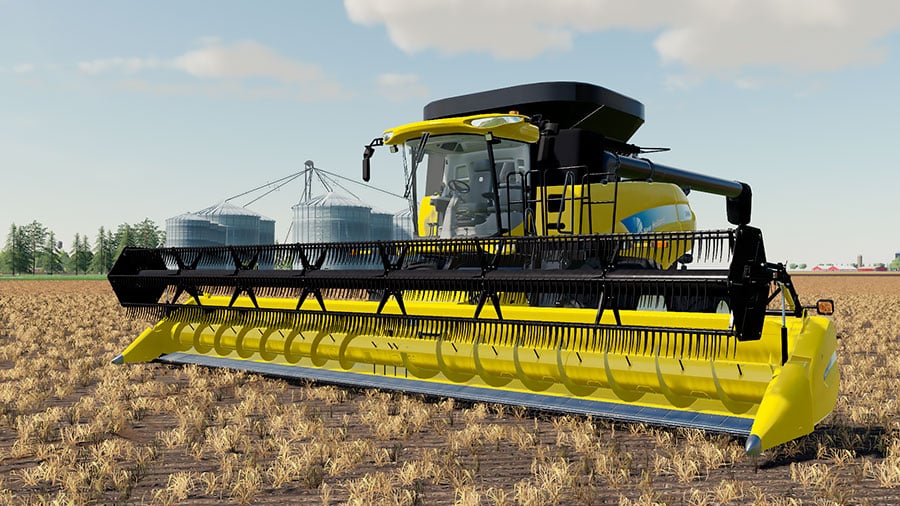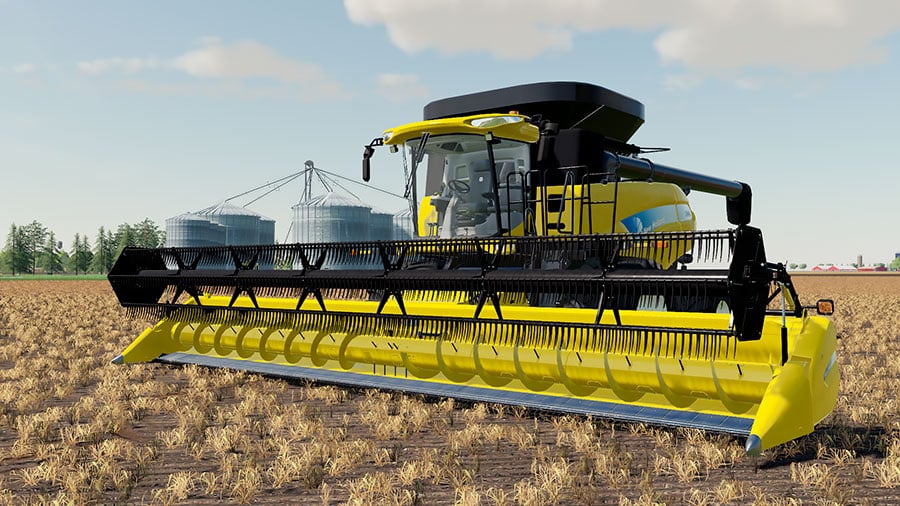 This header has a working width of 10.5 meters. It costs 22,500. And the working speed is 10 kph / 6 mph.
2. And one New Holland 98D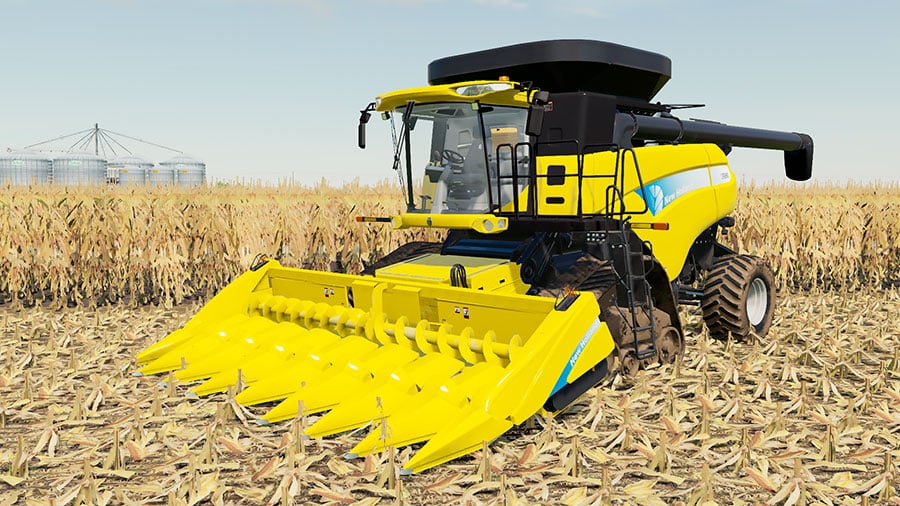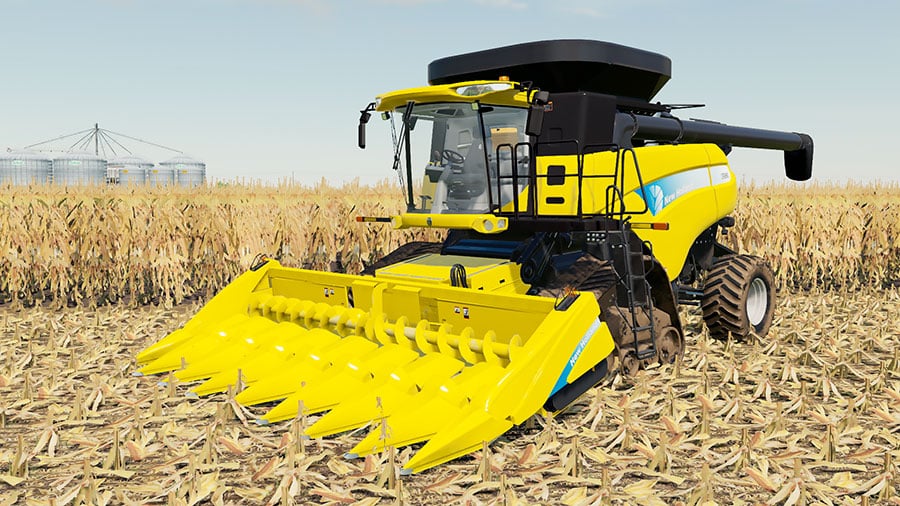 The 98D covers 6 meters, having a work speed of 10 kph / 6 mph. The cost is 34,500.
Yes, you can use other headers, like the base game Draper. Just be aware that the largest headers might cause problems for tractors with trailers or auger wagons, driven by Courseplay, due to the relatively short pipe on the combine.
FS 19 New Holland CR9000
The New Holland combine addon is another win for Custom Modding. Whenever I play on an American map, I'm so thankful for the team's hard work, putting US styled machinery in the game.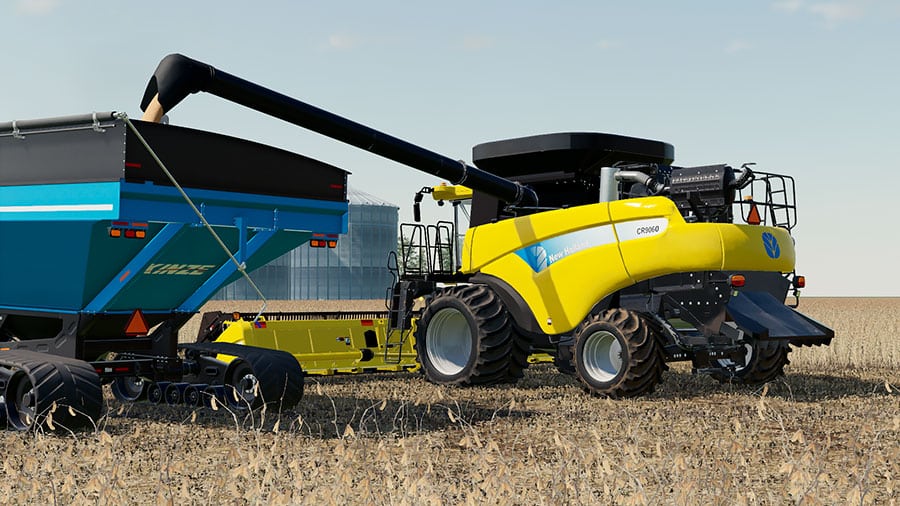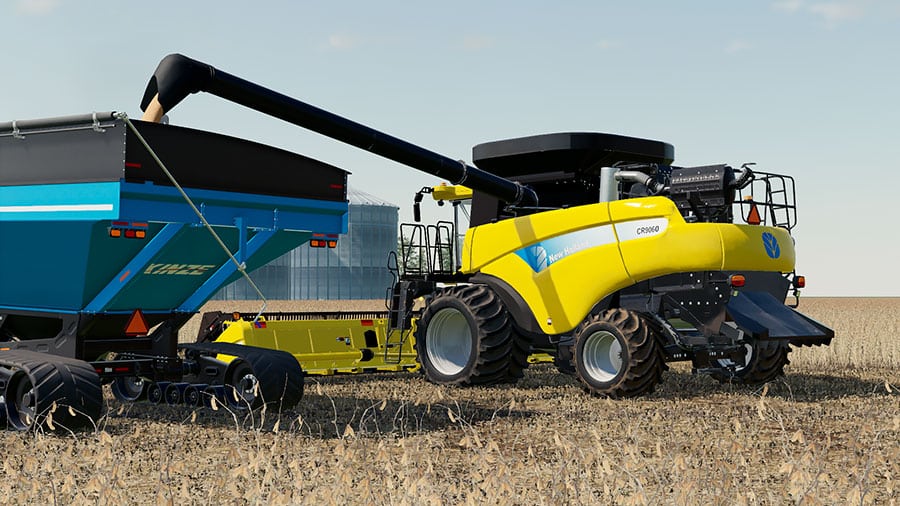 Here are the details:
Brand: New Holland.
Credits: Custom Modding.
Category: Harvesters.
Base price: 96,000.
Engine configurations: 3 – CR9060, CR9070, and CR9080.
Power range: 360 to 483 horsepower.
Top speed: 24 kilometers per hour | 15 miles per hour.
Grain hopper capacity: 12,350 liters, 14,100 liters with extensions.
Selectable colors: No.
Selectable wheels: Yes.
Wheel brands: Firestone, Goodyear, Michelin, Mitas, and New Holland (tracks.)
Errors: Some warnings.
Platforms: PC and Mac.
If you're interested in knowing which other mods I've used in the pictures, here's a list: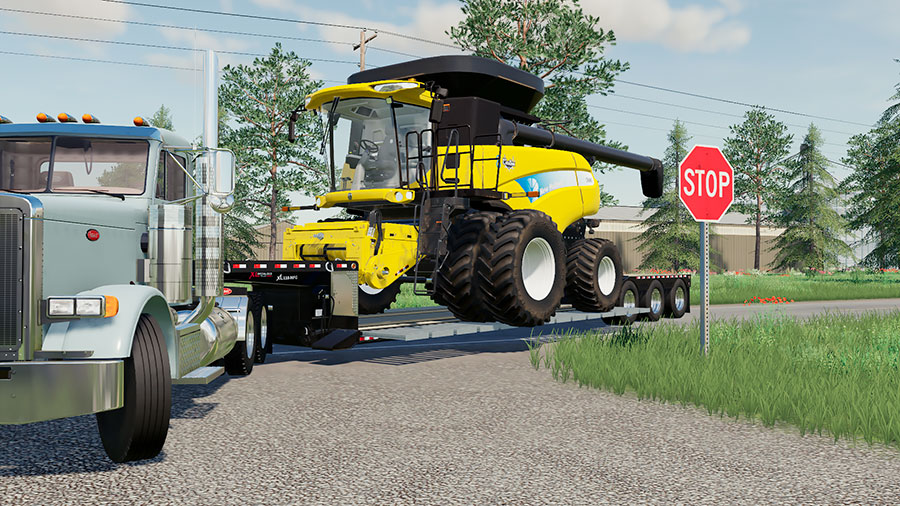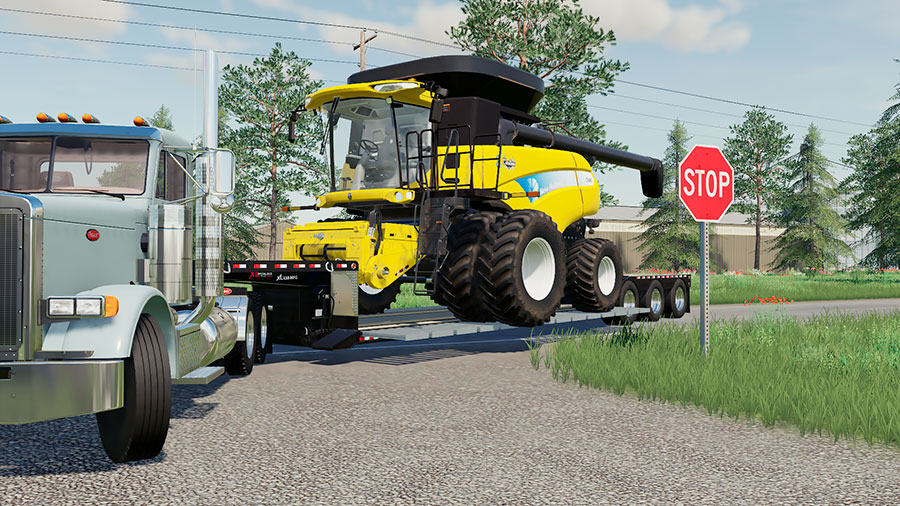 About the Warnings
I noticed a couple of warnings in the log after spending a few hours with the combines. Here are two examples:
Warning (../FS19_CM_CR9000Series/cr9000.xml): Unknown animation name 'BinloadDisplay' for dashboard!
Warning (../FS19_CM_CR9000Series/newHolland74C.xml): I3D file offers '3' objects, but '1' components have been loaded!
I know that Custom Modding is aware of it. The team is working on fixing them.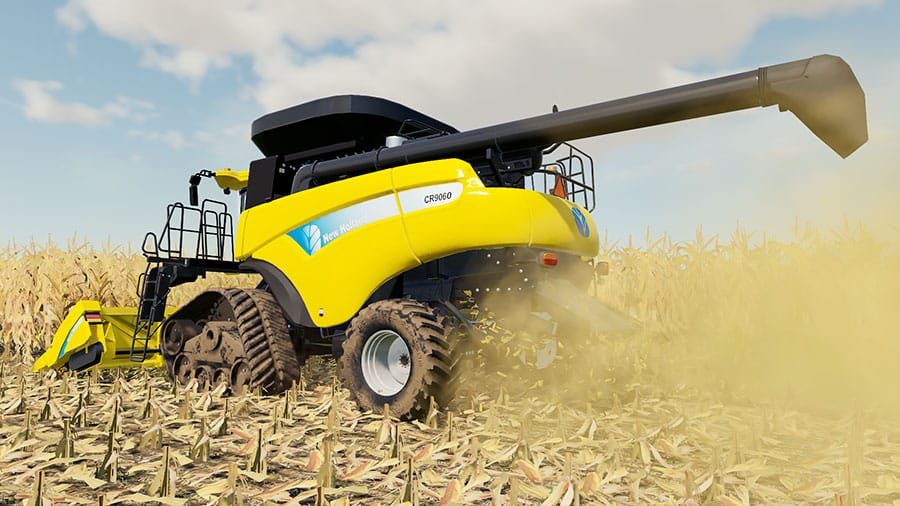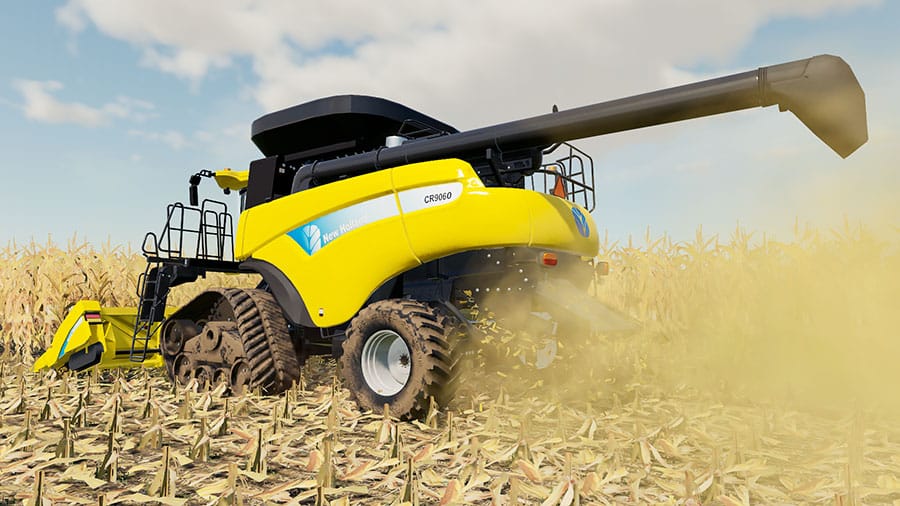 Version 2.0.0.0 – Fixes
(Updated December 4, 2019) The Custom Modding New Holland had some glitches the first time it was released. Most of them are gone by now, like the objects warning for the headers, mentioned above. The animation warnings remain, though.
Where to Download
Custom Modding has released the New Holland CR9000 pack on its Facebook page. The Blue Button takes you to the release post. Be sure to leave the post a Like to show your appreciation.
We always use the modder's original download link when possible. Please let us know if there's a problem with the link. P.S. How to stay safe while downloading mods outside Giants' Modhub.