(Update July 24: We've began publishing guides on Seasons 19 here.)
(Update May 2019: There's an really interesting update to the Seasons 19 mod. You can read it here.)
Here's some uplifting news for fans of the Farming Simulator Seasons mod. Realismus Modding (RM), the developers of the very popular Farming Simulator 17 mod, is working on converting it for FS19. The name is Seasons 19.
The team is not only converting it.theSeb, one of the RM crew, recently said on FS-UK that they both are adding new stuff andincorporating some of the new FS19 features.
We are indeed working hard converting the mod, incorporating new features from FS19 and adding some exciting new stuff too.

The Seasons Team
The news about Seasons becoming an FS19 mod was met with lots of appreciation from players on different forums and on Facebook. The mod is one of the most requested for the new game.
No ETA
RM hasn't said anything about whenyou'll be able to download Seasons 19. For now, I'm just delighted that thereactually will be a Seasons in FS19.
Currently, the team is experimentingwith the new weed system, among other stuff. The first screenshot (above)looks very interesting.
Mod Contest Winner
The Seasons mod won the public vote in theFS17 mod contest. It became an instant hit among lots of players who wanted morerealistic gameplay.
It's also one of very few script modsthat have made it to Xbox One and PlayStation 4. Due to strict rules, set byMicrosoft and Sony, script mods, in general, are not allowed in consoleversions of the Farming Simulator games.
But Giants Software worked close with the RM team and managed to make the mod available for console farmers, as well.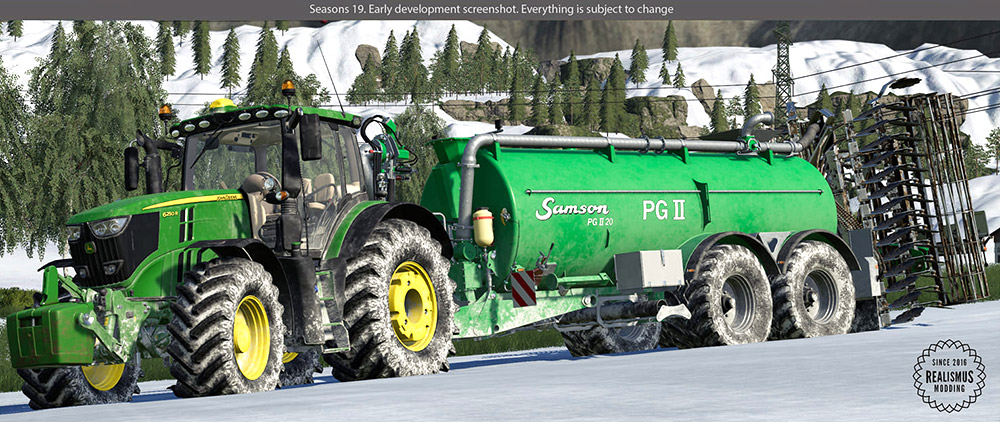 Team Effort
The Realismus Modding team is six menstrong. Here are the people that have been, or still is working on the Seasonsmod:
Jos (aka Rahkiin)
Per (aka reallogger)
Sebastian (aka theSeb)
Stijn (aka Wopster)
Per (aka mrbear)
Markus (aka baron)
It's worth mentioning that Jos (Rahkiin) was headhunted by Giants shortly after the mod contest victory. He's now one of the Giants' staff. For FS19, he was responsible for giving the missions system an overhaul, among other things.
Want to follow the development of Seasons 19? You can do so by visiting the RM website or by following RM on Facebook.