CustomModding is one of the best Farming Simulator modding teams. The team's fantasticline-up of North American machinery addons for Farming Simulator 19 isimpressive. It has a lot of fans all over the world.
The team isfar from finished making mods. A few moments ago, it updated its Facebook pagewith a status for all of the team's ongoing projects and builds.
More John Deere
CustomModding is working on several John Deere add-ons, like the Americanized versionof the 8RT tractor. This mod will be compatible with the H480 front loader. Itwill also have Demco tanks as an option.
Butwait, there's more:
An update to the John Deere 9RT, including a new rear linkage.
The John Deere 4940 self-propelled sprayer. The model is finished, but texturing remains.
A new version of the John Deere S700 Series combines, an update of the addon released by the team just after the launch of FS 19.
I'm especiallylooking forward to the release of the John Deere 1870 together with the C850 aircart, which will be a magnificent beast.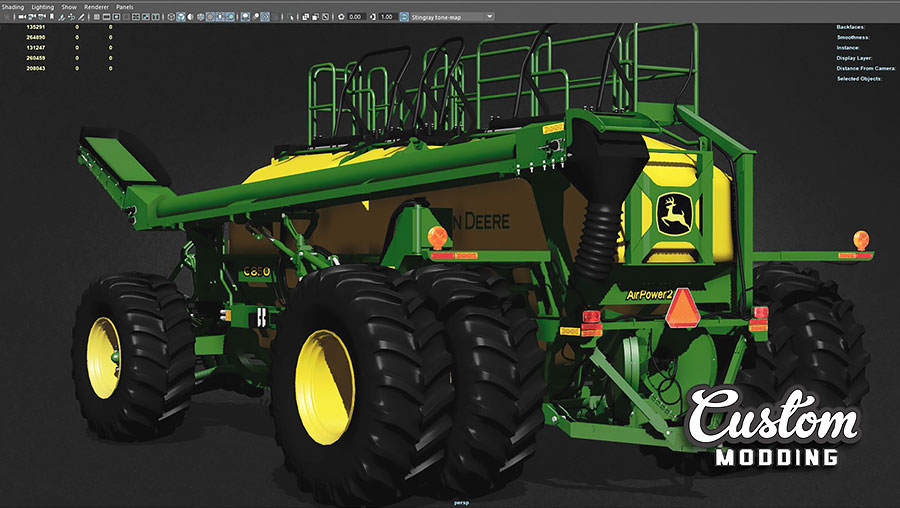 MacDon and a Map too
Custom Modding is working on mods other than various John Deeres, as well. For example, replicas of the MacDon FD1 FlexDraper Series headers, a Tytal Tanker trailer, which will be released together with the JD sprayer, and US versions of the Case IH Steiger tractors.
What I'mlooking forward to the most is the Minier map. The Custom Modding team hasfantastic modders. It will be exciting to see what they can accomplish whenusing their skills in creating a Farm Sim map.
Consoles?
Some of themods mentioned in the update will most likely be released on consoles too.Others won't. The main reason is that Giants Software doesn't have licenses forsome of the brands the team currently is creating mods of.
You can follow the process of each mod on the Custom Modding Facebook page (click here.)
Creditsall images in this post: Custom Modding on Facebook.