New FarmingSimulator 19 mod: The Lizard TTHD flatbed truck, modified by Way2drunk2walk.
The moddedversion of the Lizard truck has a gooseneck hitch and a fifth-wheel coupling,in addition to a standard trailer attacher.
The lack offrames for the bed makes it easy to load the truck with various goods, likepallets. Yes, you can secure the load with tension belts.
Thereare color pickers for the main body and the flatbed in the shop.
Youcan toggle between the Gooseneck coupler and the fifth-wheel attacher in theshop.
Lizard TTHD Flatbed FS19Mod Specs
Brand: Lizard.
Credits: Giants Software, Way2drunk2walk.
Category: Cars.
Base price: 55,000.
Engine configurations: 1.
Power range: 400 horsepower.
Top speed: 120 kilometers per hour | 75 miles per hour.
Selectable colors: Yes.
Selectable wheels: No.
Extra rear hitch: Yes, several options.
Errors: No.
Platforms: PC, Mac, Xbox One, PlayStation 4.
Version 1.1.0.0 – MoreLights
(UpdatedMarch 21, 2020) Thefirst update of the TTHD flatbed is mostly about fixes. This is what Way2drunk2walkhas done to the addon:
Fixedthe wiper animation.
Replacedthe reversing lights.
Addedmore lights to the truck.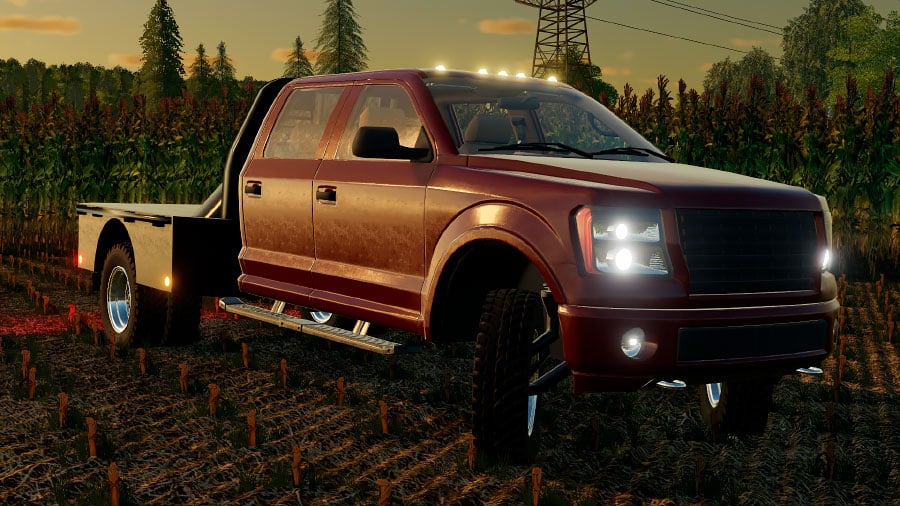 Where to Download
The Lizard flatbed is available inside the game's modhub and on the FS website (the blue button opens the web version.)
Go to Download
This mod is an official Modhub mod. Please, do the modder a favor and only download it from the in-game hub or from its official mod page on Farming-Simulator.com.