New FarmingSimulator 19 manure spreader mod: The Dangreville SVL 18 manure spreader.
This mod adds the beautiful Dangreville SLV 18 manure spreader to the game. It requires less powerful vehicles to function.
Here's the promo video for this mod:
FS19 Dangreville SVL 18 Mod Specs
Brand: Dangreville.
Credits: SimulagriModding.
Category: Manure Spreaders.
Base price: 45,000 liters.
Capacity: 18,000 liters.
Working width: 14 meters.
Working speed: 20 kilometers per hour | 12 miles per hour.
Accepted fill types: Manure.
Selectable colors: No.
Selectable wheels: Yes.
Wheel brands: Trelleborg, Mitas, and Michelin.
Platforms: PC and Mac.
Version 1.0.0.1 – Rear Lights
(Updated February 24, 2020) There'sa new version of the Dangreville manure spreader available for PC and Mac. The newversion has new rear lights.
On the oldversion, it seems it was just reflectors to the rear of the trailer. Now, thereare lights there, which lights up with the tractor pulling it.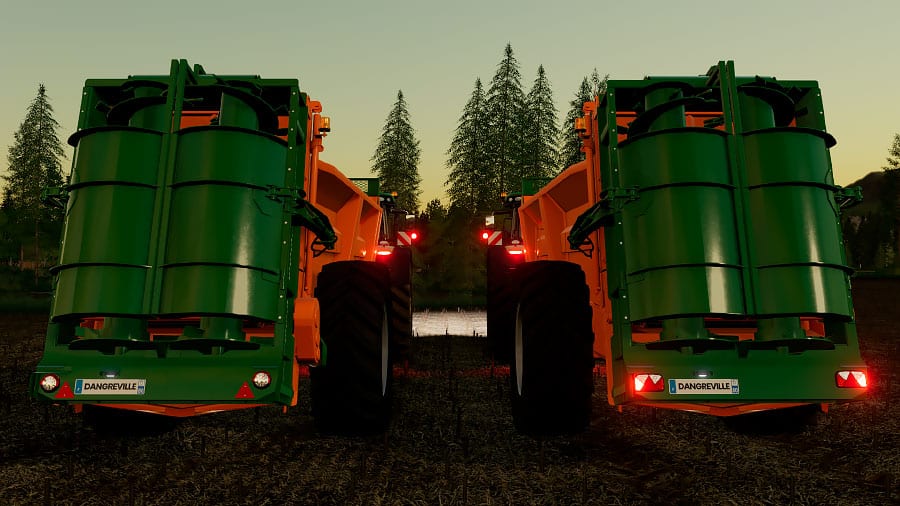 How to Download
Need this Dangrevill manure spreader in your game? You can find it in the in-game modhub. You can download it from the web, as well. Use the blue button to open the download page.
Go to Download
This mod is an official Modhub mod. Please, do the modder a favor and only download it from the in-game hub or from its official mod page on Farming-Simulator.com.