New FarmingSimulator 19 mod: The Bergmann TSW 6240W manure spreader, modified by Johni6530.
This is thesecond modification of Giant Sofware's Bergmann mod that I show you. And it is,in my opinion, the best one. I'll come back to that.
Wheels – There are some wheel options inthe shop.
Colors – You can add a wide variety ofcolors to the body and the rims of the Bergmann manure spreader.
Easy Manure Loading
Why isthis better?Because there are no hidden collisions. When you lower the top of the trailer'sleft side wall (with a mouse or a controller), it's easier to load thetrailer with manure.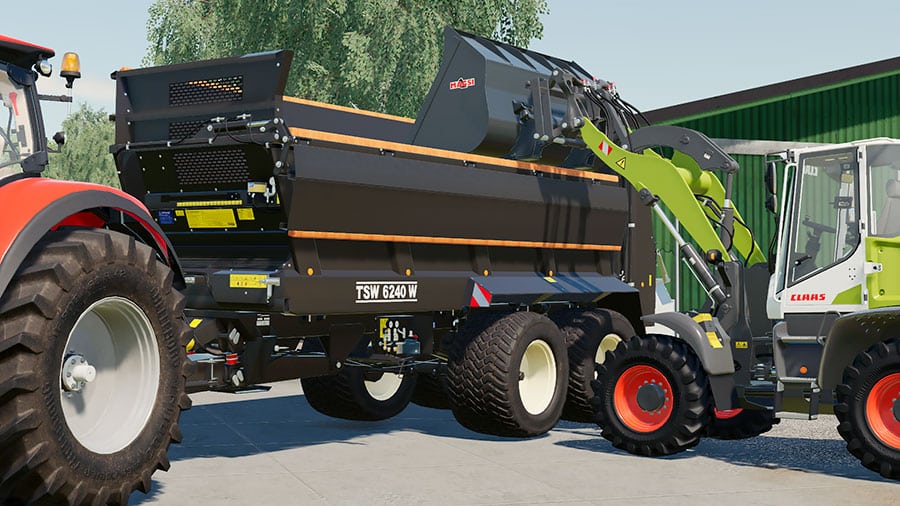 The otherversion also has this option, but there's still an invisible wall that blocksyour access to the lowered loading barrier.
Andlime? Yes, thisversion of the spreader will also help you add lime to your fields.
Bergmann TSW 6240W FS 19 Mod Specs
Brand: Bergmann.
Credits: Giants Software, Johni 6530.
Category: Manure Spreaders.
Base price: 92,500.
Working speed: 20 kilometers per hour | 12 miles per hour.
Working width: 24 meters.
Accepts: Manure and Lime.
Capacity: 25,000 liters.
Required power: 160 horsepower.
Selectable colors: Yes.
Selectable wheels: Yes.
Wheel brands: Trelleborg and Michelin.
Platforms: PC, Mac, PS4, and XB1.
How to Download
This version of the Bergmann TSW 6240W is inside the official modhub. Get it while the game is running. PC and Mac users can also download it from the FS website, which the blue button takes you to.
Go to Download
This mod is an official Modhub mod. Please, do the modder a favor and only download it from the in-game hub or from its official mod page on Farming-Simulator.com.