FarmingSimulator 19 mod showcase: The Wilson Pacesetter Super B trailers, modifiedby Stephan Beran (Custom Modding.)
Super Btrailers, or B-trains as some call them, are two trailers linked together thanksto a fifth-wheel coupling mounted on the "tail" of the lead trailer. Theconfiguration is a popular choice in Australia, Canada, and in some states inthe USA.
Pacesetter Super B In-GameFeatures
Colors – There are some color choices forthe body and the rims, and a whole lot more options for the tarp.
You canalso disconnect the rear trailer if you want to use just one of them.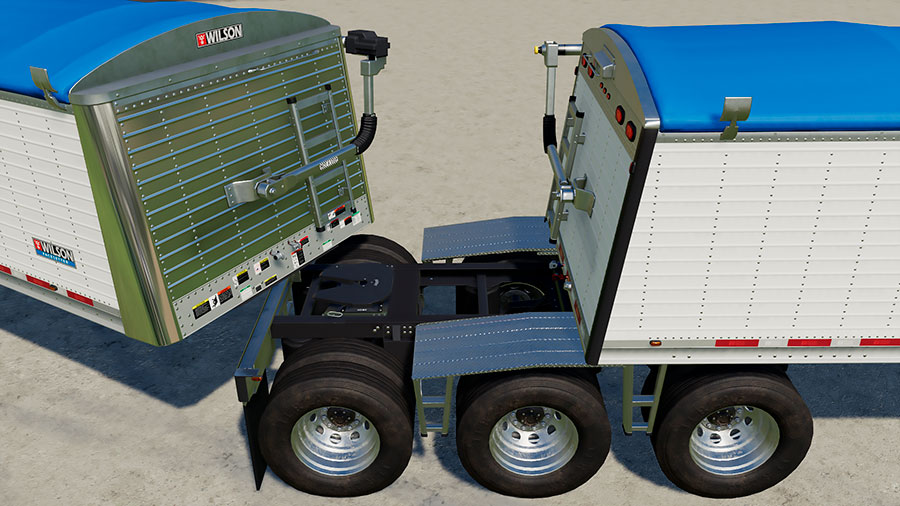 FS19 Wilson PacesetterSuper B Mod Specs
Thanks toStephan Beran for making these beautiful trailers. I believe he has used thebase game Wilson trailer to make the Super B version. It's darn good modding!
Brand: Wilson.
Credits: Giants Software, Stephan Beran (Custom Modding.)
Category: Trailers.
Base price: 80,000.
Capacity: 60,000 liters (30,000 + 30,000.)
Accepted: Most Farming Simulator 19 solids.
Tip options: Bottom dump (belly dump.)
Selectable colors: Yes.
Selectable wheels: No.
Extra rear hitch: Yes, on the lead trailer (fifth-wheel coupling.)
Errors: No.
Platforms: PC, Mac, PS4, and XB1.
Version 1.0.1.0 – No MoreFlickering Lights
(UpdatedJanuary 14, 2020) StephanBeran has just released an update for the Wilson trailers, available at theofficial modhub. The update eliminates the problem with the lights flickering.
How to Download
The Wilson Super B setup is available from the in-game modhub on all platforms. If you're a PC- or a Mac-player, you can download them from the official FS website as well. The button under opens the download page.
Go to Download
This mod is an official Modhub mod. Please, do the modder a favor and only download it from the in-game hub or from its official mod page on Farming-Simulator.com.