FarmingSimulator 19 mods presentation: The Bossini B 280 and Bossini B 350 SlurryTanks by Sbaffo Farming and Matteo7810.
I'vealready written about the modder's fantastic Valzelli slurry tank addon. Hereare two more masterpieces. They are stunning FS 19 versions of the actualslurry equipment made by the Italian manufacturer Bossini.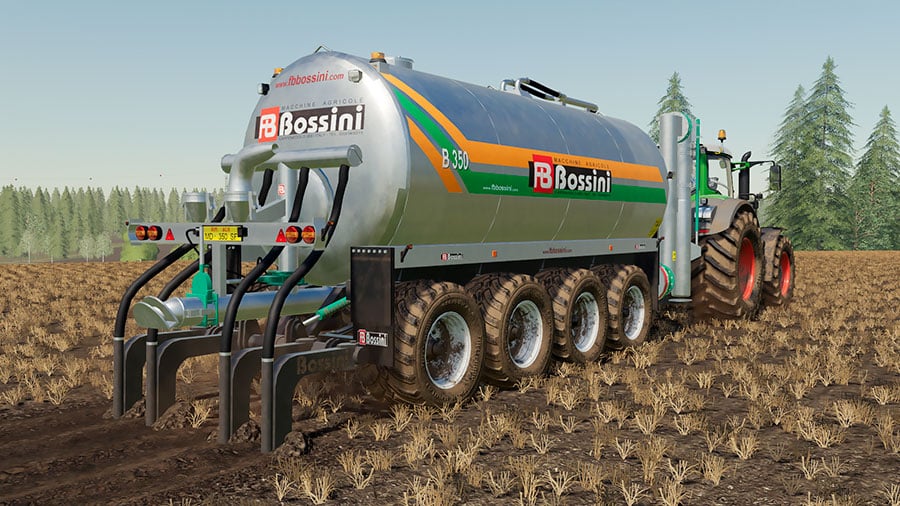 Two Separate Mods
The Bossinitankers are two separate mods. But because they are of the same family, Ifigured it would be a good idea to present them together. I really like how themodders give us two different versions from the same brand like this.
There areseveral things about the trailers you can change to your liking. The colors ofsome design elements, the rims, and the decals, for example.
You canalso choose between several different spreading plates. There's a standardsplash plate that spreads the slurry equally to each side. There are alsooptions for left or right spreading exclusively.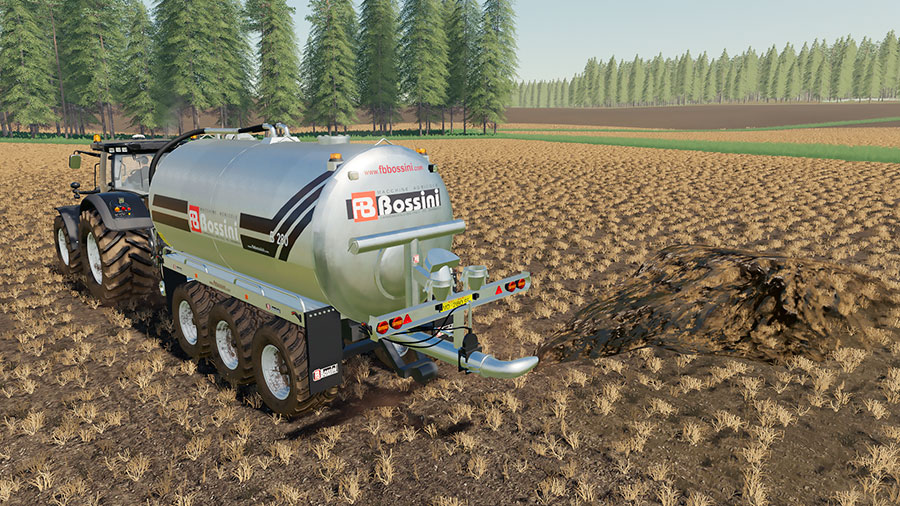 Injector Included
The BossiniB 350 addon has an injector included (working width is 2.9 meters.) Thisone can be used with the B 280 spreader as well.
Note thatthere's a shop option where the injector is already attached. This is just forshow. If you want to use the injector, you will need to buy the attacher for itin the shop.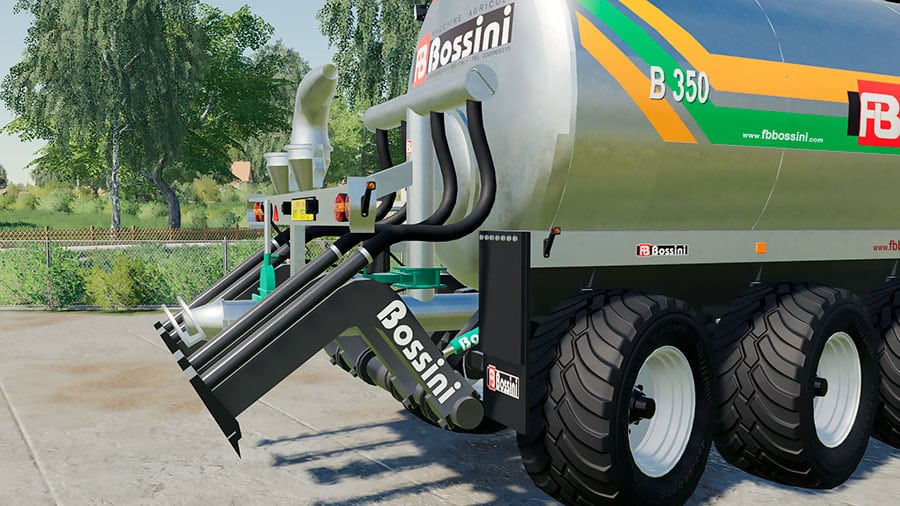 The filling arm is mousecontrolled.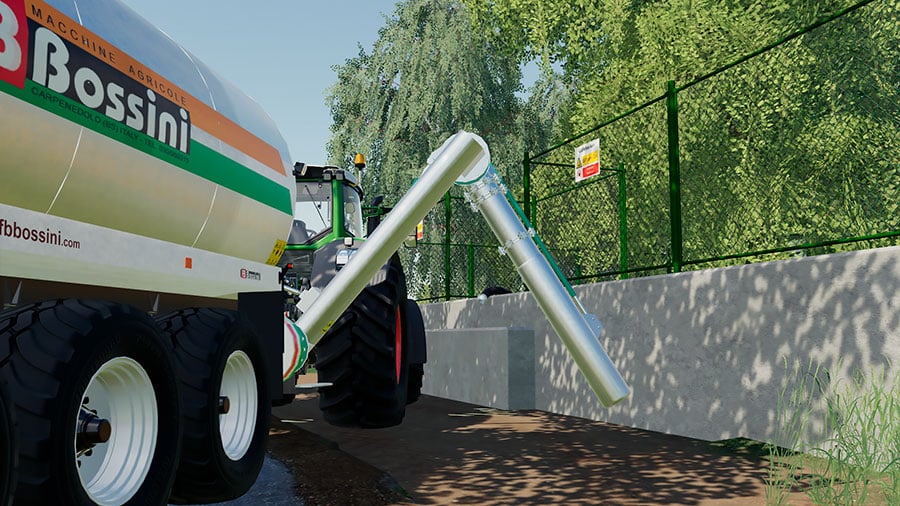 A level indicator isvisible from the cab.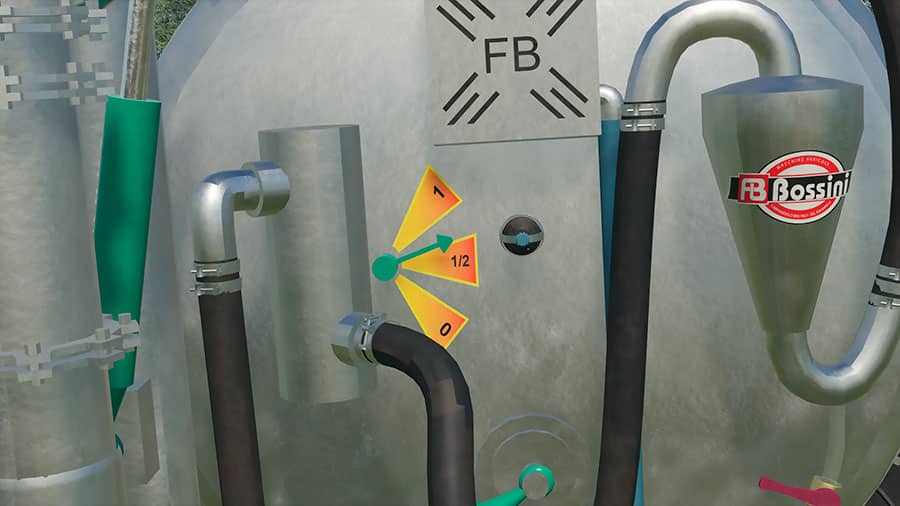 FS 19 Bossini B 280 andBossini B 350
I'm totallyimpressed by this mod. It's fantastic craftsmanship. The modeling and texturingare some of the best I've ever seen. Here are more details:
Bossini B 280 Specs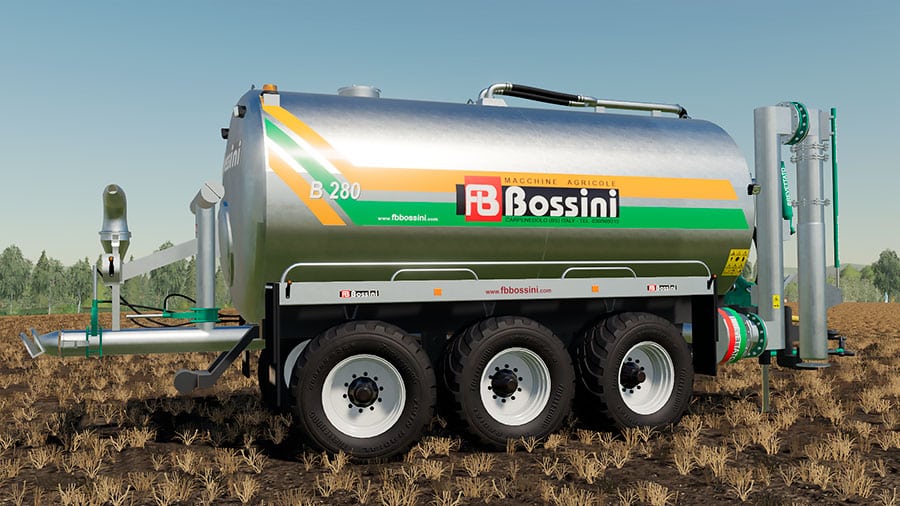 Brand: Bossini.
Credits: Sbaffo Farming, Matteo7810.
Category: Slurry Tanks.
Base price: 49,500.
Capacity: 25,500 liters.
Working width: 9 or 14.8 meters, depending on the spreading mechanism.
Working speed: 12 kilometers per hour |7 miles per hour.
Selectable colors: Yes, Some.
Selectable wheels: Yes.
Wheel brands: Trelleborg, Michelin, And Nokian.
Extra rear hitch: No, but there's an optional hitch for the injector.
Errors: No.
Platforms: PC and Mac.
Bossini B350 ExclusiveSpecs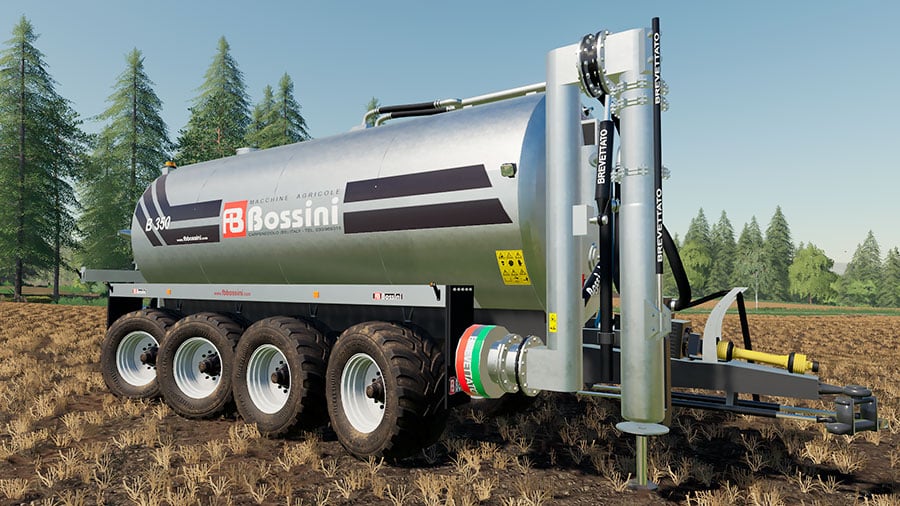 Most of thedetails for the B 350 are the same as for the B 280, with a couple ofexceptions:
Base price:65,000.
Capacity: 35,000 liters.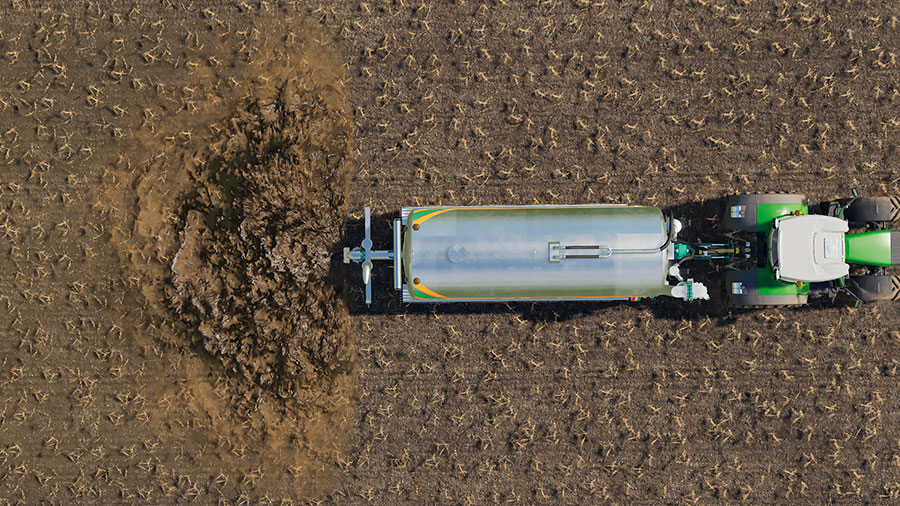 Version 1.1.0.0 &1.2.0.0 – Manure System
(UpdatedMarch 26, 2020) Thenew versions of the Bossini tanks are available inside the modhub. Here are theSMI Modding Team's additions and changes.
Both trailers have new specular maps (dirt included) and normal maps.
They now works with Wopster's Manure System mod.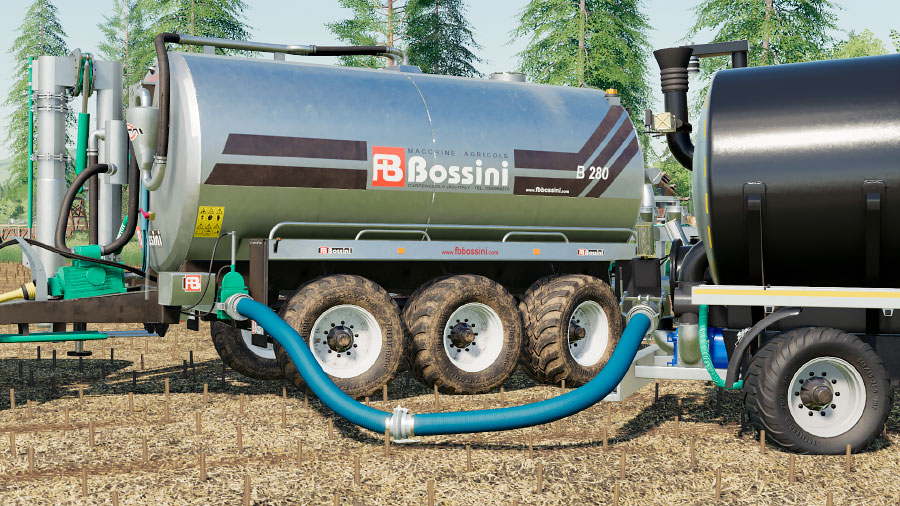 Here's how Nicko 87 presents the new additions to the slurry tanks (in Italian.)
Where to Download
Both Bossini slurry tankers have been accepted into Giants' official modhub. Both can be downloaded from within the game. If you want to take a look at the official mod page for the B 280, just click the blue button.
Go to Download
If you also want to take a closer look at the more significant B 350, click this blue button below.
Go to Download
We always use the modder's original download link when possible. Please let us know if there's a problem with the link. P.S. How to stay safe while downloading mods outsrefe Giants' Modhub.